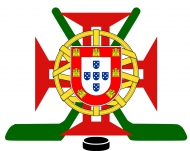 The new pioneers
Grown in Canada, Luis de Almeida Johansson has a mission: to turn Portugal into an hockey country
Luis de Almeida Johansson is the goalie of re-born Portugal icehockey team and one of the tireless promoters of re-launch of icehockey in a country with a great tradition of roller hockey, but not used to replace the ball with a puck.

Eurohockey.com: After a hiatus of 15 years, from 2015 hockey is back in Portugal, this is a good news for sure, could you tell us how the "health" of hockey in the country?
Luis de Almeida Johansson: We are slowly starting to build the foundations for the future generations of ice hockey players that will create a sustainable environment for the establishment of a permanent ice rink the country, that will enable the development of ice rink related modalities. In 2015 we played two friendly matches against a Czech team, the Cesti Ivi and we recorded the first ever win by a Portuguese team in ice hockey. Unfortunately, due to the lack of a permanent ice rink we are only able to practice in the ice, for roughly 3 months a year, in Elvas, which is almost 200 km's from the Capital, Lisbon.
Eurohockey.com: The national team played some exhibition games in the last three years for a weekend, but what happened in the rest of the year? Is there any activity?
Luis de Almeida Johansson: Like I already mention we are limited to 2 to 3 months of ice in Elvas. The rest of the year we practice inline hockey. This is also another limitation, not only because it's played in roller hockey arenas, which dimensions are considerable smaller than an official ice rink, but also the arena's size limitations we are almost forced to adopt a tactical scheme of 4x4. We know that we need to improve significantly our level of play, but all national teams had to start somewhere. It's our goal, that our legacy will enable in the future, the sustainability of ice hockey in Portugal.
Eurohockey.com: What are the plans of the Federation to develop hockey in the country? Any chance or project of ice rinks?
Luis de Almeida Johansson: Indeed! I would say we are currently working in three different vectors. The first one is to bring the Portuguese ice hockey federation to cruise mode; therefore we expect shortly to have the website and a full executive board rolling in the near future. The second part is to establish the Portuguese national ice hockey team as our best marketing asset, not only in Portugal, but also whenever there's a Portuguese community around the globe and, finally, the development of a solid business project for a permanent ice rink in the country. We know that we have a great deal of potential, Portugal is one of the biggest powers in roller hockey, I'm sure that the Portuguese players could adapt and have a strong championship and a national team if we would have the possibility to achieve it. On the economical part, as an example, great Lisbon area has a population of almost 3 million and one no current ice arena! We are positively sure, that an ice rink would be economically viable and able to generate revenues in order to have a sustainable project in the near future.
Eurohockey.com: Are there any collaboration with neighbour Spain?
Luis de Almeida Johansson: We will be playing in an International Tournament, at Granada Spain in April 2017. We are looking forward for that. Not only to compete, but also to exchange ideas and forge a strong relationship with our fellow Spanish players. In reality we would only gain from having a strong relation with neighbouring Spain. We know that they are far more advance than us in establishing the infrastructures for ice rink activities; therefore we should expect some more combined activities in the near future.
Eurohockey.com: Can we imagine a domestic league and maybe the participation in a IIHF competition in the near future?
Luis de Almeida Johansson: With the current conditions, it's quite difficult to have a ice hockey championship in Portugal. Surely, we can compete in events, like tournaments, but a full up and running championship, in my perspective, it would only be possible with a permanent ice rink with the proper size and conditions. Once we cross that path, it will be a new world full of opportunities for us. I reckon it wouldn't be hard to attract other teams to visit Lisbon, which is currently one of the biggest tourist destinations in Europe. Just imagine the possibility of hosting foreign teams in a city like Lisbon, where they would have the possibility of performing training campus in the ice and in the beach at the same day?
Eurohockey.com: Considering the huge portuguese community in Canada, have you any link or plan to cooperate with the hotbed of hockey?
Luis de Almeida Johansson: Our first ever game, back in 2000, was against a Portuguese-Canadian team from Toronto. Surely we will want to develop our cooperation with Canada.  Me, Mauricio Xavier, Kevin Hortinha and Sérgio Pedro we are also Canadians and it's in our plans to visit the Portuguese communities in Canada for exhibition games and to present our plan for a permanent ice rink in Portugal. Finally, our coach Jim Aldred is someone that already played pro, he has also a vast experience with developing players and he's been doing a fantastic job in developing our skills and knowledge. He is surely a critical factor in our development as individuals and as a team.
Eurohockey.com: How it's hard to be an ice hockey player in Portugal?
Luis de Almeida Johansson: Very hard… we play inline the majority of the time and we have very limited access to ice time. We just try to do our best and adapt constantly to whatever conditions. Nevertheless, all players are very much passionate about the sport; therefore we do it always with a smile on our faces. It's not hard when you love what you do.
Current events
External links

Czech Rep.: Tipsport extraliga | 1.liga | 2.liga

Slovakia: Tipsport Extraliga | 1.liga

Sweden: SHL | HockeyAllsvenskan
Other: EBEL | Belarus | Croatia | Denmark | Estonia | France | Great Britain | Iceland | Italy | Latvia | Lithuania | MOL-liga | Norway | Poland | Romania | Serbia | Slovenia | Spain | NHL | AHL |
League standings
Game fixtures
League leaders
After last year's postponement, the first edition of international tournament will be assigned in Latvia Read more»
Fall in love with a new sport by reading our in-depth explanation for why every sports fan should appreciate the entertainment of ice hockey. Read more»