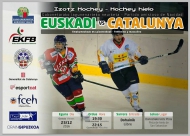 Catalunya and Euskadi back to battle
After 7 years the selections of two Spanish regions renew the duel. The women's teams debut
The unofficial "national team" of two regions of Spain, Catalunya e Euskadi (Basque Country), are back to battle after the last duel, played in 2009 in Puigcerdà, when Euskadi clearly won 9-1. The year before, in Bilbao, Catalunya won 5-3. After that double match, both teams have not played anymore. In total Catalunya played four games: besides the duel against Euskadi, in 1983, at the opening of Ice Rink in Puigcerdà, against HC Lausanne and a 2-0 victory against Belgium in 2003, again in Puigcerdà. One of the scorers against Belgium was the current Catalunya and CG Puigcerdà headcoach Salvador Barnola.
"I was a kid when Catalunya played last time - said FC Barcelona forward Oriol Rubio - so this game against Euskadi is a great opportunity for me. For now it's a friendly, but I hope someday to play also official games with Catalunya"

The duel was played on December 23 at Txuri Urdin Palace in San Sebastian and finished with a 4-3SO victory for Catalunya:
Euskadi - Catalunya 3-4so (1-1,0-1,2-1,0-0,0-1)
1-0 Borja Cabra 14'
1-1 Oriol Rubio (Òscar Rubio) 16'
1-2 Nacho Granell (Oriol Boronat, Carlos Quevedo) 22'
2-2 Jorge Vea
3-2 Ander Arraras 50'
3-3 Oriol Rubio (Nacho Granell) 56'
3-4 Oriol Boronat SO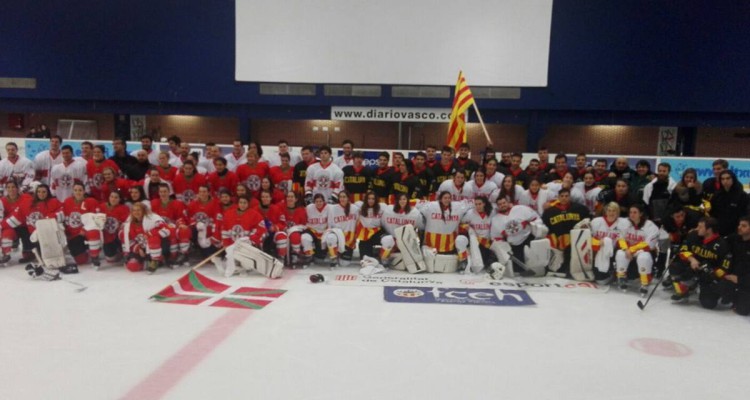 The rosters:
Catalunya: all the players are from FC Barcelona and CG Puigcerdà except Pol Cerdà

FC Barcelona: Jhoan Sebastián Varela, Oriol Rubio, Marc Seoane, Arnau Miguel Ferrer, Niklas Puertolas, Iker Meyerson, Àlex Torres, Òscar Rubio, Manel Rubio, Ernest Muratet and Víctor Ros.
GC Puigcerdà: Jorge Piñar, Pol Duran, David Caballero, Pavel Ivanov, Bastien Tona, León Tona, Nacho Granell, Marc Paul, Oriol Paul, Oriol Boronat, Carlos Quevedo
Okanagan HC Europe (USA): Paul Cerdà
Coach: Salvador Barnola

Euskadi: current Spanish League leader CHH Txuri Urdin gives almost all roster for the national team
CHH Txuri Urdin: Luis Sokolov, Alejandro Vea, Jorge Vea, Álvaro Pérez, Diego Pérez, René Kortabitarte, Patrick Fuentes, Ignacio Solorzano, Txetxu Gavilanes, Ander Arraras y Borja Cabra
Sumendi HH: Ander Morán, Koldo Nodar
Milenio Logrono: Borja Orozco (Milenio)
FC Barcelona: Aaron Carretero, Íñigo Gainza, Ander Arrinda
Txuri Veterans: Ibon Portularrume, Andoni Gavilanes.
Coach: Txus Martin
The women's teams both made their debut: Catalunya, formed enterely by Spanish Women League champion, Barcelona Ice Blue Cats, won 3-1
Euskadi - Catalunya 1-3 (0-1,0-2,1-1)

0-1 Maria Ignacia Reina (Alba Gonzalo, Carla Lliveria) 7'
0-2 Laia Jornet (Ainhoa Merino) 27'
0-3 Elena Sans (Gemma Ortiz) 28'
1-3 Miren Larrauri

Rosters:
Catalunya:
Xènia Seoane, Carolina Moreno, Aina Pascual, Júlia Güell, Gemma Ortiz, Ainhoa Merino, Maria Ignacia Reina, Eva Marquès, Laia Jornet, Carla Lliveria, Júlia Lliveria, Shauny Ortega, Elena Sans, Alba Gonzalo, Bridget O'Hare. Coach: Einar Meyerson


Euskadi:

Ione Oyanguren, Ohiane Tedone, Lorena Zabala, Sandra Salgado, Vanesa Abrisqueta, Leticia Abrisqueta, Miren Larrauri, Clara García and Ainhoa Oyanguren (Sumendi); Claudia Bermejo, Sara Ibarrola, Irune Refojos, Lorena Recalde, Leire Corrales, Rebeca Ponce, Erika Hernández, Naiara Marauri, Maider Mitxelena and María Serna (Txuri Urdin); Cecilia López, Aitana García and Laura Gil (Huarte). Coach: Koldo Saez

Current events
External links

Czech Rep.: Tipsport extraliga | 1.liga | 2.liga

Slovakia: Tipsport Extraliga | 1.liga

Sweden: SHL | HockeyAllsvenskan
Other: EBEL | Belarus | Croatia | Denmark | Estonia | France | Great Britain | Iceland | Italy | Latvia | Lithuania | MOL-liga | Norway | Poland | Romania | Serbia | Slovenia | Spain | NHL | AHL |
League standings
Game fixtures
League leaders
A look back at a season that lived up to its promise. Read more»
The upcoming NHL draft in June 2023 is fast approaching. Find out here which European Ice Hockey players will likely be in the draft. Read more»