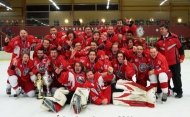 New name, same result
During the summer last season champion Skautafélag Akureyrar changed the name, but the new Vikingar reconfirmed title after a thrilling final series
Before the start of current season, champion Skautafélag Akureyrar decided to split its roster and to create a new team,
SA Jötnar
, to make the
Icelandic league
more interesting. The first team becomes
Vikingar
but rosters were often mixed during the season. Regular season ended after 18 rounds with Vikingar as winner and arch-rival
Skautafélag Reykjavikur
finishing second, 5 points behind leader, despite the lethal first line, with the Thormodsson brothers,
Egill
and
Gauti
, this one back from Swedish Junior League, finishing as top scorers.
disappointing season for SA second team, Jotnar, finishing third but very far from top places, and last season vice-champion
Björninn
, closing the league in last place with just 4 games won.
Playoffs finals were very thrilling and began with two victories from SR, 4-6 in Akureyr and a nail-biting overtime 3-2 at home with decisive goal by Egil Thormódsson. Finals seems decided since just a victory was enough to SR to secure title but Vikingar manage to revert the series winning the last three consecutive games in front of a great crowd despite live broadcast by television: 3-2 in game three, 1-2 in Reykjavik with a great performance by both goalies and decisive goal by Vikingar Canadian player\coach
Joshua Gribben
. Last decisive game was played in sold out
Akureyri Skautahollin
with many fans come from Reykjavik by cars and buses. Home team didn't disappointed its crowd and indisputably closed the battle with a final 6-2 marked by 2 goals each for
Jon Gislason
and
Stefan Hrafnsson
. Hrafnsson played most of season with SA second team Jotnar, but was decisive in final series.
Teams showed an equal level during finals and SA prevailed mainly due to more experienced players in the roster (SR average age is 21), able to bear the pression, mainly after game #2.
Current events
External links

Czech Rep.: Tipsport extraliga | 1.liga | 2.liga

Slovakia: Tipsport Extraliga | 1.liga

Sweden: SHL | HockeyAllsvenskan
Other: EBEL | Belarus | Croatia | Denmark | Estonia | France | Great Britain | Iceland | Italy | Latvia | Lithuania | MOL-liga | Norway | Poland | Romania | Serbia | Slovenia | Spain | NHL | AHL |
League standings
Game fixtures
League leaders
After a 4-years hiatus, a Kazakh club could be back in Russian Second League Read more»
In late Spring, 2023, the International Ice Hockey Federation will host the 86th Men's Ice Hockey World Championships. The competition is easily global ice hockey's biggest event, with hundreds of thousands of fans traveling for each world championship finals event. ... Read more»