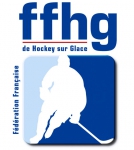 Division 2 (FRA)
League status: Active
Administered by: Fédération Française de Hockey sur Glace
Year of start: 1973
WWW: league web page 1
Did you find any incorrect or incomplete information? Please, let us know.
20 teams splitted in two group with home/away round robin inside the groups. First eight teams in each group advance to 2nd phase with home/away match between 1A/8B, 2A/7B etc. Winners advance to playoffs quarter finals
from 1973 to 1978: 2e série
from 1978 to 1985: Nationale C
from 1985 to 1986: Nationale 3
from 1986 to 1990: Nationale 2
from 1990 to 1992: Division 2
from 1992 to 1994: Division 3
from 1994 to 1995: Nationale 2
from 1995 to 1996: Division 2
from 1996 to 2001: Nationale 2
from 2001 to present: Division 2 (FRA)
Cergy promoted to LIgue Magnus
Cergy-Pontoise Jokers, the regular season champion of French Division 1, will play in Magnus Ligue in the next season, as determined by the Head Office of the Federation after reviewing the dossier presented by the club. In the same way HC Epinal is promoted to Division 1 from Division 2 and Reims and Poitiers will play in Division 2, coming from Division 3. Châlons asked to be relegated in Division 3
(26 Apr 2020)
Dijon relegated in Division 2, Chamonix back in Magnus
After the validation od Financial Commission of Magnus Ligue, Les Ducs de Dijon lost their licence for playing in Magnus Ligue and the club didn't submit neither guarantees to play in Division 1, so the Federation decided to demote the club in Division 2, the third level of French hockey.
Chamonix, relegated after the last season, is bring back in Magnus even if without the fusion with Morzine-Avoriaze, that will compete in Division 3.
Cergy-Pontoise will replace Chamonix in Division 1
(22 Jul 2017)
Brest relegated, Lyon back in Magnus
Brest Albatros, finished 6th in last Magnus Ligue, announced club won't play in next season at elite level and will compete in Division 1 due to financial reasons. Relegated HC Lyon will be back in Magnus, as per decision of Federation, if club will fulfill financial requirements. Federation also announced Brest received a 10.000 euro fee and will not be allowed to compete in playoffs in 2016-17 season. Finally Division 2 champion Clermont-Ferrand was allowed to partecipate in Division 1.
(12 Jun 2016)
Nice admitted to Magnus Ligue
Following the merging between two teams competing in Magnus Ligue, Chamonix and Morzine-Avoriaz, the Franch Federation announced Division 1 champion HCA Nice was chosen to be the 12th club in the French top division. Nice lost 2-4 and 4-5 the promotion/relation series against Morzine. The admission is still contioned by the respect of sporting and economic criteria to be examined in a meeting between Nice board and Federation in next future. The best placed between relegated teams - HC Lyon - will take the place of Nice if Federation does not deem satisfactory the economic conditions. It's still to be decided which team, between the relegated Mont-Blanc and Toulouse or Division 2 champion Clermont-Ferrand, will replace Nice in Division 1
(27 May 2016)
Montpellier withdrawn, Villard de Lans back in Division 2
Montpellier application for partecipation in next Division 1 (French Second division) wasn't validated by the Federation for lacking of economic hedging, so the team will play in Division 3 - the last level of French hockey - next season.
Villard-de-Lans, withdrawn from Magnus Ligue for economic problems, will restart from Division 2 (third level)
(25 Jul 2014)
All clubs get license in France
The French Federation publishes the clubs who are validated to play this season, as well as the punishments and clubs under surveillance of transfers and money spending.
All clubs in Ligue Magnus are validated though most of them have sanctions against them, Angers, Epinal, Gap, Mulhouse, Strasbourg are under surveillance.
All but Annecy and Mont Blanc have been validated from Division 1, Mont Blanc is going to appeal the decision. Montpellier is under surveillance
From Division 2, everybody but La Roche-sur-Yon is validated and club will appeal the decision, nobody under surveillance
(16 Jul 2012)
Past league results:
League standings:
Historic statistic:
Individuals records:
Fast facts
season 2023-2024
Cardiff Devils won by one-goal-difference against home side Grenoble and advances to the Continental Cup Superfinals along with Nomad Astana Read more»
Kazakh champion closes the Continental Cup semifinals round with a perfect record, by beating HK Zemgale in the last game Read more»