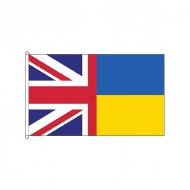 EIHL fans come together to raise £9000
Sheffield Steelers fans in particular and fans from around the U.K. have raised £9000 to help a players' wife.
.
I always think that politics and sport should be divided, hence why we have not talked about the sanctions imposed on Russia or their exclusion, along with Belarus,from the World Championships.
However, when a supreme act of generosity is perpetuated I think it deserves recogmition.
A Sheffield Steelers player, Martin Latal of Czech origin, specifically his wife and family found themselves living as refugees in the Czech Republic after his wife, a Ukranian citizen fled to escape the problems in her country.
So ice hockey across Sheffield and indeed Britain came together to raise £9,000 for them.
The raffle was the brainchild of Steelers' public relations media officer Dave Simms and he had this to say:
"When players or people in the past have been in need, the Steelers family has come to the front to help out, and that's happened again here.
"The fans love Martin; he's a great character and a great player.
"We're a community club, a family club, and once again the Steelers have shown their true colours in this instance.
"We didn't know if we'd be raising £300 or £3,000, but the magnificent total of £9,000 should go some way towards easing the requirements of Martin's family.
"I think Martin's been taken aback with it all a little bit.
"He's a humble bloke, but obviously knowing that he's got all the people in Sheffield and British ice hockey behind him must make him very proud."
Meanwhile, Mr. Simms insists the club are keen to help even further if possible:
"We'll sit down with Martin, and we'll discuss if there is anything else we can do for him to help.
The raffle for one of Martin Latal's game worn shirts wasn't supposed to end until later on Tuesday but the 5,000 tickets sold-out in less than 8 hours last Friday.
Martin Latal said
"I want to thank the good people of Sheffield and those others around the league who helped raise such a lot of money in that short time. Also the Sheffield organisation who let us do this so we could help all these people in these hard times.
"When I call them and tell them that the people in the UK and Sheffield help so much they can't believe it
"My wife Iryna and I want to say a huge thank you and tell you how grateful and humble we are about this. Thank you."
Current events
External links

Czech Rep.: Tipsport extraliga | 1.liga | 2.liga

Slovakia: Tipsport Extraliga | 1.liga

Sweden: SHL | HockeyAllsvenskan
Other: EBEL | Belarus | Croatia | Denmark | Estonia | France | Great Britain | Iceland | Italy | Latvia | Lithuania | MOL-liga | Norway | Poland | Romania | Serbia | Slovenia | Spain | NHL | AHL |
League standings
Game fixtures
League leaders
After three-years-hiatus, the Asia League was back and Korean team add another title Read more»
In late Spring, 2023, the International Ice Hockey Federation will host the 86th Men's Ice Hockey World Championships. The competition is easily global ice hockey's biggest event, with hundreds of thousands of fans traveling for each world championship finals event. ... Read more»