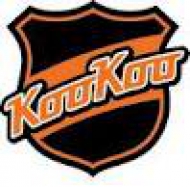 KooKoo shines on first Liiga weekend
The first game days in the Finnish elite league saw a surprising team climb on top of the standings in KooKoo Kouvola. With two straight wins in regulation they even let Jyväskylä and Rauma behind them.
KooKoo had to start the season on Friday night with a road game in Lappeenranta. Mikko Virtanen's deflection into the net after 15 minutes did not yet indicate how good Kouvola was that evening, but in the second period the southern Finns started rolling. Three goals in the first 6 minutes got Kouvola a 4-0 lead and forced SaiPa's headcoach Tero Lehterä to pull goalie Jussi Markkanen.
This gave SaiPa a little push that led to the first goal of the season when David Goodwin could benefit from a rebound off an Eetu Koski shot. But in the third period KooKoo kept walking and sunk SaiPa with three more powerplay goals by Michael Keränen and twice Eero Savilahti, who scored a hattrick on this opening night.
This 7-1 victory was followed the next day by a game against the same opponent at home in Kouvola. And the powerplay was an important factor again. Jyri Niemi late in the first period and Anrei Hakulinen within the first minute of the second period established a 2-0 lead for KooKoo with the man advantage. At the 33:59 minute mark Toni Kähkönen proofed that KooKoo can also do it on 4-on-4, when he walked through the SaiPa defense all by himself and beat goalie Frans Tuohimaa through the legs.
In the last period Lappeenranta showed some fighting spirit and came back with a powerplay goal by Jonatan Tanus. With 55 seconds left David Goodwin even managed to get SaiPa within one goal and gave the fans some hope for overtime, but Miika Pitkänen had the answer with his empty netter for the 4-2 win.
The two other teams that got two wins out of the first weekend are JYP  and Lukko, but both of them had to go into overtime once. JYP defeated HIFK on opening night with 4-2. After 20 minutes HIFK was in the lead with 2-1, but by the end of the second JYP had turned that around with three unanswered goals. On Saturday it took them a bit longer in Helsinki. This time HIFK even established a 3-0 lead halfway through the game, but JYP came back. Former IFK player Juuso Puustinen, Ossi Ikonen and Estonian forward Robert Rooba evened the game to set the stage for Mikko Kalteva's 4-3 game winner in overtime for JYP.
Lukko made its fans wait a bit longer in their home opener. For 60 minutes no team managed to score, which was owed to big performances by the two goalies Kaapo Kähkönen (Lukko) and Oskari Setänen (Turku). 41 seconds into the overtime, though, Joakim Hillding found the right spot in the slot to bang the puck in the upper right corner for the 1-0 win.
The next day in Vaasa Tomi Körkkö's early goal for the home team forced Lukko to start earlier with the scoring. And so they did. A first attempt to take over control with two goals by Ville Vahalahti and Janne Keränen was countered by two more Vaasa goals, but in the last period it was all Lukko playing. With three goals they managed to turn a 2-3 into a 5-3 win.
The individual scoring race is led by Robert Rooba (JYP) and Eero Savilahti (KooKoo), who both scored 3 goals and 1 assist on the first weekend.

Czech Rep.: Tipsport extraliga | 1.liga | 2.liga

Slovakia: Tipsport Extraliga | 1.liga

Sweden: SHL | HockeyAllsvenskan
Other: EBEL | Belarus | Croatia | Denmark | Estonia | France | Great Britain | Iceland | Italy | Latvia | Lithuania | MOL-liga | Norway | Poland | Romania | Serbia | Slovenia | Spain | NHL | AHL |
League standings
Game fixtures
League leaders
The captain Lukas Zukauskas shines in the home team triumph Read more»
in a pleasing match the Croatian champions beat a combative Reykjavik Photos by Evaldas Šemiotas Read more»