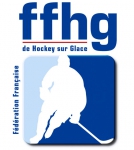 Division 1 (FRA)
League status: Active
Administered by: Fédération Française de Hockey sur Glace
Head manager: Luc Tardif, Arnaud Briand
Year of start: 1930
WWW: league web page 1
Did you find any incorrect or incomplete information? Please, let us know.
Each team plays the other teams at home and away (26 games). At the end of this regular season the 4 highest ranking teams enter a combined knock-out play-off series while the four lowest ranking teams (two from each pool) enter a play-off series of their own. The winner of the former play-off series is promoted to Ligue Magnus while the loser of the latter play-off series is demoted to FFHG Division 2.
from 1930 to 1973: 2e série
from 1973 to 1975: Série B
from 1975 to 1985: Nationale B
from 1985 to 1986: Nationale 2
from 1986 to 1990: Nationale 1B
from 1990 to 1992: Division 1
from 1992 to 1994: Nationale 2
from 1994 to 1995: Nationale 1B
from 1995 to 1996: Division 1
from 1996 to 1997: Nationale 1B
from 1997 to 2001: Nationale 1
from 2001 to present: Division 1 (FRA)
Cergy promoted to LIgue Magnus
Cergy-Pontoise Jokers, the regular season champion of French Division 1, will play in Magnus Ligue in the next season, as determined by the Head Office of the Federation after reviewing the dossier presented by the club. In the same way HC Epinal is promoted to Division 1 from Division 2 and Reims and Poitiers will play in Division 2, coming from Division 3. Châlons asked to be relegated in Division 3
(26 Apr 2020)
Slovak player Dávid Gáborčík passed away
Twenty-five-year-old Slovak defender David Gáborčík, played in France 2nd Division for Dunkerque Corsaires, passed away last Tuesday in still unknown circumstances. According the local newspaper La Voix du Nord, the player was found lifeless on a sidewalk with a major wound in his head and the evidence suggested that Gaborcik would have made a fatal fall from the third floor of a building, but at the same time the car belonging to the player was found in a canal and Gaborcik clothes were wet.
But according to hokej.sk portal, Gaborcik suffered a car accident in a completely different part of the city. The player was still alive after the crash but died at the hospital for the wounds suffered
The prosecutor's office in Dunkerque, which opened an investigation into the causes of death on Tuesday night said: "We tries to understand. There is no certainty that he has fallen from an apartment. We do not exclude anything until we have a medical answer . For the moment, no track is privileged. All are explored."
(01 Nov 2018)
Dijon relegated in Division 2, Chamonix back in Magnus
After the validation od Financial Commission of Magnus Ligue, Les Ducs de Dijon lost their licence for playing in Magnus Ligue and the club didn't submit neither guarantees to play in Division 1, so the Federation decided to demote the club in Division 2, the third level of French hockey.
Chamonix, relegated after the last season, is bring back in Magnus even if without the fusion with Morzine-Avoriaze, that will compete in Division 3.
Cergy-Pontoise will replace Chamonix in Division 1
(22 Jul 2017)
Courbevoie withdrawn, Grenoble punished
CO Courbevoie announced the club won't partecipate in next France Division 1 season and auto-relegated to Division 3. Consequently, applying the regulation, Federation fined the club with 6.000 euro and ousted from Division 3 final round and the promotion for upcoming season.
Following the report of National Monitoring and Management Control Commission (CNSCG) Grenoble was fined and sanctioned for violations of administrative rules, financial tax or statutory and concealment of official documents.
Thus the club received a withdrawal of 6 points in next Magnus Ligue and two years suspension from Coupe de France
(28 Jul 2016)
Brest relegated, Lyon back in Magnus
Brest Albatros, finished 6th in last Magnus Ligue, announced club won't play in next season at elite level and will compete in Division 1 due to financial reasons. Relegated HC Lyon will be back in Magnus, as per decision of Federation, if club will fulfill financial requirements. Federation also announced Brest received a 10.000 euro fee and will not be allowed to compete in playoffs in 2016-17 season. Finally Division 2 champion Clermont-Ferrand was allowed to partecipate in Division 1.
(12 Jun 2016)
Nice admitted to Magnus Ligue
Following the merging between two teams competing in Magnus Ligue, Chamonix and Morzine-Avoriaz, the Franch Federation announced Division 1 champion HCA Nice was chosen to be the 12th club in the French top division. Nice lost 2-4 and 4-5 the promotion/relation series against Morzine. The admission is still contioned by the respect of sporting and economic criteria to be examined in a meeting between Nice board and Federation in next future. The best placed between relegated teams - HC Lyon - will take the place of Nice if Federation does not deem satisfactory the economic conditions. It's still to be decided which team, between the relegated Mont-Blanc and Toulouse or Division 2 champion Clermont-Ferrand, will replace Nice in Division 1
(27 May 2016)
Morzine remains in Magnus Ligue
By beating 5-4 in promotion\relegation series game #2 Division 1 champion HCA Nice, Morzine-Avoriaz will play in Ligue Magnus also next season, when the elite league of French hockey will be reduced from current 14 to 12 teams. Lyon and 2014 champion Briançon were relegated
(03 Apr 2016)
Miroslav Frycer is the new coach of Morzine; Dusseau at Neuilly
Czech Miroslav Frycer, 59, is the new coach of Ligue Magnus club Morzine Avoriaz replacing fired Tommie Hartogs. Frycer closed last season his two-years experience at Sanok with one national title and a fourth place and two Polish Cup finals, both lost. Morzine will play in play-outs to avoid relegation.
François Dusseau, fired by Lyon on January 13, finds a new job as assistant coach of Frank Spinozzi at Neuilly sur Marne, in French 2nd division
(02 Feb 2016)
Bordeaux promoted to Ligue Magnus
A goal at overtime by Thomas Decock gives Bordeaux the victory 4-3 in game #4 of the finals against Anglet, the title of French Division 1, the second level of French hockey, and th promotion to Ligue Magnus. Game #4 was re-played after the stoppage of the match, originally played on first of April, due to a problem with the ice of Anglet arena.
During the summer Bordeaux, after the defeat in the finals of the past season, adopted a professional structure and began the league as the favourite.
In Ligue Magnus, Bordeaux replaces relegated Caen
(03 Apr 2015)
Montpellier withdrawn, Villard de Lans back in Division 2
Montpellier application for partecipation in next Division 1 (French Second division) wasn't validated by the Federation for lacking of economic hedging, so the team will play in Division 3 - the last level of French hockey - next season.
Villard-de-Lans, withdrawn from Magnus Ligue for economic problems, will restart from Division 2 (third level)
(25 Jul 2014)
Past league results:
League standings:
Historic statistic:
Individuals records:
Fast facts
season 2023-2024
Cardiff Devils won by one-goal-difference against home side Grenoble and advances to the Continental Cup Superfinals along with Nomad Astana Read more»
Kazakh champion closes the Continental Cup semifinals round with a perfect record, by beating HK Zemgale in the last game Read more»