Lugano and JYP will decide their fate in the last game
Two goals by Swiss forward gives Lugano a key victory in Champions League against reigning champion
Looking desperately for a key victory to keep hopes of qualification alive, HC Lugano faces CHL reigning champion JYP Jyväskylä in a group with HC Plsen already qualified and Finnish team with 3 points more then Swiss, waiting Lugano in Finland in the last round. In a Corner Arena, with only 3600 spectators, HC Lugano is still without injured Linus Klasen, while JYP aligns for CHL debut last sign Julius Nattinen.
After an aggressive start by JYP, putting pressure on Lugano defence, the Swiss silver medallist opens the score at 08:34 with top scorer Gregory Hofmann assisted by Romain Loeffel finishing a speedy counter-attack. The goal ignites Lugano, with chances to double the score for same Hoffmann and Lajunen, while home goalie Merzlikins has routine in defending the cage, without any particular problem
The first part of central period is more confusing, with both teams trying to create offensive opportunities without real scoring chances. At minute 29 Wellinger looses the puck in the defensive zone conceding a clear opportunity for Janne Kolehmainen, Merzlikins rebounds the dangerous shot. Two minutes after on power play, great chance for Maxime Lapierre: his deflection on Hoffmann's pass planes inches from turning the 2nd goal. Ossi Louhivaara wastes a great chance alone in front of Merzlikins with 6 minutes to play, marking 4 minutes of JYP total pressure, interrupted by a shot of Fazzini – back on ice after a long injury – and a power play for Lugano, with a one-timer by Hoffmann, blocked with difficult by Laurikainen.
The last period is marked by a superiority of JYP with Merzlikins called to a couple of difficult saves and the Finnish team constantly in the Lugano defensive zone. Swiss team braving resists to the storm biting JYP in its best momentum with a beautiful goal by Hoffmann, clinical in receiving from Lapierre and deking out goalie Laurikainen. JYP pulls the goalie for the last assault with 3 minutes to play: Merzlikins is superb in rebounding two consecutive attempts in a bis mess in front of the cage with almost two minutes to play. Also Lugano has a couple of chances to increase the score, closing the game with a convincing victory and the next, last decisive game at Jyväskylä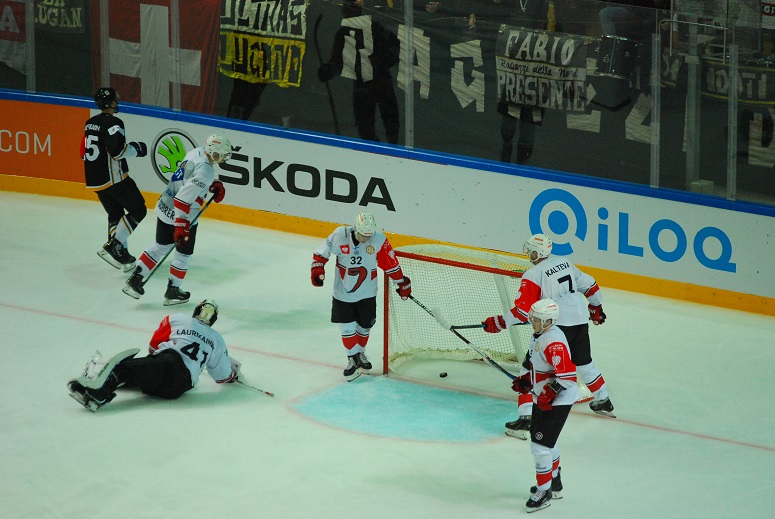 The second goal scored by Hoffmann

MVP: Gregory Hoffmann - Robert Rooba
Current events
External links

Czech Rep.: Tipsport extraliga | 1.liga | 2.liga

Slovakia: Tipsport Extraliga | 1.liga

Sweden: SHL | HockeyAllsvenskan
Other: EBEL | Belarus | Croatia | Denmark | Estonia | France | Great Britain | Iceland | Italy | Latvia | Lithuania | MOL-liga | Norway | Poland | Romania | Serbia | Slovenia | Spain | NHL | AHL |
League standings
Game fixtures
League leaders
After three-years-hiatus, the Asia League was back and Korean team add another title Read more»
In late Spring, 2023, the International Ice Hockey Federation will host the 86th Men's Ice Hockey World Championships. The competition is easily global ice hockey's biggest event, with hundreds of thousands of fans traveling for each world championship finals event. ... Read more»