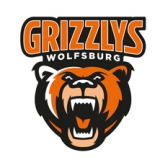 Grizzlys Wolfsburg
Nickname: Die Grizzlies
Year of foundation: 1975
Colours: orange,black
Club status: active
Address: EHC Wolfsburg Grizzly Adams GmbH
Allerpark 5 (EisArena)
38448 Wolfsburg
Phone: +49.5361.84 84 89.0
Fax: +49.5361.84 84 89.40
Email: info@grizzlys.de
Did you find any incorrect or incomplete information? Please, let us know.
Season 2023-2024
This club in 2023-2024: DEL
Current roster
season 2023-2024
* no longer in the club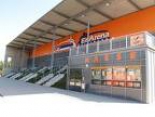 Adress: Volksbank BraWo Eis Arena
Allerpark 5
38448 Wolfsburg
Phone: +49 (0) 53 61 / 8 93 53 12
Email: info@eisarena-wolfsburg.de
Capacity: 4668
Opened in: 2006
from 1975 to 1986: TV Jahn Wolfsburg
from 1986 to 1994: ESC Wolfsburg
from 1994 to 1996: EC Wolfsburg
from 1996 to 2015: Grizzly Adams Wolfsburg
from 2015 to present: Grizzlys Wolfsburg
German Cup: 2009
League winners:
from 1975 to 2015: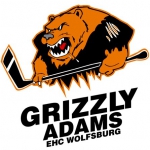 from 2015 to present:
Dzieduszycki out with hand surgery
DEL's Grizzly Adams Wolfsburg announced that Matt Dzieduszycki, one of their key players, will miss the whole preparation for the next season due to a recent hand surgery. The injury that led to the surgery happened already during the playoffs in April but didn't heal as expected. The coaches expect the center who scored 31 goals 2012-13 back during the first matchdays of the DEL campaign.
(13 Jul 2013)
Fischer gets long break
German national player Christopher Fischer will miss most part of the next season. The defender of DEL's Grizzly Adams Wolfsburg was diagnosed with a cartilage damage which he received during the 2012 World Championship.
(03 Aug 2012)
Spengler Cup: Turco, Niinimaa, and Hecquefeuille in, Birbaum out
Team Canada announced a change in the cage for Spengler Cup: Ambri Piotta's Nolan Schaefer will not partecipated and will be replaced by Marty Turco, recently crowned European Trophy's champion with Red Bulls Salzburg.
Host HC Davos announced the loan of Rapperswil Finnish veteran Janne Niinimaa.
German Grizzly Adams Wolfsburg will allign French international Kevin Hecquefeuille, on loan from Servette Geneve. Finally ;Kloten Flyers hasn't reach an agreement with Fribourg Gotteron for the loan of defender Alain Birbaum, previously announced as roster addition.
(22 Dec 2011)
Spengler Cup announces participants
Europe's oldest hockey tournament announced the definitive participants today. Once again there will be six teams: host HC Davos and traditional participant Team Canada will face Kloten Flyers, Dinamo Riga, Grizzly Adams Wolfsburg and HC Vitkovice. For Dinamo Riga and Wolfsburg, it will be the first ever Spengler. The 85th edition of the Spengler Cup will, as usual, be played in Davos from December 26 to 31.
(21 Jun 2011)
Historic rosters:
Historic statistics:
Past results:
League standings:
Fast facts
season 2023-2024
Grizzlys Wolfsburg participates in season 2023-2024: DEL
Cardiff Devils won by one-goal-difference against home side Grenoble and advances to the Continental Cup Superfinals along with Nomad Astana Read more»
Kazakh champion closes the Continental Cup semifinals round with a perfect record, by beating HK Zemgale in the last game Read more»