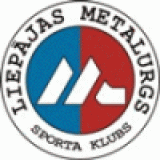 Metalurgs Liepaja 2
Year of foundation: 2008
Colours: red,white,blue
Club status: ceased (Folded after 2012-2013 when company Metalurgs ceased supporting)
Address: Brīvības iela 93
Liepāja, LV-3401
Phone: +371 63480927
Fax: +371 63480927
Email: fhklubs@inbox.lv
WWW: Metalurgs Liepaja 2
Did you find any incorrect or incomplete information? Please, let us know.
Season 2012-2013
Current roster
season 2012-2013
* no longer in the club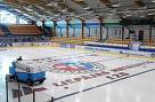 Adress: "Liepājas Olimpiskā Centra" ledus halle
Brīvības iela 3/7
Liepāja, LV-3401

Phone: +371 63481840
Email: slidotava@loc.lv
Capacity: 1143
Opened in: 1998
from 2009 to present:
Ozolnieki Monarch and Metalurgs 2 advance to semifinals
Ozolnieki/Monarch and champion Metalurgs Liepaja 2 need just two games to knock out Prizma Riga and Zemgale and advance to Latvian League semifinals. Ozolnieki won two games 9-3 and 4-0, while Metalurgs, alligning players from main team, crushed Zemgale 7-2 and 3-0.
Semifinals will see regular season champion SMS Credit against Metalurgs and Ozolnieki - HK Juniors Riga
(14 Mar 2013)
Latvian League clubs announced
The LHF announces the 8 clubs of the Latvijas Virslīga for this season: SK Liepājas Metalurgs II, HK Ozolnieki/MONARCH, DHK Latgale, SMScredit.lv, HK Zemgale/JLSS, HS Rīga/Prizma, HK Juniors and SK Rīga'96. HS Rīga/LSPA and Lithuanian side Elektrēnu Energija won't participate. The league is scheduled to start 12 September 2012.
(21 Aug 2012)
Metalurgs Liepaja 2 confirmed title in Latvia but club can terminate cooperation with Dinamo Riga
By hammering 8-2 regular season winner Ozolnieki/Monarch in game #5 of finals, Liepaja Metalurgs 2 confirmed its title in Latvian League. Mārtiņš Gipters scored an hattrick. This is the fourth title in last five years for Metalurgs, two as senior team and the last two as "B" team.
During the celebrations for the title Metalurgs' Director Mikhail Vasilenok said is still unsure if club will continue to serve as Dinamo Riga farm club: ""Co-operation in this season was not as favorable as in the first season, so do not know whether we will continue to cooperate and will remain a farm club Dinamo. We had the impression Dinamo prioritised HK Riga in the MHL, assigning to them some key players when we are also fighting for access to the playoffs in Belarus League"
(16 Apr 2012)
Ozolnieki keep hopes alive
Ozolnieki/Monarch wins 2-1 Latvian League playoffs finals game #3  against Liepaja Metalurgs 2, earning the first victory in the series. Goals by Sergejs Durdins and Aleksandrs Šiškovičs answered to Gunars Skvorcovs opening one, scored after 35 seconds. The series is now leading by Metalurgs 2-1. Next game is tomorrow, again in Liepaja
(09 Apr 2012)
LIepaja Metalurgs join Ozolnieki in Latvian League finals
Six games were enough for current champion Liepaja Metalurgs-2 to sweep out SMS Credit and advance to finals against regular season winner Ozolnieki. In last game Metalurgs, alligning some of first team top players, win 5-3 against SMS Credits. As last year the Latvian title will be decided between Ozolnieki and Liepaja Metalurgs-2
(01 Apr 2012)
Ozolnieki waits for opponent
Ozolnieki Monarch sweeps out HK Juniors Riga in four games, closing the series with 5-3 victory in game four after been recovered from a 3-1 gap after second period. A 4-0 half points in last period gives Ozolnieki the third consecutive finals in Latvian League. In other pairs Liepaja Metalurgs-2 ties 2-2 the series beating 4-2 SMS-Credit
(28 Mar 2012)
Ozolnieki one step from final, SMS Credit takes advantage
In Latvijas Virslīga semifinals game #3 Ozolnieki Monarchs get the third victory against Juniors Riga recovering from 1-3 and closing the game 5-3 with two goals by Artis Abols in third period. In the other pair SMS Credit get a capital success against Liepaja Metalurgs-2 with a lonely goal by veteran Aleksandr Kercs and now leads the series 2-1
(26 Mar 2012)
SMS Credit ties series in Latvia, Ozolnieki wins also second game
To call some star players from MHL HK Riga wasn't enough for Juniors Riga to win semifinal game #2 in Latvian League. Despite initial advantage scored by Ainars Podzins, Juniors conceeded 3 goals to Ozolnieki, now 2-0 in the series. The other pair confirms to be very balanced: SMS Credit equalizes the series beating Liepaja Metalurgs-2 4-3 at shoot-outs: Ronalds Cinks scores decisive penalty. Games #3 will be played next monday
(25 Mar 2012)
Ozolnieki and Metalurgs-2 win semifinals game #1 in Latvia
Latvijas Virslīga playoffs semifinals started today: Regular Season winner Ozolnieki/Monarch clearly win over Juniors Riga. Ozolnieki veterans scored five goals with five different players for the final 5-2. In other pairs the young Liepaja Metalurgs-2 turns over the score in the last period against SMS-credit, another team with a lot of veterans in the rosters: 45-years-old Aleksandr Kercs scored twice for SMS but his team lost 3-4.
(23 Mar 2012)
Metalurgs win big in the first Latvian final
Liepājas Metalurgs II beat HK Ozolnieki-MONARCH 9-0 in the first game of the Latvian finals. Viktors Blinovs scored 3 goals, Vitalijs Pavlovs and Edijs Brahmanis 2 and Egils Kalns and Lauris Bajaruns a goal each.
(16 Mar 2011)
Historic rosters:
Historic statistics:
Past results:
League standings:
Fast facts
season 2012-2013
After a 4-years hiatus, a Kazakh club could be back in Russian Second League Read more»
The 5th season of Ice Hockey Championship was played at Altit Fort, Hunza in -15 C temperature. SCO male team won the Championship against defending champions team of Serena Hotels. ... Read more»