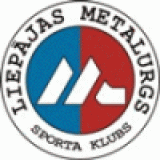 Metalurgs Liepaja
Year of foundation: 1997
Colours: blue,white,red
Club status: ceased (Folded after 2012-2013 when company Metalurgs ceased supporting)
Address: Brīvības iela 93
Liepāja, LV-3401
Phone: +371 63480927
Fax: +371 63480927
Email: fhklubs@inbox.lv
WWW: Metalurgs Liepaja
Did you find any incorrect or incomplete information? Please, let us know.
Season 2009-2010
Current roster
season 2009-2010
* no longer in the club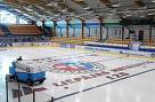 Adress: "Liepājas Olimpiskā Centra" ledus halle
Brīvības iela 3/7
Liepāja, LV-3401

Phone: +371 63481840
Email: slidotava@loc.lv
Capacity: 1143
Opened in: 1998
Retired Numbers: 21 Eduards Ivanovs
Notable players:
Latvian Champion: 1998/99, 1999/00, 2001/02, 2002/03, 2007/2008, 2008/2009
Eastern European Hockey League champions 2002
League winners:
from 1998 to present:
Latvian League with 6 or 7 teams
Six teams confirmed their participation at the next Latvian League: HK Kurbads, Dinamo/Juniores (new name of HK Juniores) HK JLSS Zemgale, HS Riga/Prizma, HK Daugavpils and Ozolnieki/Monarch. HK Tukums' participation is still in doubt.

Last champion SMS Credit isn't in the starting grid after having waived the participation at next Continental Cup. Also Riga '97 and Liepaja Metalurgs won't play in next edition beginning September 7.
(14 Aug 2013)
Metalurgs Liepaja won't play in 2013-14
Latvian Federation Sports Director Mārtiņš Pagodkins announces Liepaja Metalurgs will be inactive in next season, not competing in any category.
Last spring team's main sponsor, steel company Metalurgs, decided to cease the support for senior hockey team and to abandon Belarus Open League and MHL-B. However, the club at that time assured they were determined to grant a team in Latvian League. But plans for participation at the league did not materialize due to economic problems of Metalurgs
(13 Aug 2013)
Gomel announces new coach
Belarusian Valeri Voronin will be the new coach at Gomel after the departure of Andrei Skabelka. Voronin was on Metalurgs Liepaja bench in last three seasons
(28 Apr 2013)
LIepaja Metalurgs applies to join MHL
Liepajas Metalurgs sent a formal application for membership at the MHL.
The final decision will be taken at a general meeting of the League after the club's infrastructure inspection and verification of its compliance with the rules of the MHL.
(03 Jun 2012)
Metalurgs Liepaja 2 confirmed title in Latvia but club can terminate cooperation with Dinamo Riga
By hammering 8-2 regular season winner Ozolnieki/Monarch in game #5 of finals, Liepaja Metalurgs 2 confirmed its title in Latvian League. Mārtiņš Gipters scored an hattrick. This is the fourth title in last five years for Metalurgs, two as senior team and the last two as "B" team.
During the celebrations for the title Metalurgs' Director Mikhail Vasilenok said is still unsure if club will continue to serve as Dinamo Riga farm club: ""Co-operation in this season was not as favorable as in the first season, so do not know whether we will continue to cooperate and will remain a farm club Dinamo. We had the impression Dinamo prioritised HK Riga in the MHL, assigning to them some key players when we are also fighting for access to the playoffs in Belarus League"
(16 Apr 2012)
Continental Cup 2nd Round, Day #2
In Dunaujvaros B Group Belgian White Caps Tourhout made a sensation beating 5-3 Dutch champion HYS The Hague with an amazing performance by American goalie Tyler O'Brien, 53 saves and it's almost qualyfing for an historic third round. Host Dunaujvarosi Acelbikak hammered 7-1 Spanish champion CH Jaca: a significant 80-10 shoots on goal says a lot about a one-sided game.
C Group in Miercurea Ciuc, Romania opened with an easy victory by Metalurgs Liepaja. Latvian side scored 11 goals against Olimpija Ljubljana with an hattrick by Juris Upitis, while Sport Club says goodbye to qualification after 1-5 suffered by Beybarys Atyrau, now with a chance to advance if Liepaja will lost in last game.
Follow all Continental Cup results and stats on Eurohockey.com here
(23 Oct 2011)
Continental Cup 2nd Round results
The second Round of Continental Cup started on Friday, with two groups in Miercurea Ciuc (ROM) and Dunaujvaros (HUN). In Romania, Liepaja Metalurgs opened tournament with a shoot-outs victory against Kazakh champion Beybarys Atyrau: 3-2 with decisive shoot-out by Juris Upitis. Host SC Csikszereda easily won its first match, 8-3 against HK Olimpija Ljubljana (farm of EBEL main team) with 2 goals scored by Ede Mihaly.
In Hungarian seed White Caps Turnhout, winner of preliminary group, didn't have problem with Spanish champion CH Jaca: 7-3 and 3 goals by veteran Marek Ziarny while Dunaujvarosi Acelbikak frustrated its fans loosing 3-1 with Dutch HYS The Hague
(22 Oct 2011)
A loss that hurts
Vitebsk was down 7-3 to Metalurgs Liepaja a few minutes into the third period of the Belarus league game, but still was able to score 4 goals and tie the game at 7 seven minutes before the end. The heroic effort was still in vain as Juris Upitis scored to restore Liepaja's lead at 57:24 and the game was lost 8-7.
(28 Sep 2011)
Historic rosters:
Historic statistics:
Past results:
League standings:
Fast facts
season 2009-2010
Gary Graham parted ways with EIHL side Nottingham Panthers this morning. Read more»
With a 5-2 win for Cardiff and 4-1 win for Angers they will take their place in the Superfinal. Read more»