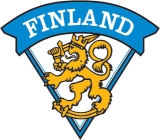 Finland
Year of foundation: 1928
Colours: blue, white, black
Club status: active
Address: Finnish Ice Hockey Association
Mäkelänkatu 91
00610 Helsinki
Finland
Phone: +358 9 756 750
Fax: +358 9 756 755 75
Email: office@finhockey.fi
Did you find any incorrect or incomplete information? Please, let us know.
Season 2017-2018
Current roster
season 2017-2018
* no longer in the club
from 1899 to present: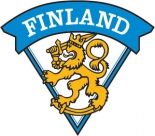 World Juniors Quarter finals
The quarter final match-ups of the World Junior Championship in Canada is decided after the end of the Preliminary Round:
Sweden - Switzerland
Canada - Finland
USA - Czech Republic
Russia - Slovakia
(01 Jan 2019)
U.S. women beat Finland
USA beat Finland 3-1 in the opening game of the A Group of Women's Olympics. Finland took the lead in the final seconds of the first period but USA scored twice in the second and added an empty net goal 13 seconds before the end.
(11 Feb 2018)
World Juniors quarter finals
The World Junior Championship quarter finals will be played on Tuesday:
Czech Republic - Finland
Canada - Switzerland
Sweden - Slovakia
USA - Russia
Belarus and Denmark will play three games to decide who relegates.
(01 Jan 2018)
Finland adds forward
Finland added forward Eetu Tuulola to the WJC roster.
(30 Dec 2017)
Finland beat Russia
Finland won the last game of three between the Under-17 teams of Finland and Russia in Vierumäki 2-1.
Finland also won game one 3-1 while Russia won the second game 4-3.
(13 Aug 2017)
Big wins on Ivan Hlinka Memorial opening day
Three of the four games on the first day of Ivan Hlinka Memorial in Breclav, Czech Republic and Bratislava, Slovakia ended with big wins. First Lukas Wernblom and Samuel Fagemo scored two goals each when Sweden beat USA 6-1 in Breclav. In the second game in Breclav Czech Republic beat Switzerland 6-2 after two goals by Jan Jenik and two by Jakub Lauko.
In Bratislava Ruslan Iskhatov scored the winner when Russia beat Canada 4-3 after a shootout. Rasmus Kupari had two goals and three assists when Finland got an easy 6-1 win over Slovakia.
(07 Aug 2017)
Finland wins U19 tournament
Finland won the U19 5-nation tournament played in Zuchwil, Switzerland this week. In the first game they were beaten 5-4 in overtime by Czech Republic. Then followed three wins; Sweden 4-0, Germany 5-2 and Switzerland 5-1.
(11 Feb 2017)
Mikko Koivu named captain of Finland at World Cup
Finnish Federation has announced Minnesota Wild forward, Mikko Koivu will serve as Team Finland's captain at the World Cup of Hockey. Koivu, also Wild captain, will lead Finland in three World Championship
(22 Aug 2016)
World Championship preparation
The World Championship in Russia starts in three days. Four pre-tournament games were played today. Canada beat Czech Republic 3-0 and Kazakhstan beat France 6-3. Finland-USA (3-2) and Switzerland - Germany (4-3) were both decided in overtime.
(03 May 2016)
Seven new members to Finnish Hockey Hall of Fame
Seven persons were today named to the Finnish Hockey Hall of fame: Pekka Leimu (player), Saku Koivu (player), Teemu Selänne (player). Kimmo Rintanen (player), Tiia Reima (player, member of Finnish 1st Women's Olympic team), Erkki "Neka" Haapanen (equipment manager) and Rauli Virtanen (coach).
(29 Dec 2015)
Historic rosters:
Historic statistics:
Past results:
League standings:
Fast facts
season 2017-2018
Finland participates in season 2017-2018: Euro Hockey Tour, National team games, Olympics, Women's Olympics, World Championship, U20 National team games, WJC, U19 National team games, U18 National team games, WJC18, U17 National team games, U16 National team games, World Women's U18 Championship, National team games (Women)
As Sheffield Steelers (EIHL) gear up for a play off push changes were made. Read more»
From practice in a car park and over a Persian carpet to skating in one of the most prestigious hockey academies: Eurohockey meets Guila Mohajer: facing many difficulties, the first Iranian women hockey player is now studying coaching in Vierumaki Sport ... Read more»