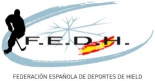 Copa del Rey
League status: Active
English name: Spanish National Cup
Administered by: Federacion Espanola de Deportes de Hielo
Year of start: 1973
Did you find any incorrect or incomplete information? Please, let us know.
FC Barcelona win Copa del Rey
FC Barcelona has surprisingly triumphed in Copa del Rey, the Spanish national Cup, played in Jaca last weekend. The hockey section of the famous club won Spanish League champion, Cup holder and super-favourite Txuri Urdin San Sebastian 5-4 in a thrilling semifinal, decided by a goal of Bruno Baldris at 61:62 after having recovered the disadvantage three times in regular time. In the final, a clear victory 5-1 against Liga Nacional finalist CG Puigcerdà, which closes the season with two silver medals. Barcelona takes home the sixth Copa del Rey, after the last success in 2014-2015, curiously obtained against the same opponent and on the same ice
(14 Apr 2019)
Txuri Urdin retains title in Spain
Txuri Urdin San Sebastian completed a perfect season confirming the title of Liga Nacional alredy won last season by beating in 3 games - 4-3, 7-1 and 7-2 - archrival CH Jaca after dominating regular season and knocking out SAD Majadahonda in the semifinals. Jaca, finished second, eliminated FC Barcelona to reach the final. This is the title number 14 for Txuri, now the the winningest club of the country, having passed Jaca with 13 titles
In December Txuri also won Copa del Rey, the national cup, beating 3-1 Jaca in the final. Czech Pavel Mrňa from champion Txuri finished as Top Scorer with 34 (17+17) points
(26 Mar 2018)
Txuri Urdin win Copa del Rey
Txuri Urdin win Copa del Rey (Spanish National Cup) by beating 3-1 arch-rival CH Jaca in the final played at home in San Sebastian. Two goals on power-play at the begin of last period, scored by Slovak Vladimir Lantos and Czech Pavel Mrna decided the game. The two teams have faced each other for the third year in a row in the final, with Jaca won last season and Txuri two years ago.
With this victory Txuri Urdin sums 11 Cups. Jaca remains the remains the major winner with 15 titles, following by Puigcerdà with 12
(24 Dec 2017)
National Cup assigned in Netherlands and Spain
CH Jaca has brought home the Copa del Rey (Spanish National Cup) by beating 2-1 trophy holder Txuri Urdin with 2 goals by Canadian Frédérik Diséi in the final played at Valdemoro rink. It's the 15th Cup for Jaca, the biggest winner of the competition. In the semifinals, Jaca easily won 5-0 against Majadahonda, while regular season champion Txuri Urdin won 4-2 against FC Barcelona
With four goals and three assists veteran Marco Postma was the undisputed protagonist of Dutch Cup final, played at Eindhoven Icerink: his team Heerenveen Flyers trashed 8-1 Limburg Eaters in front of 1300 spectators to grab second consecutive trophy, a revenge after losing the Supercup to Eaters at the start of the season
(23 Jan 2017)
Txuri Urdin win Spanish Copa del Rey
Txuri Urdin win its 9th Copa del Rey, the first trophy since 1999-2000 season, by beating 4-1 national champion CH Jaca in the final played in San Sebastian, a revenge of championship finals played between same two teams and won by Jaca. In the semifinals, Txuri trashed 6-0 Majadahonda while Jaca won laboriously 3-2 FC Barcelona
(28 Mar 2016)
Barcelona win Copa del Rey
FC Barcelona won for the fifth time, the first since 1996-97, Spanish Copa del Rey by beating 6-2 in the final arch-rival CG Puigcerdà at Jaca. In the semifinals, played on Saturday, Barcelona won 7-6 at overtime Txuri Urdin, while Puigcerdà won 5-3 hosts Jaca. Its the first trophy for Barcelona coach Danylo Didkovsky
(18 Jan 2015)
Bipolo Vitoria win (also) Copa del Rey
Closing a dominating season, League champion Bipolo Vitoria captured Copa del Rey (Spanish National Cup) - the first ever in club history - last weekend by beating 4-1 CG Puigcerdà in the final, played in Barcelona in a repeat of recent League final series.
(25 Mar 2014)
Jaca wins Copa del Rey
CH Jaca win its third consecutive Copa del Rey beating 9-5 league champion Bipolo Vitoria in the final played in Puigcerdà. American forward Charles Strauss was the star of the game with 3 goals and 3 assists
(01 Apr 2013)
Bipolo Vitoria wins first title in Spain
By beating 7-6 CG Puigcerdà in playoffs finals game #3, Bipolo Vitoria closed the series 3-0 and wins Spanish League for the first time. Puigcerdà Slovak forward Jan Simko, suspended in third game, was the season top scorer
Bipolo also won regular season and will play against Txuri Urdin for Copa del Rey semifinals on March 23 while Puigcerdà will face former champion CH Jaca
(03 Mar 2013)
CH Jaca completes another dominant season capturing Copa del Rey
CH Jaca completed another season dominating domestic hockey. Besides the league they also won Copa del Rey in last weekend winning 5-3 Puigcerdà in the finals after a battled semifinal against Barcelona
This season Jaca won Spanish League, Copa del Rey, Copa del Principe (U18 National Cup) and U15 League
Txuri Urdin, winner of U18 league, was the only team able to break Jaca dominance
(02 Apr 2012)
Past league results:
League standings:
Historic statistic:
Individuals records:
Cardiff Devils won by one-goal-difference against home side Grenoble and advances to the Continental Cup Superfinals along with Nomad Astana Read more»
Kazakh champion closes the Continental Cup semifinals round with a perfect record, by beating HK Zemgale in the last game Read more»