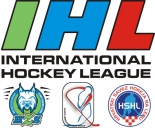 IHL - International Hockey League
League status: Active
Administered by: Slovenian Hockey Federation
Year of start: 2017
WWW: http://hokej.si
Did you find any incorrect or incomplete information? Please, let us know.
Last updated: 02 Dec 2023, 21:46
Home-away round robin andone round more according to the standing after the first two.
5 imports allowed
after regular season the first 8 teams in the standing advance to playoffs
Triglav Kranj win again IHL League
HK Triglav Kranj retains the title of IHL by beating in the decisive game HK Slavija Junior.
(17 Apr 2022)
HK Triglav won IHL league
HK Triglav is the new champion of the IHL league for the 2020/2021 season. Due to the situation with the corona virus this season, only teams from Slovenia participated in IHL league (without teams from Serbia and Croatia). HK Triglav started the playoffs from the first place after the regular part of the season. In the final, they defeated HK Slavija Junior in three games. On the home ice in the first game they won 4:2 (0:0,1:1,3:1), in the second game away with 3:5 (1:1,2:2,0:2) and in the third and most uncertain game they celebrated after overtime with 6:5 (2:2,2:1,1:2,1:0) after after 77 minutes of play.
(14 Apr 2021)
Medvescak-2 won IHL
The reserve team of Medvescak Zagreb is the champion of the first edition of IHL - International Hockey League, the multi-national championship including teams from Slovenia, Croatia and Serbia.
The eternal champion of Croatia finished 4th in the regular season, won by Triglav Kranj. In the playoffs eliminated KHL Zagreb in the quarterfinals and same Triglav in the semifinals, when team received reinforcements from EBEL team like goalie Vilim Rosandic and forwards Nik Simsic and Ivan Jankovic. The finals were played against HK Celje that eliminated in 3 dramatic games ambitious Crvena Zvezda Beograd. Medvescak closed the quest with two victories 5-3 and 7-3. Mislav Blagus of KHL Zagreb finished as Top Scorer with 56 points (33+23)
(29 Mar 2018)
Past league results:
League standings:
Historic statistic:
Individuals records:
Fast facts
season 2023-2024
Youngest player: Ziga Ravter (15 years)
Oldest player: Matija Domitrovic (43 years)
Shortest player: Jan Kvartuh (155 cm)
Tallest player: Jošt Zagorc (199 cm)
Nationalities: Bosnia and Hercegovina (2), Belarus (1), Canada (3), Croatia (118), Finland (1), Russia (8), Slovenia (93), Serbia (50), Sweden (1), Ukraine (1), USA (2)
Highest win: KHL Mladost Zagreb - HK Slavija Junior 2-9
Season average attendance: 124
Cardiff Devils won by one-goal-difference against home side Grenoble and advances to the Continental Cup Superfinals along with Nomad Astana Read more»
Kazakh champion closes the Continental Cup semifinals round with a perfect record, by beating HK Zemgale in the last game Read more»