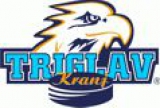 HK Triglav Kranj
Year of foundation: 1968
Colours: sky blue,white
Club status: active
Address: Partizanska cesta 37
4000 Kranj
Slovenija
Phone: +386 5 907 21 80
Fax: +386 5 907 21 79
Email: info@hktriglav.si
WWW: HK Triglav Kranj
Did you find any incorrect or incomplete information? Please, let us know.
Season 2023-2024
Current roster
season 2023-2024
* no longer in the club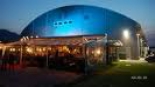 Adress: Ledena dvorana Zlato polje
Koroška cesta 30
Kranj, Slovenia 4000
Phone: + 386 (0) 59 072 172
Capacity: 1000
Opened in: 2007
HK Triglav was founded in early 1968 and quickly had success in junior categories. Seniors soon followed and were on the verge of qualifying for Yugoslavian 1st league couple of times but never did play there at the end. In Slovenian championships they finished 4th on two occasions, in 1995/96 and 1996/97 season.
Notable players:
from 1968 to present: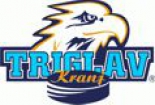 Triglav Kranj win again IHL League
HK Triglav Kranj retains the title of IHL by beating in the decisive game HK Slavija Junior.
(17 Apr 2022)
HK Triglav won IHL league
HK Triglav is the new champion of the IHL league for the 2020/2021 season. Due to the situation with the corona virus this season, only teams from Slovenia participated in IHL league (without teams from Serbia and Croatia). HK Triglav started the playoffs from the first place after the regular part of the season. In the final, they defeated HK Slavija Junior in three games. On the home ice in the first game they won 4:2 (0:0,1:1,3:1), in the second game away with 3:5 (1:1,2:2,0:2) and in the third and most uncertain game they celebrated after overtime with 6:5 (2:2,2:1,1:2,1:0) after after 77 minutes of play.
(14 Apr 2021)
Medvescak-2 won IHL
The reserve team of Medvescak Zagreb is the champion of the first edition of IHL - International Hockey League, the multi-national championship including teams from Slovenia, Croatia and Serbia.
The eternal champion of Croatia finished 4th in the regular season, won by Triglav Kranj. In the playoffs eliminated KHL Zagreb in the quarterfinals and same Triglav in the semifinals, when team received reinforcements from EBEL team like goalie Vilim Rosandic and forwards Nik Simsic and Ivan Jankovic. The finals were played against HK Celje that eliminated in 3 dramatic games ambitious Crvena Zvezda Beograd. Medvescak closed the quest with two victories 5-3 and 7-3. Mislav Blagus of KHL Zagreb finished as Top Scorer with 56 points (33+23)
(29 Mar 2018)
Slovenia Federation launches new league
The Slovenian Federation, in partnership with Croatian and Serbian counterparts, launched the calendar of a new trans-national league called IHL - International Hockey League, starting from September after the positive partecipation of Croatian and Serbian teams in the last two editions of Slovenian League.
10 teams will partecipate, 5 from Slovenia - HK Slavija Ljubljana, HK ECE Celje, HK Triglav, HK MK Bled and HDK Maribor - 3 from Croatia - KHL Medveščak Zagreb 2, KHL Mladost Zagreb and KHL Zagreb - and two from Serbia - Crvena Zvezda Beogrand and HK Vojvodina Novi Sad.
After a home/away round robin and a round more according to the standing, the first eight teams advance to playoffs. A maximum of 5 imports are allowed.
(13 Jul 2017)
Triglav and Bled give up on INL
The patrol of Slovenian teams in the next Inter-National League dropped to three as only Jesenice, Celje and Slavija will partecipate. Triglav Kranj and Bled decided to partecipate only in domestic league.
"We have currently only nine players plus the juniors left in the roster. With such a young team not worth to play in INL, because we can't be competitive. So we decided to play only in the domestic league" explained Triglav coach Gorazd Drinovec
(17 Jun 2015)
Maribor wins bronze in Slovenia
By beating twice 4-1 Triglav Kranj, HDK Maribor clinches bronze medal in Slovenian National League. Today Olimpija Ljubljana and Acroni Jesenice play final game #2. Olimpija leads the series 1-0
(28 Mar 2012)
Olimpija and Jesenice will decide Slovenian National League
Defending champion Acroni Jesenice will defend national title against arch-rival Olimpija Ljubljana. The two main Slovenian teams advance to final defeating Triglav Kranj and HDK Maribor respectively. Playing with EBEL rosters Jesenice left with no chance Triglav, winning 5-2 and 6-0, while Olimpija left Maribor arena with a 3-3 draw in the first game, but decided series at Tivoli arena with a clear 4-1.
(25 Mar 2012)
Slovenian National League starts tomorrow
Slovenian Domestic League will start tomorrow with the first round of qualification group. Five teams (Triglav, Bled, Maribor, Slavija and Olimpija) will play a single round robin until March 9th. Then, the best two teams will play against Tilia Olimpija and current champion Acroni Jesenice playoff semifinals. Follow Slovenian League on eurohockey.com !
(24 Feb 2012)
Historic rosters:
Historic statistics:
Past results:
League standings:
Fast facts
season 2023-2024
Home team opens the Continental Cup first round showing no mercy for opponent KHL Zagreb Read more»
The european debut for the Icelandic champion turned into a harsh lesson taught by the HC Panter in Continental Cup first match in Kaunas Read more»