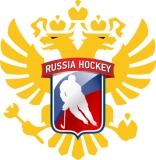 Russia
Year of foundation: 1952
Colours: red, blue, white
Club status: active
Address: Ice Hockey Federation of Russia
Luzhnetskaia Naberezhnaia 8
119991 Moscow
Russia
Phone: +7 495 637 02 77
Fax: +7 495 637 02 22
Email: sokolova@fhr.ru
WWW: http://www.fhr.ru/
Did you find any incorrect or incomplete information? Please, let us know.
Season 2022-2023
Current roster
season 2022-2023
* no longer in the club
from 1991 to 2017: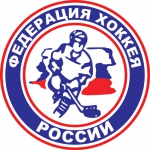 from 2017 to present: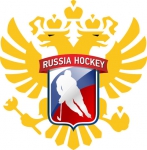 Russia wins U17 tournament
Russia beat Czech Republic, Slovakia and USA to win the 4-nation tournament for U17 teams in Piestany.
Results: Czech Republic - Russia 0-3, Slovakia - USA 2-5, USA - Czech Republic 4-1, Slovakia - Russia 2-5, Russia - USA 3-0 and Slovakia - Czech Republic 4-6.
(18 Dec 2021)
Individual awards from the U18 Worlds
Media All Stars: Sergei Ivanov (G), Aleksi Heimosalmi (D), Brandt Clarke (D), Connor Bedard (F), Matvei Michkov (F), Samu Tuomala (F)
MVP: Matvei Michkov
Best Goalkeeper: Benjamin Gaudreau
Best Defenceman: Aleksi Heimosalmi
Best Forward: Matvei Michkov
(07 May 2021)
U18 Hlinka Gretzky Cup, Day 4 - Russia and Canada to play the final
Alexander Pashin scored three goals when Russia beat Finland 4-1 in one of today's semi finals of the prestigeous U18 tournament in Czech Republic and Slovakia. In the other semi final Canada beat Sweden 3-2 in a shootout game. Cole Perfetti scored all Canadian goals.
Czech Republic beat USA 4-3 for place five while Slovakia beat Switzerland 7-5 in the 7th place game.
(09 Aug 2019)
U18 Hlinka Gretzky Cup, Day 3
Results of the third day from Breclav/Piestany: USA - Sweden 4-5 (SO), Switzerland - Finland 0-6, Czech Republic - Canada 1-7 and Slovakia - Russia 1-2 (OT).
Friday's semi finals: Canada - Sweden, Russia - Finland.
(08 Aug 2019)
U18 Hlinka Gretzky Cup, Day 2
On the second day of the U18 Hlinka Gretzky Cup Roni Hirvonen scored three goals when Finland beat Czech Republic 5-1. Other games today: Canada - Switzerland 8-0, Sweden - Russia 0-3 and Slovakia - USA 3-4 (OT).
(06 Aug 2019)
U18 Hlinka Gretzky Cup, Day 1
The U18 Hlinka Gretzky Cup started today in Breclav and Piestany. Results: Russia - USA 6-2, Finland - Canada 0-6, Czech Republic - Switzerland 4-3 (SO) and Slovakia - Sweden 2-3.
(05 Aug 2019)
World Juniors Quarter finals
The quarter final match-ups of the World Junior Championship in Canada is decided after the end of the Preliminary Round:
Sweden - Switzerland
Canada - Finland
USA - Czech Republic
Russia - Slovakia
(01 Jan 2019)
Ilya Vorobyev and Harijs Vitolins awarded
Ilya Vorobyev and Harijs Vitolins, head coach and assistant of Russia national team, were awared by President Vladimir Putin with the Order of Friendship and the Order of Alexander Nevsky respectively "for the successful preparation of athletes who have achieved high sporting achievements at the 2018 Olympic Winter Games in Pyeongchang"
Russian hockey team, competed in Korea under the status of the Olympic athletes from Russia, won gold medals.
The Order of Friendship rewards foreign nationals whose work, deeds and efforts have been aimed at the betterment of relations with the Russian Federation and its people.
The Order of Alexander Nevsky is awarded to citizens of the Russian Federation who have achieved special personal merit in nation-building and for strengthening the international prestige of Russia
(01 Aug 2018)
Russia beats Belarus
Kirill Kaprizov scored twice and Pavel Datsyuk added a third goal when Russia beat Belarus 3-0 today in Moscow.
(30 Jan 2018)
World Juniors quarter finals
The World Junior Championship quarter finals will be played on Tuesday:
Czech Republic - Finland
Canada - Switzerland
Sweden - Slovakia
USA - Russia
Belarus and Denmark will play three games to decide who relegates.
(01 Jan 2018)
Historic rosters:
Historic statistics:
Past results:
League standings:
Fast facts
season 2022-2023
Cardiff Devils won by one-goal-difference against home side Grenoble and advances to the Continental Cup Superfinals along with Nomad Astana Read more»
Kazakh champion closes the Continental Cup semifinals round with a perfect record, by beating HK Zemgale in the last game Read more»