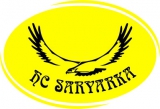 Saryarka Karaganda
Name in original language: Сарыарка Караганда
Year of foundation: 2006
Colours: yellow, blue
Club status: active
Address: ul. Lenina 72/2
100012, Karaganda
Phone: +7 (7212) 92-11-28
Fax: +7 (7212) 92-11-28
Email: saryarka-hc@mail.ru
WWW: Sary Arka Karaganda
Did you find any incorrect or incomplete information? Please, let us know.
Season 2018-2019
This club in 2018-2019: VHL
Current roster
season 2018-2019
* no longer in the club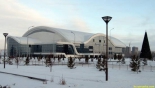 Adress: Avenue of the Republic, district Kazybek bi.
Republic of Kazakhstan, Karaganda,
Phone: +7 (7212) 507783
Capacity: 5500
Opened in: 2011
from 1999 to 2012: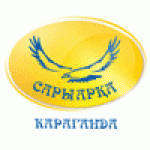 from 2012 to 2014: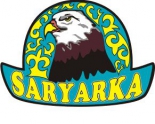 from 2014 to present: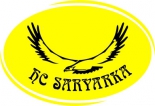 Saryarka wins regular season in Kazakhstan
The regular season of Kazakhstan League finished today with reigning champion Saryarka Karaganda at the top of the standing.
Playoff pairs are:
Saryarka (1) - Kulager (8)
Humo (2) - Gornyak (7)
Beybarys (3) - Aktobe (6)
Nomad (4) - Arlan (5)
Legendary Hc Torpedo Ust Kamenogorsk missed the post season
(08 Feb 2023)
Continental Cup Superfinals held in Aalborg
The International Ice Hockey Federation announced the Continental Cup Superfinals will be held in Aalborg, Denmark from 7 to 9 January 2022.
Matches will be held at the "Gigantium" arena, one of the largest indoor arena in the country, with a capacity of 5,000 spectators
Host Aalborg Pirates will face Saryarka Karaganda (Kazakhstan), Cracovia Krakow (Poland) and HC Gomel (Belarus)
(04 Dec 2021)
Saryarka Karaganda win Kazakhstan League
After the victory of national cup, Saryarka Karaganda completed the domestic en-plein securing also the Kazakhstan League after a thrilling final series against Arlan Kokshetau, decided in game six, with an away 2-0 victory, after Arlan lead 2-0 in the series.
Due the Covid-19 restrictions, this season the Kazakh teams competing in Russian VHL - Hc Torpedo Ust-Kamenogorsk, Saryarka and Nomad Nur-Sultan, and the Snow Leopards, Barys' junior team playing in MHL, partecipated in the domestic league
After the last game, Kazakh Federation announced seasonal awards:
Best goalkeeper: Ilya Rumyantsev (Arlan).
Best defender: Edgars Siksna (Saryarka).
Best forward: Vadim Berdnikov (Arlan).
Best young player: Ivan Zinchenko (Aktobe/Beybarys).
Season MVP: Dmitri Mikhailov (Saryarka).
(27 Apr 2021)
Saryarka Karaganda win Kazakhstan Cup
With a goal scored by tournament top-scorer Sergei Golodnyuk at 62.05 in the overtime, Saryarka Karaganda complete a comeback to win 2-1 traditional rival HC Torpedo Ust-Kamenogorsk winning the 2021 Kazakhstan Cup. It's the first trophy for the club.
Due to the Covid-19 outbreak, the tournament was postponed from traditional date in August to January/February and was played in Pavlodar, Kokshetau and Karaganda, venue of the final

The best players of the tournament:
Best goalkeeper - Nikita Boyarkin (Saryarka)
Best defender - Dmitry Stulov (HC Torpedo)
Best forward - Alexander Borisevich (Saryarka)
Best young player - Ivan Zinchenko (HK Aktobe)
(02 Feb 2021)
Pavel Kruty passed away
Forward Pavel Kruty died in Orsk today, as reported by the VHL official website. He was 23 years old.
In the morning, Pavel Kruty, who was at the training camp of the Yuzhny Ural Orsk, felt unwell. He was given first aid by the club doctor. The player was taken by an ambulance to the intensive care unit, where he died. A preliminary diagnosis is pulmonary embolism.
Last season Pavel Kruty played for Saryarka Karaganda and recently moved to Yuzhny Ural Orsk. He played also for KRS Heilongjiang and Amur Tigers Khabarovsk, In 1997 was named to MHL All-Star Game
(10 Jul 2020)
Sary Arka wins VHL title
Sary Arka beat Rubin Tyumen 4-1 in today's VHL final to win the series 4-1.
The club from Kazakhstan was also VHL champion 2014.
(24 Apr 2019)
Leonids Tambijevs back in Karaganda
Leonids Tambijevs, 48, is the new head coach of Sary Arka Karaganda. He signed a contract until 2020 returning to the bench of the club he lead in 2014-2015 winning the VHL regular season before losing in playoffs semifinals. Last season won the title with Dinamo St. Petersburg, left last month by mutual agreement. Tambijevs replaces interim coach Dmitri Maximov, back at original task of head coach at HK Temirtau, Sary Arka farm club. Andrejs Banada will be the assistant coach
(17 Nov 2018)
Sergei Ogorodnikov passed away
Former Russian national team player Sergei Ogorodnikov passed away at 32, as a result of injuries after an accident on a water scooter.
Drafted by New York Islanders in 2004, Ogorodnikov played in US in 2006-07 season for Bridgeport Sound Tigers and defunct Pensacola Ice Pilots (ECHL), appearing in 127 games of KHL for CSKA Moscow, Dynamo Moscow, Lada Togliatti, Avtomobilist Yekaterinburg and Metallurg Novokuznetsk with experiences abroad in Belarus (Gomel and Zhlobin), Kazakhstan (Sary Arka)and Poland (Podhale Nowy Targ) last season.
With Russia national team won the gold medal at WJC 18 in 2004 in Belarus, beating 3-2 USA, playing along with Anton Khudobin, Alexander Radulov and Evgeny Malkin and the silver medal at WJC U20 2006
(25 Jun 2018)
Gennady Tsygurov passed away
Former Russian coach Gennady Tsygurov passed away at 75. Known for winning titles of second division - with Torpedo Nizhny Novgorod in 2003, MVD in 2005 and Traktor Chelyabinsk in 2006 - Tsygurov coached Traktor, Avangard Omsk, Kazan and Lada during the career. In 1995-1996 and from 1998 to 2000 was assistant coach of Russia National Team. In 1999 he lead Russia U20 to the victory in WJC defeating Canada 3-2 at overtime in Winnipeg, in front of 13.000 spectators. He was also assistant coach of Kazakhstan in 3 World Championships and at Olympics in Turin 2006
(15 Dec 2016)
Sputnik Nizhny Tagil forward passed away
Sputnik Nizhny Tagil forward Sergei Simonov, 24, suddenly passed away. According to preliminary reports, the player was hospitalized after a training session, held the day before. He complained of pain in the region of the spleen. The exact cause of death has not been established but an investigation was opened. Before to arrive at Sputnik, Simonov, a product of Novokuznetsk school, played for Lada and Lipetsk in 2013-2014, Sary-Arka Karaganda 2014-2015 and Kristal Saratov in the first part of current season
(07 Jan 2016)
Historic rosters:
Historic statistics:
Past results:
League standings:
Fast facts
season 2018-2019
Saryarka Karaganda participates in season 2018-2019: VHL
Kaunas City celebrate the qualification to the second round of Continental Cup with a ten-goals victory over Skautafelag Rejkyavik Read more»
Estonian champion wins KHL Zagreb ensuring first place for the home team Read more»