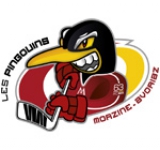 HC Morzine-Avoriaz-Les Gets
Nickname: Les Pingouins
Year of foundation: 1963
Colours: yellow,red
Club status: active
Address: Hockey Club Morzine/Avoriaz
502 Route du Palais des Sports
74110 Morzine

Phone: +33 04 50 75 78 21
Fax: +33 04 50 75 78 19
Email: info@hockeyclub-morzine.com
Did you find any incorrect or incomplete information? Please, let us know.
Season 2015-2016
Current roster
season 2015-2016
* no longer in the club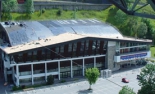 Adress: 502 Route du Palais des Sports
74110 Morzine
Phone: +33 04 50 79 08 43
Email: palaisdessports@morzine.fr
Capacity: 1279
Opened in: 1976
2003-2004 : Champion of France Division 1
League winners:
from 2011 to 2013: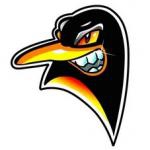 from 2013 to 2017: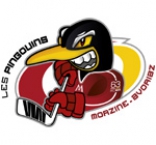 from 2017 to present: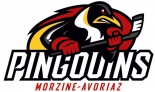 Chamonix and Morzine join forces
As anticipated after the end of season, the reduction of Ligue Magnus to 12 teams and the gradual professionalization of clubs encourage two traditional clubs to join forces to be more competitive: HC Chamonix and Morzine-Avoriaz merged and created the new Chamonix-Morzine Pionniers that will play at Centre sportif Richard-Bozon in Chamoniz while trainings and possibly play some games will be at Skoda Arena in Morzine. Chamonix coach Stephane Gros will be the headcoach
(02 Jul 2016)
Nice admitted to Magnus Ligue
Following the merging between two teams competing in Magnus Ligue, Chamonix and Morzine-Avoriaz, the Franch Federation announced Division 1 champion HCA Nice was chosen to be the 12th club in the French top division. Nice lost 2-4 and 4-5 the promotion/relation series against Morzine. The admission is still contioned by the respect of sporting and economic criteria to be examined in a meeting between Nice board and Federation in next future. The best placed between relegated teams - HC Lyon - will take the place of Nice if Federation does not deem satisfactory the economic conditions. It's still to be decided which team, between the relegated Mont-Blanc and Toulouse or Division 2 champion Clermont-Ferrand, will replace Nice in Division 1
(27 May 2016)
Morzine remains in Magnus Ligue
By beating 5-4 in promotion\relegation series game #2 Division 1 champion HCA Nice, Morzine-Avoriaz will play in Ligue Magnus also next season, when the elite league of French hockey will be reduced from current 14 to 12 teams. Lyon and 2014 champion Briançon were relegated
(03 Apr 2016)
Miroslav Frycer is the new coach of Morzine; Dusseau at Neuilly
Czech Miroslav Frycer, 59, is the new coach of Ligue Magnus club Morzine Avoriaz replacing fired Tommie Hartogs. Frycer closed last season his two-years experience at Sanok with one national title and a fourth place and two Polish Cup finals, both lost. Morzine will play in play-outs to avoid relegation.
François Dusseau, fired by Lyon on January 13, finds a new job as assistant coach of Frank Spinozzi at Neuilly sur Marne, in French 2nd division
(02 Feb 2016)
Morzine fires coach Hartogs
HC Morzine-Avoriaz, last place in Magnus Ligue, fired Dutch coach Tommie Hartogs after four seasons. Trio of players Mathieu Jestin, Cyril Papa and Jakub Sindel will coach the team in the last part of regular season and in the playouts serie
(27 Jan 2016)
Movements of coaches in France
Ligue Magnus ended last week but teams are already building rosters for next season, beginning from the bench: after a brilliant playoffs campaign Dijon lost coach Jarmo Tolvanen, signed in Norway by Stjernen, and promote to headcoach former assistant Jonathan Paredes. Grenoble not renewed the contract with Canadian Richard Martell, replacing him with former Briançon coach Edo Terglav. Rouen named headcoach former goalie Fabrice Lhenry. Finally, Tom Hartogs (Morzine) and François Dusseau (Lyon) were confirmed for one season more
(08 Apr 2015)
Coupe de la ligue first round completed
The coupe de la ligue first round is now completed. In groups A (Angers, Rouen) & C (Grenoble, Briançon), the top favorites emerged and advanced to the quarter finals. In groups B and D, it was a 3 team fight to get to the next level. The big surprise was finally in group B with qualifications of Epinal and Strasbourg while the top favorite Amiens is eliminated. In group C, Dijon ended up first while Chamonix and Morzine were tied for 2nd. Chamonix finally advance thanks to a better goal difference. The quarter final match-ups will be the following : Strasbourg - Angers ; Rouen - Épinal ; Briançon - Dijon ; Grenoble - Chamonix
(16 Oct 2013)
Briançon won French League Cup
In a sold out Meribel arena, Briançon won French Coupe de la Ligue beating 4-1 Morzine Avoriaz. For the first time since start of competition in 2006-07 there is a champion different from Rouen (two title) or Grenoble (three title)
Briançon - Morzine-Avoriaz 4:1 (1:1, 1:0, 2:0)
1:0 - 00.32 Jean François Caudron (Vanoosten, Castonguay)
1:1 - 18.26 Marko Makinen (Smyth, Shields) PP2
2:1 - 37.30 Braden Walls (Vanoosten, Castonguay) PP1
3:1 - 50.57 Edo Terglav (Bernier, Perez)
4:1 - 58.09 Steven Vanoosten (Bernier) PP1 EN
PIM: 8x2 - 7x2 Att: 2500 (sold out)
(29 Dec 2011)
Historic rosters:
Historic statistics:
Past results:
League standings:
Fast facts
season 2015-2016
After three-years-hiatus, the Asia League was back and Korean team add another title Read more»
In late Spring, 2023, the International Ice Hockey Federation will host the 86th Men's Ice Hockey World Championships. The competition is easily global ice hockey's biggest event, with hundreds of thousands of fans traveling for each world championship finals event. ... Read more»