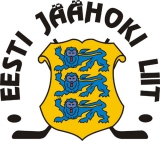 Estonia
Year of foundation: 1935
Colours: blue, white, black
Club status: active
Address: Estonian Ice Hockey Association
Pirita tee 12
10127 Tallinn
Estonia
Phone: +372 639 86 89
Fax: +372 639 86 49
Email: ejhl@sport.ee
Did you find any incorrect or incomplete information? Please, let us know.
Season 2022-2023
Current roster
season 2022-2023
* no longer in the club
from 1990 to present: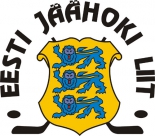 Marko Kettunen suspended for 4 years
Estonian national team player Marko Kettunen was suspended for four years by IIHF after being found positive to an unspecified prohibited substance during a test at last IHWC Division Ib held in Lithuania last April
Kettunen claimed the traces detected in his blood came from contaminated meat, bur according to the Disciplinary Board he was not able to produce sufficient evidence of this, and that a four-year suspension was still applicable.
The suspension started on 28 May 2018, ending on 27 May 2022.
(14 Nov 2018)
Metallurg Zhlobin at Baltic Challenge Cup
The Extraliga team Metallurg Zhlobin will represent Belaus at the Baltic Challenge Cup in Vilnius, a tournament part of Euro Ice Hockey Challenge series, held in Lithuanian capital from 8 to 11 November. At first Belarussian Federation indicated a U25 team would participate in the tournament. Metallurg will play in the jersey of the national team of Belarus and will face Lithuania, Japan, Romania, Estonia and Latvia B team.
Cheack all the rosters here
(07 Nov 2018)
World U18 Championship Div 2B has started
Michael Tugo scored 5 goals when Estonia beat Australia 7-4 in the opener of the World U18 Championship Div 2B in Novi Sad, Serbia.
(20 Mar 2012)
Historic rosters:
Historic statistics:
Past results:
League standings:
Fast facts
season 2022-2023
After three-years-hiatus, the Asia League was back and Korean team add another title Read more»
In late Spring, 2023, the International Ice Hockey Federation will host the 86th Men's Ice Hockey World Championships. The competition is easily global ice hockey's biggest event, with hundreds of thousands of fans traveling for each world championship finals event. ... Read more»