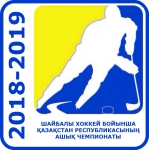 Kazakhstan Vyschaya Liga
League status: Active
English name: Kazakhstan Senior League
Administered by: Kazakhstan Hockey Federation
Year of start: 1992
Did you find any incorrect or incomplete information? Please, let us know.
Last updated: 14 Apr 2020, 14:13
Newly created Sherdor Samarkand replaces Binokor in Kazakhstan League
A turn of events about the partecipation of Uzbek team in the Kazakhstan League: originally, following the enter of Humo Tashkent into VHL, another Uzbek team - Binokor Tashkent, should have entered the Kazakhstan League as Humo farm team. Binokor already announced 47-year-old Russian Alexander Ageev as head coach. But apparently the club management did not provide official confirmation of their intentions. So today the Kazakh Federation announced the newly created Hockey Club Sherdor from Samarkand will take part in the championship of Kazakhstan in the next season. Team is already training in Glazov, Russia, with same Ageev as coach and should debut in the new Samarkand Arena,  started building in 2017 and about to be completed in September according to Uzbek Federation
(17 Jul 2019)
HK Aktobe added to Kazakhstan League
HK Aktobe officially confirms the partecipation in next Kazakhstan League, creating a senior team after the victory on Kazakhstan U20 league. Former national team player Sergei Miroshnichenko has been appointed as head coach, Rinat Omarbekov will serve as assistant.
Uzbek team Binokor Tashkent should be the other additional team
(02 Jul 2019)
Yevgeny Rymarev is the Kazakhstan Player of the Year
Kazzin Torpedo Ust-Kamenogorsk captain Yevgeny Rymarev was named Kazakhstan Player of the Year for the 2017-2018 season. Rymarev preceded Avangard Omsk left-winger Semyon Koshelev - who plays with Russian passport - Barys Astana duo Roman Starchenko (winner in 2013 and 2015) and the KHL Top-Scorer Nigel Dawes and the winner of last season, Nomad and Barys forward Nikita Mikhailis
(29 Jun 2018)
SHKO Ust-Kamenogorsk changes name
Torpedo Ust-Kamenogorsk announced the club's second team, performing in Kazakhstan League, changed the name: previously known as SHKO Ust-Kamenogorsk, the farm team is now called Altai-Torpedo. Als the junior team, playing in MHLB, has the same name. Altai is the name of mountains surrounding the city of Ust-Kamenogorsk
(23 Jul 2016)
Beybarys wins Kazakhstan League
It took seven games to determine the 2015-2016 champion of Kazakhstan: by beating 3-1 Arlan at Kokshetau, Beybarys Atyrau wins its third title,all under the lead of Aleksandr Istomin, noting a constant presence among the elite of Kazakh hockey, with 3 titles and two silver medal in last seven years. Another season empty-handed for Arlan, winner of the regular season at the third consecutive silver medal.
Season awards:
Best goalkeeper - Alexei Kuznetsov (Beybarys)
Best defender - Vladislav Kolesnikov (Arlan)
Best forward - Mikhail Rakhmanov (Ertis)
(21 Apr 2016)
New coach at Ertis Pavlodar
Czech Ladislav Lubina was appointed as new headcoach of Ertis Pavlodar. Lubin replaces Slovak Julius Penzes, resigned after five years and three titles, due to bad start of the team in Kazakhstan League. Lubina, on Slavia Praha bench last season, signed last summer for another Kazakh team, Beybarys Atyrau, but resigned in August after the training camp. Curiously the first game for Lubina on Ertis bench will be against Beybarys.
"Now I will not talk a lot, we have a lot of work. I came here to help Ertis to take its rightful place in the standing" said Lubina during his presentation
(27 Oct 2015)
Berkut Karaganda renamed
Sary Arka farm team Berkut will be renamed Temirtau in connection with the relocation of team from Karaganda to Temirtau where will replace folded Arystan
(17 Jun 2015)
Arystan won't play next season
It's now official: Arystan Temirtau won't play in next Kazakhstan League as confirmed by executive secretary of Federation Gleb Karataev: "we have no team in Temirtau next season, the budget of Karaganda region can not finance three cities with three clubs and three junior teams. I am confident that the economic situation is temporary, soon everything will return back on track again and we will see an hockey team from Temirtau."
After the folding of Arystan, initially Sary Arka expressed the intention to transfer its farm team to Temirtau but the plan remained on paper.
(04 Jun 2015)
Kazakhstan League awards determined
Kazakhstan Ice Hockey Federation announces the seasonal awards for 2014-2015

Kazakhstan League Best Goaltender: Anton Todykov (Gornyak Rudny)
Kazakhstan League Best Defender: Aleksei Shorokhov (Arlan Kokshetau)
Kazakhstan League Best Forward: Ivan Kiselyov (HK Astana)
(28 Apr 2015)
New name, coach and team for Torpedo Ust-Kamenogorsk
Next season Torpedo Ust-Kamenogorsk will allign a team in MHL, as announced by Governor of East Kazakhstan region Daniyal Akhmetov. In the same press conference was also announced that team will be back at original name Torpedo Ust-Kamenogorsk, even if company Kazzinc will continue to support the club. Finally was announced former assistant coach Alexei Fetisov as new headcoach
(27 Apr 2015)
Past league results:
League standings:
Historic statistic:
Individuals records:
Fast facts
season 2019-2020
Due the impossibility of crossing the border with Russia, SaryArka, Nomad and Torpedo will play only in the domestic league Read more»
After two years of preparation, next November the new multi-national tournament will see the light Read more»