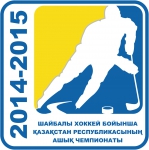 Kazakhstan Vyschaya Liga
League status: Active
English name: Kazakhstan Senior League
Administered by: Kazakhstan Hockey Federation
Year of start: 1992
Did you find any incorrect or incomplete information? Please, let us know.
Last updated: 30 Nov 2015, 20:19
New coach at Ertis Pavlodar
Czech Ladislav Lubina was appointed as new headcoach of Ertis Pavlodar. Lubin replaces Slovak Julius Penzes, resigned after five years and three titles, due to bad start of the team in Kazakhstan League. Lubina, on Slavia Praha bench last season, signed last summer for another Kazakh team, Beybarys Atyrau, but resigned in August after the training camp. Curiously the first game for Lubina on Ertis bench will be against Beybarys.
"Now I will not talk a lot, we have a lot of work. I came here to help Ertis to take its rightful place in the standing" said Lubina during his presentation
(27 Oct 2015)
Berkut Karaganda renamed
Sary Arka farm team Berkut will be renamed Temirtau in connection with the relocation of team from Karaganda to Temirtau where will replace folded Arystan
(17 Jun 2015)
Arystan won't play next season
It's now official: Arystan Temirtau won't play in next Kazakhstan League as confirmed by executive secretary of Federation Gleb Karataev: "we have no team in Temirtau next season, the budget of Karaganda region can not finance three cities with three clubs and three junior teams. I am confident that the economic situation is temporary, soon everything will return back on track again and we will see an hockey team from Temirtau."
After the folding of Arystan, initially Sary Arka expressed the intention to transfer its farm team to Temirtau but the plan remained on paper.
(04 Jun 2015)
Kazakhstan League awards determined
Kazakhstan Ice Hockey Federation announces the seasonal awards for 2014-2015

Kazakhstan League Best Goaltender: Anton Todykov (Gornyak Rudny)
Kazakhstan League Best Defender: Aleksei Shorokhov (Arlan Kokshetau)
Kazakhstan League Best Forward: Ivan Kiselyov (HK Astana)
(28 Apr 2015)
New name, coach and team for Torpedo Ust-Kamenogorsk
Next season Torpedo Ust-Kamenogorsk will allign a team in MHL, as announced by Governor of East Kazakhstan region Daniyal Akhmetov. In the same press conference was also announced that team will be back at original name Torpedo Ust-Kamenogorsk, even if company Kazzinc will continue to support the club. Finally was announced former assistant coach Alexei Fetisov as new headcoach
(27 Apr 2015)
Ertis confirms title in Kazakhstan
Ertis Pavlodar won third consecutive title in Kazakhstan beating Arlan Kokshetau 4-1 in the final series. ertis won also Kazakhstan Cup and played in Continental Cup superfinals this season
(21 Apr 2015)
Sary Arka farm will play in Temirtau
The farm team of Sary Arka Karaganda will play the next Kazakhstan League based in Temirtau, replacing Arystan, folded due to financial difficulties, ensuring the continuity of hockey in the city. The team will continue using the name Arystan (Lions). It's still unclear the future of current Sary Arka farm tem, Berkut. Rumours are about a possible partecipation in MHL
(17 Apr 2015)
Beybarys will allign a team in MHL-B
Kazakhstan will have another team on Russian Junior Leagues: Beybarys Atyrau announced the club will compete next season in MHL-B as a youth league next year will likely not be created in the country
(16 Apr 2015)
Petropavlovsk will participate in Kazakhstan league
Next season the city of Petropavlovsk will allign a team in the Kazakhstan League, according to North Kazakhstan region Governor Erik Sultanov: "This year we will complete the construction of the Palace of Sports: A team from the city will play in the Premier League and I'm sure it will be good. Petropavlovsk and North Kazakhstan has always been a leader, we need to regain the title." said Mr. Sultanov
(30 Jan 2015)
Arystan Temirtau cancel games
Due to financial difficulties of the team, Arystan Temirtau cancelled the games against Beybarys Atyrau, scheduled for 18 and 19 January for Kazakhstan League
(17 Jan 2015)
Past league results:
League standings:
Historic statistic:
Individuals records:
Fast facts
season 2015-2016
Bienne is now placed last, while Langnau can finally breathe a bit Read more»
The Czech champions are struggling, and a change is urgently needed Read more»