USA
Name in original language: United States
Year of foundation: 1920
Colours: blue, white, red
Club status: active
Address: USA Hockey
1775 Bob Johnson Drive
Colorado Springs, CO 80906
USA
Phone: +1 719 576 87 24
Fax: +1 719 538 11 60
Email: usah@usahockey.org
Did you find any incorrect or incomplete information? Please, let us know.
Season 2016-2017
Current roster
season 2016-2017
* no longer in the club
from 1899 to present: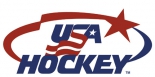 Women's World Championship coming up
On Friday starts the Women's World Championship in Plymouth, Michigan, United States. Yesterday the U.S. Women's National Team and USA Hockey announced that they've reached an agreement so USA will be represented by their best players at the home championship, trying to defend the gold medals.
In exhibition games yesterday Sweden beat Germany 3-2 and Switzerland beat Russia 4-0.
(29 Mar 2017)
USA on top of U18 tournament in Sweden
With the World U18 Championship two months away five of the leading countries got together in a 5-nation tournament in Sundsvall, Sweden. USA finished on top after beating Sweden 5-4 in a shootout game on the last day. if Sweden had won the shootout they would have finished on top. Man of the day for USA was Josh Norris whou tied the game 3 seconds(!) before the end and then got the shootout winner.
Czech Republic finished third, Russia 4th and Finland 5th. Find all results and game stats here.
(13 Feb 2017)
Team USA U17 wins in Dallas
USA got four easy wins to finish on top of the 5-nations tournament for U17 national teams in Frisco, Texas. Czech Republic finished second before Switzerland, Slovakia and Germany.
(14 Aug 2016)
World Championship preparation
The World Championship in Russia starts in three days. Four pre-tournament games were played today. Canada beat Czech Republic 3-0 and Kazakhstan beat France 6-3. Finland-USA (3-2) and Switzerland - Germany (4-3) were both decided in overtime.
(03 May 2016)
Women's national team tournaments
Today started two national team tournaments for women. In Sundsvall, Sweden Canada beat Finland 2-0 and the home team lost 2-6 to USA. In Czech Republic Russia beat Switzerland 4-1 and Germany beat Slovakia 4-2.
(04 Nov 2015)
U17: USA and Slovakia wins
USA beat Czech Republic 5-4 and Slovakia got a 3-1 win over Switzerland on the opening day of a U17 tournament in Arosa.
(12 Aug 2015)
Ivan Hlinka Memorial starts tomorrow
The prestigeous U18 tournament starts tomorrow in Breclav and Bratislava. Yesterday two pre-tournament friendlies were played: Slovakia-Canada 1-12 and Czech Repubic - USA 2-1.
(09 Aug 2015)
Evaluation Camp in Lake Placid
At the U20 Evaluation Camp in Lake Placid Sweden beat USA Blue 5-2 while Finland lost 5-2 to USA White.
(03 Aug 2015)
World Championship quarter-finals
The quarter-final match-ups of the World Championship in Minsk is now decided after the group stage has ended. USA will play Czech Republic in the first game. Then follow Russia-France, Canada-Finland and Sweden-Belarus. All four will be played on Thursday.
(20 May 2014)
Defender Paul Martin out for Bronze Final
US defender Paul Martin won't play tonight in he final for Bronze medal against Finland due to hand injury. According to preliminary informations, Pittsburgh Penguins defender will be sidelined for one month and return for the begin of NHl playoffs.
(22 Feb 2014)
Historic rosters:
Historic statistics:
Past results:
League standings:
Fast facts
season 2016-2017
USA participates in season 2016-2017: National team games, Winter Universiade, World Championship, World Cup of Hockey, World Women's Championship, U20 National team games, WJC, U18 National team games, WJC18, U17 National team games, World Women's U18 Championship, National team games (Women), Winter Universiade (women)
The Executive Committee of Federation announces the winners of individual awards for the 2016-17 season Read more»
Czech-born goaltender Tomas Vomacka has hopes of making it to the NHL. His dream begins this weekend at the 2017 NHL Entry Draft. Read more»