Amerigol Latam Cup
League status: Active
Administered by: AmeriGol - Miami International Hockey Association
Year of start: 2014
Did you find any incorrect or incomplete information? Please, let us know.
Round robin tournament with semifinals and finals
from 2013 to 2018: Pan-American Tournament
from 2018 to present: Amerigol Latam Cup
Colombia triumphs at LaTam Cup
Colombia won the third title of Latam Cup (formerly known as Pan-American Tournament), played in Coral Springs, Florida in the last weekend. Colombia closed tournament with a perfect record, by beating all others participants with big scores, including a 10-0 in the semifinals against newcomer Venezuela and 12-3 in the grand final against Mexico B, previously winner 5-4 in a thriller semifinal against Argentina.
Brazil finished last in the qualifying group with no points.
The previous editions of LaTam Cup were played in Mexico City, under the umbrella of Mexican Federation.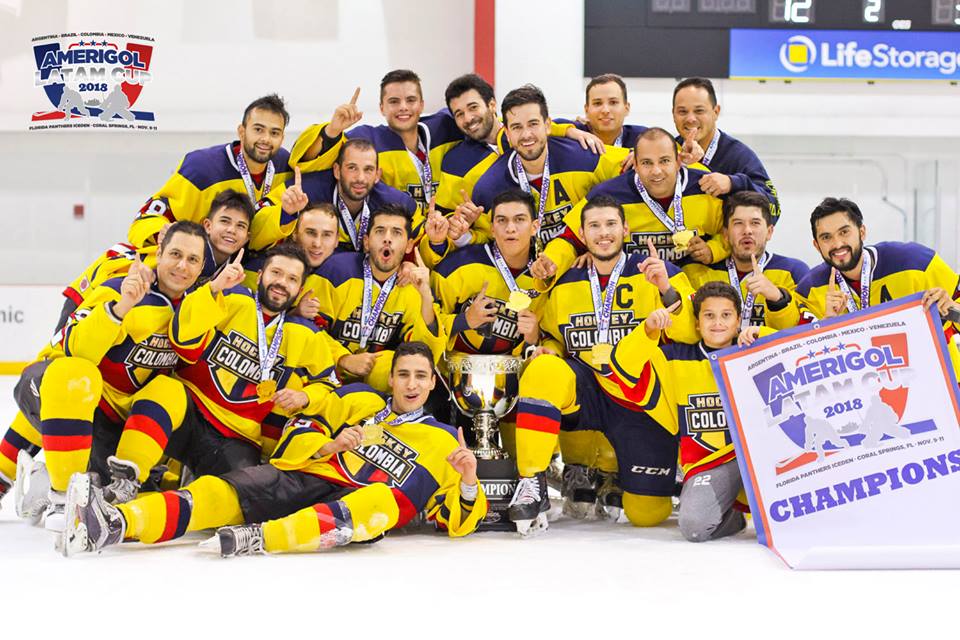 Check all results and rosters on eurohockey LaTam Cup page
(12 Nov 2018)
Pan-American tournament teams announced
The Brazilian Federation reported that Brasil, Colômbia, México A and B, Argentina A and B are the teams partecipating in third edition of Pan-American tournament, held in Mexico City from 6 to 12 June.
"I'm very exited about the Pan-American and the future of icehockey in Brazil - said Brazilian national team American coach Jens Hinderlie - We have a lot of skilled athletes here who can play hockey at good level, we need more icetime"
Brazil, bronze medal last year, announced the roster for the tournament
(23 May 2016)
Pan-American tournament dates announced
The third edition of Pan-American tournament will be played, as the previous ones, at Icedome Arena in Mexico City from 06 to 12 June 2016 with a men and women tournament, organized by Mexican Federation.
Chile, Brazil, Ecuador, Colombia, Venezuela, Panamá, Jamaica, USA, Canada, Argentina and México are the countries invited. At moment only Argentina, beside host Mexico, confirmed partecipation.
Last year Colombia surprisingly won the tournament beating Mexico 4-3SO in the final
(29 Mar 2016)
Mexico will host again Panamericano
Mexican Federation announced the II Pan American Ice Hockey Tournament will held in June from 03 to 07 at the Icedome Rink in Mexico City.
Last season Mexico hosted the first edition of the tournament, won by Canada
(27 Mar 2015)
Canada wins Colombia in Pan-American debut
In the only game of the day, Canada opens its Pan-American tournament in Mexico with a 9-3 victory against Colombia. Former Ohio University and Idaho Steelheads Kyle Reed and former EV Landshut Marc Rancourt both scored three goals.
(04 Mar 2014)
Past league results:
League standings:
Historic statistic:
Individuals records:
Gary Graham parted ways with EIHL side Nottingham Panthers this morning. Read more»
With a 5-2 win for Cardiff and 4-1 win for Angers they will take their place in the Superfinal. Read more»