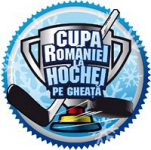 Cupa Romaniei
League status: Active
English name: Romanian Cup
Administered by: Romanian Ice Hockey Federation
WWW: league web page 1
Did you find any incorrect or incomplete information? Please, let us know.
Two 3-teams group playing a single round. First team of each group advances to final four, second team plays a single match against 3rd of other group. to advance at final four with semi-finals and final
HSC Csíkszereda won Romanian Cup
HSC Csíkszereda (SC Miercurea Ciuc) won its ninth Romanian Cup by beating 5-1 major rival Corona Brasov in the final played at Galati. Experienced Russian forward Pyotr Schastlivy scored two goals while compatriot Andrei Taratukhin netted a decisive short-handed goal in the second period.It was the eighth final in the last ten years for Sport Club, defeated last season by Dunarea Galati. Progym Gheorgheni won the bronze defeating 6-5 host Dunarea
(23 Dec 2017)
Dunarea Galati won Romania Cup
Current national champion Dunarea Galati won its first title of Romania Cup beating 6-5 at overtime in a spectacular final, played at Brasov Arena, Cup holder SC Miercurea Ciuc with decisive goal scored by Slovak Ondrej Rusnak after 69 minutes, after Dunarea has recovered a 0-3 gap after two period, scoring 5 goals in the third, despite Miercurea has found the further advantage twice. Corona Brasov won the bronze winning 7-2 against Progym Gheorgheni
(23 Dec 2016)
Sport Club Miercurea Ciuc win Romanian Cup
Sport Club Miercurea Ciuc/Csíkszereda win Romanian Cup 2015-16 beating 3-2 Steaua Bucharest in the final played in Brasov. The game was the replay of the original final, scheduled on 20 december 2015 at Gheorghieni ice rink and suspended after second period with score 7-2 for Miercurea Ciuc due to a short circuit. It's the eighth trophy for Sport Club.
(01 Mar 2016)
Romania Cup final suspended
The final of Romanian Cup between SC Miercurea Ciuc and Steaua Bucharest, played at Gheorgheni arena, was suspended after the second period due to a short circuit to the lighting system which caused the explosion of two reflectors and a fire. The firefighters decided to evacuate the spectators from the rink. Given the impossibility to guarantee the repair in a short time, Federation decided to reschedule the game for a future date to be determined. At the moment of suspension the score was 7-2 in favour of SC Miercurea Ciuc. In the bronze game, Dunarea Galati won 7-6 at overtime against host Progym
(22 Dec 2015)
Corona Brasov wins Romania Cup
With a comeback from 0-2 after first period, Corona Brasov won 2015 edition of Romania Cup, beating 3-2 arch rival SC Miercurea Ciuc in front of 2000 fans at home rink. In september Miercurea Ciuc won 2014 edition, beating 2-1 Brasov at overtime
(21 Dec 2014)
Dunarea Galati fired coach Rauhanen
The moving of Finnish coach Kari Rauhanen from MOL vice champion Corona Brasov to Dunarea Galati of Romanian League was the shocking transfer of the summer for Romanian hockey. After three months and only two official games played in Romanian Cup (one victory one loss), Dunarea announced Rauhanen was fired without further comments
(19 Sep 2014)
SC Miercurea Ciuc won Romania Cup
A goal by Ede Mihaly in the overtime gives 2-1 victory and the Romanian Cup to SC Miercurea Ciuc in the final played in Galati against Corona Brasov
(15 Sep 2014)
Rain of goals in Romanian Cup
Romanian Cup, started yesterday in Galati, saw big scores in first games. Sportul Studentesc Bucharest lost 0-30 and 1-22 against Corona Brasov and Steaua Bucharest, while home team Dunarea Galati won 16-0 against Progym. Dunarea signed Austrian stars Andre Lakos and Oliver Setzinger for the competition but lost first game 2-7 against SC Miercurea Ciuc. Follow Romanian Cup on eurohockey.com
(11 Sep 2014)
ASC Corona Brasov wins Romanian Cup
After a spectacular match in front of 2.000 spectators ASC Corona Brasov won the 2012 Romanian Cup defeating 3-2 home side HSC Csikszereda. In the bronze match final title holder Steaua Bucarest defeated 3-1 Dunarea Galati.
This is the first ever trophy in club history
For the first time in Romanian hockey a skating rink was filled with teddy bears, which were donated to a charity foundation.
Review all Romanian Cup stats and results on eurohockey.com
(23 Dec 2012)
Steaua captures Romanian Cup
Beating Corona Brasov 4-3 in a thrilling final, Steaua Rangers Bucarest wins 2011 Romanian Cup final played in Galati. HSC Csíkszereda grabbed bronze medal beating 5-15 host Dunarea Galati
(24 Dec 2011)
Past league results:
League standings:
Historic statistic:
Individuals records:
Gary Graham parted ways with EIHL side Nottingham Panthers this morning. Read more»
With a 5-2 win for Cardiff and 4-1 win for Angers they will take their place in the Superfinal. Read more»