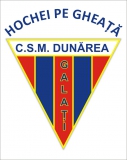 CSM Dunarea Galati
Name in original language: Clubul Sportiv Municipal Dunărea Galaţi
Year of foundation: 1950
Colours: blue,white,red
Club status: active
Address: Bd. George Coşbuc 253
800506, Galaţi

Phone: +40 236472894
Fax: +40 236472894
Email: dcontact@csmgalati.ro
WWW: Official site
Did you find any incorrect or incomplete information? Please, let us know.
Season 2021-2022
Current roster
season 2021-2022
* no longer in the club

from 1950 to 2013: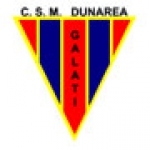 from 2013 to 2017: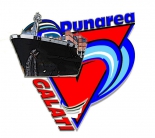 from 2017 to present: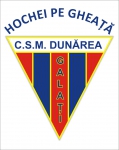 Sport Club Miercurea Ciuc takes back the title in Romania
Team with the most titles in the 2000s, Sport Club Miercurea Ciuc interrupts a 4-year fast by winnig the 2017-2018 Romanian League by beating 4-3 at overtime in a dramatic game 6 the major rival and reigning champion Corona Brasov. The finals has a uncommon trend with Sport Club, that had easily eliminated Steaua Bucharest in the semifinals, winning 9-7 and 6-5ot first 2 games, losing 2-1ot game 3. The balance was brutally broken in game 4, with Sport Club hammering 10-1 Corona in Brasov, already anticipating the title in front of their fans. But Corona Brasov did a small miracle winning 2-3 game 5 in Miercurea Ciuc, before to surrender to a Csanad Fodor decisive goal tonight.
Traditional Steaua Bucharest closed a very positive season winning bronze series against ambitious Progym Gheorgheni, that announced to submit application to join Erste Liga next season. The biggest disappointment is Dunarea Galati, twice champion 2 seasons ago and with a one-season partecipation to Erste Liga, now sinking in debts and finished 5th, just ahead of eternal last Sportul Studentesc Bucharest, finishing the umpteenth season without winning even one game. Dunarea announced right after the end of regular season that the club very likely won't partecipate in the next season
Veteran Vaclav Novak finished again as top scorer with 63 points (31+32)
(05 Apr 2018)
HSC Csíkszereda won Romanian Cup
HSC Csíkszereda (SC Miercurea Ciuc) won its ninth Romanian Cup by beating 5-1 major rival Corona Brasov in the final played at Galati. Experienced Russian forward Pyotr Schastlivy scored two goals while compatriot Andrei Taratukhin netted a decisive short-handed goal in the second period.It was the eighth final in the last ten years for Sport Club, defeated last season by Dunarea Galati. Progym Gheorgheni won the bronze defeating 6-5 host Dunarea
(23 Dec 2017)
Dunarea Galati announced new coach
After the resignation of Cornel Chiriţă at the beginning of November and the interim period of GM Mihai Brandabur, Dunarea Galati announced the appointment of Cristi Munteanu as new coach. Former Dunarea player, Munteanu, 43, coached U18 team last season and was assistant coach of Romania women national team
(26 Nov 2017)
Tough weekend for Sportul
Even though Sportul Studentesc Bucharest is used to defeats, living in a perennial place at bottom of Romanian League, this weekend was to remember: opposed to Erste Liga team Sport Club Miercurea Ciuc, the amateur team lost 30-1 on friday, with a total of 67 shots on goal faced by two goalies Rares Bularca and Stan Stefan. On Sport Club side, Radim Valchar (6+6) and Zoltan Sandor (5+2) were the top scorer.
On Saturday, in the replay, a loss for "just" 19-0.
In ten games of the league, of course all lost, included a 25-2 against Dunarea and a combo 22-0 and 20-0 against Progym, Sportul already suffered 195 goals, scoring just 10.
(22 Oct 2017)
Martin Lacroix named head coach of Romania
Some days after having led Corona Brasov to the national title, Canadian Martin Lacroix accepted the position of headcoach of Romania national team for the upcoming IHWC Division II A, held in Galati from 03 to 09 April, where Romania, relegated from Division Ib last year, will battle for the promotion with Australia, Belgium, Iceland, Spain and Serbia
Dunarea Galati and Steaua Bucharest coaches Marius Trendafir and Nelu Alexe will be the assistant coaches.
"I accepted the appointment as coach of the Romanian team because it's a new challenge, an honor and a responsibility for me. In Galati we will try to get the best results and I think it is possible to finish first in the group and gain promotion. As a first step I will try to establish a new mentality among the components of the national team and prepare seriously every game" said Lacroix
(29 Mar 2017)
Dunarea Galati won Romania Cup
Current national champion Dunarea Galati won its first title of Romania Cup beating 6-5 at overtime in a spectacular final, played at Brasov Arena, Cup holder SC Miercurea Ciuc with decisive goal scored by Slovak Ondrej Rusnak after 69 minutes, after Dunarea has recovered a 0-3 gap after two period, scoring 5 goals in the third, despite Miercurea has found the further advantage twice. Corona Brasov won the bronze winning 7-2 against Progym Gheorgheni
(23 Dec 2016)
Romania Cup final suspended
The final of Romanian Cup between SC Miercurea Ciuc and Steaua Bucharest, played at Gheorgheni arena, was suspended after the second period due to a short circuit to the lighting system which caused the explosion of two reflectors and a fire. The firefighters decided to evacuate the spectators from the rink. Given the impossibility to guarantee the repair in a short time, Federation decided to reschedule the game for a future date to be determined. At the moment of suspension the score was 7-2 in favour of SC Miercurea Ciuc. In the bronze game, Dunarea Galati won 7-6 at overtime against host Progym
(22 Dec 2015)
CSKA Sofia won't travel to Tychy
Due to financial problems CSKA Sofia, winner of Round 1 of Continental Cup, announced the team won't travel to Tychy, Poland, next weekend to partecipate in Second Round of competition. IIHF will fine the club for the withdrawal and invited the clubs finished behind CSKA to partecipate. Also runner-up Zeytinburnu Istanbul declined, but Partizan Beograd, finished third with just one game won, accepted the invite and will face GKS Tychy,Coventry Blaze and Dunarea Galati for a spot in semifinals
(20 Oct 2015)
First title for Dunarea in Romania
Dunarea Galati wins for the first time Romanian league by beating 3-1 in game four of final series, played in Brasov, titles-record holder Steaua Bucharest. Dunarea finished regular season in second place but loaned for playoffs some players from MOL Liga SC Miercurea Ciuc, knocking out in the semifinals favourite Corona Brasov. Progym Gheorgheni finished third beating in bronze finals Corona Brasov.
"It's totally unexpected for me. I still can not believe. It's a dream come true " said Dunarea forward Mircea Necula
(28 Mar 2015)
Dunarea Galati fired coach Rauhanen
The moving of Finnish coach Kari Rauhanen from MOL vice champion Corona Brasov to Dunarea Galati of Romanian League was the shocking transfer of the summer for Romanian hockey. After three months and only two official games played in Romanian Cup (one victory one loss), Dunarea announced Rauhanen was fired without further comments
(19 Sep 2014)
Historic rosters:
Historic statistics:
Past results:
League standings:
Fast facts
season 2021-2022
Cardiff Devils won by one-goal-difference against home side Grenoble and advances to the Continental Cup Superfinals along with Nomad Astana Read more»
Kazakh champion closes the Continental Cup semifinals round with a perfect record, by beating HK Zemgale in the last game Read more»