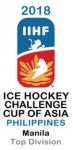 Challenge Cup of Asia
League status: Active
Administered by: IIHF
Year of start: 2008
Did you find any incorrect or incomplete information? Please, let us know.
Jonathan De Castro named Head Coach of Philippines
Filipino-American Jonathan de Castro is the new Head Coach of Philippines Men's National Team. De Castro, from Long Beach, California, worked as goaltending coach in the New York area, for Long Island Royals and Manhattanville College men and women teams. From last January he worked also as Director of Hockey Development and Director of Player and Coaching Development for the Philippine Hockey Federation. DE Castro will lead Philippines at the Challenge Cup of Asia in Manila from April 3 to 8
(02 Apr 2018)
India changes coach
For the first time since its first appearance on ice in 2009, India replaced American coach Adam Sherlip with former assistant coach Abdul Hakim Giri.
Hakim, 38, a phys-ed teacher in Leh, was on Indian national team bench since 2009 and was U18 national team headcoach
(27 Jul 2015)
2013 Challenge Cup of Asia in Thailand
The 2013 Challenge Cup of Asia Senior Men will be held in Thailand during the 3rd week of March 2013, as decided during the Asian Strategic Planning Group meeting in Macau. The meeting also determine that Senior and U18 Challenge Cup will be held in alternate years. 2013 is for seniors in Thailand and U18 will in held in March 2014.
(14 Aug 2012)
Challenge Cup of Asia
The IIHF announced dates and venues for the four Challenge Cup of Asia tournaments to be played this spring.
2012 IIHF Challenge Cup of Asia in Dehradun, India, 17-25 March 2012

2012 IIHF U20 Challenge Cup of Asia in Seoul, Korea, 26-30 May 2012

2012 IIHF U18 Challenge Cup of Asia in Abu Dhabi/Al Ain, United Arab Emirates, 1-6 April 2012

2012 IIHF Women's Challenge Cup of Asia in Qiqihar, China, 15-20 February 2012
(03 Jan 2012)
Past league results:
League standings:
Historic statistic:
Individuals records:
The 2022 IIHF Annual Congress has allocated tournaments for the upcoming season Read more»
Ten years after the last title, Slovan win Slovak Extraliga. Bratislava club is now the major winner of the competition with 9 titles Read more»