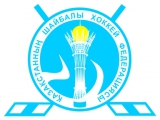 Kazakhstan
Year of foundation: 1992
Colours: blue, yellow, white
Club status: active
Address: Kazakhstan Ice Hockey Federation
12/1 D. Konayeva Str., office 508
010000 Astana
Republic of Kazakhstan
Phone: +7 7172 605 041
Fax: +7 7172 605 044
Email: office@icehockey.kz
Did you find any incorrect or incomplete information? Please, let us know.
Season 2006-2007
* no longer in the club
from 1990 to present: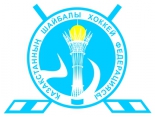 Kazakhstan named new coach
Belarussian Andrei Skabelka, 47, was appointed as new coach of Kazakhstan national team, following his sign as new coach of Barys Astana. Last season Skabelka coached Avangard Omsk
(06 Jun 2018)
Andrei Nazarov remains coach of Kazakhstan
Despite the relegation at last World Championship, Russian Andrei Nazarov was confirmed as head coach of Kazakhstan national team. Nazarov will lead Kazakhstan at the Olympic qualification in September against Norway, Italy and France. Nazarov was confirmed also as Barys Astana coach.
Federation also announced the coaches for junior and women teams:
Sergei Starygin - U20
Viktor Buyalsky - U18
Alexander Maltsev - Women
(10 Jun 2016)
World Championship preparation
The World Championship in Russia starts in three days. Four pre-tournament games were played today. Canada beat Czech Republic 3-0 and Kazakhstan beat France 6-3. Finland-USA (3-2) and Switzerland - Germany (4-3) were both decided in overtime.
(03 May 2016)
Kazakhstan promoted
Kazakhstan beat Great Britain 2-0 in Dumfries Ice Bowl to win World Women's Championship Div. 2A.
(05 Apr 2015)
Bochenski will receive citizenship of Kazakhstan
Barys Astana captain Brandon Bochenski will soon complete the process to receive citizenship of Kazakhstan and should be compete for his new country at the World Championship Division Ia in Poland next April.
"I hope that the issue will be resolved soon, all the paperwork takes time. Why decided to play for the national team of Kazakhstan? Here I have a lot of friends, I'm playing in this country and I feel part of it. And I would be honored to represent Kazakhstan." said Bochenski, at Barys from 2011.
Bochenski rapresented native USA at 2007 World Championship
(23 Feb 2015)
Euro Ice Hockey Challenge: Romania replaces Kazakhstan
Romania national team will replace the national team of Kazakhstan on the Polish stage of Euro Ice Hockey Challenge (EIHC), scheduled in Torun, Poland, from 05 to 08 February.
Kazakhstan withdrew its participation due to financial problems and injured players. Poland, Hungary and Ukraine are the other participant
(22 Jan 2015)
World Championship Division 1a start postponed
Polish Federation announces the start of World Championship Division 1a, originally scheduled for April 18, 2015, will be postponed by one day due to a show of singer Robbie Williams, which will take place at Krakow Arena on day 17. According to the new plan the tournament will begin on 19 April 2015 and end on Saturday 25 April. Host Poland will face Hungary, Japan, Ukraine, Kazakhstan and Italy
(02 Nov 2014)
U20 Challenge Cup of Asia
MHL Red Stars (represented by the new MHL team Sakhalin Sharks) won the U20 Challenge Cup of Asia in Yuzhno-Sakhalinsk. They beat Japan 8-3, South Korea 12-0 and Kazakhstan 3-1.
(08 Aug 2014)
Kazakhstan GM quits
Kazakhstan GM Shumi Babaev quits his job despite the victory at IHWC Division I and the return of Kazakhstan in the Elite Division.
"I resigned, I can'tforgive that we did not come to the Olympics. I think it's my fault. It was necessary to include more influence to defend their point of view and to get results. I think it is wrong to stay and occupy this position. Perhaps there are more worthy people who can perform all the tasks further, because to remain in the elite will be even harder. For this to work, we need support, and then everything will be done as scheduled" said Babaev
(30 Apr 2013)
SKA St. Petersburg and Toros Neftekamsk win pre-season tournaments
The President of Kazakhstan Cup came at the right time for KHL participants SKA St. Petersburg. With four wins in four games they dominated the tournament. Other KHL teams that played in the cup were Barys Astana and Yugra Khanty-Mansiysk along with the most traditional Kazakh team Kazzinc-Torpedo Ust-Kamenogorsk and a "B" version of the Kazakh national team.

Already yesterday the Lada Cup ended. In a tournament of four VHL teams Toros Neftekamsk won the final 2-1 against HC Sarov. The other two participants were Lada Togliatti and Dizel Penza. Lada won the game for the 3rd place 3-0 against Dizel. A detailed overview you can find here.
(13 Aug 2012)
Historic rosters:
Historic statistics:
Past results:
League standings:
The second European club competition celebrates the quarter of century starting the battles for the silver plate in September Read more»
Ice Hockey is a very popular sport. One of the main reasons for this popularity is that the game is very fast, and each match is full of exciting moments. Even though Ice Hockey is already very exciting, some people want ... Read more»