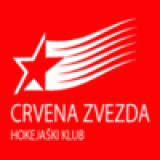 HK Crvena Zvezda
Name in original language: КХК Црвена звезда
Nickname: Red Star
Year of foundation: 1945
Colours: red,white
Club status: active
Address: SKHL Crvena Zvezda
Čarli Čaplina 39
11000 Beograd
Serbia
Phone: +381 11 3294 191
Fax: +381 11 3294 191
Did you find any incorrect or incomplete information? Please, let us know.
Season 2020-2021
Current roster
season 2020-2021
* no longer in the club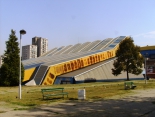 Adress: Čarlija Čaplina 39
11000 Beograd
Phone: +381 2766 667
Email: pionir@tasmajdan.co.rs
Capacity: 2000
Opened in: 1978
Crvena Zvezda was founded right after World War 2 ended. It was scheduled to take place at first Yugoslavian championship in 1946 but warm weather put a stop to the tournament. Crvena Zvezda then participated in 1947 before being passed over by their arch rivals Partizan. Crvena Zvezda failed to win any titles in SFRJ but got their first one in 1992 new Yugoslavia championship where only Serbian teams compeated.
SRJ champions: 4 (1992, 1993, 1996, 1997)
Serbia & Montenegro champions: 1 (2005)
SRJ cup winners: 5 (1992, 1993, 1996, 1997, 2000)
League winners:
from 1945 to 1980:
from 1980 to 2009: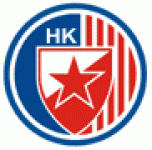 from 2009 to present: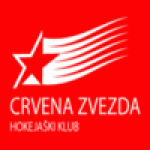 Crvena Zvezda confirms title in Serbia
Crvena Zvezda Beograd once again dominated the season in Serbia, winning the fourth consecutive title, the ninth in total, including the ones in the Yugoslavia era.
This season the Serbian League consisted of three teams: Crvena Zvezda, Vojvodina Novi Sad and the Red Team,Crvena junior department. Crvena Zvezda finished the regular season with a perfect record and easily defeat Vojvodina in the finals: 6-3 and 6-1. The last game was stopped after the second period but the result was homologated by the Federation.
This season, due to restrictions due to the covid pandemic, Serbian teams didn't participate in International Hockey League with Slovenian and Croatian club
(24 Mar 2021)
Medvescak-2 won IHL
The reserve team of Medvescak Zagreb is the champion of the first edition of IHL - International Hockey League, the multi-national championship including teams from Slovenia, Croatia and Serbia.
The eternal champion of Croatia finished 4th in the regular season, won by Triglav Kranj. In the playoffs eliminated KHL Zagreb in the quarterfinals and same Triglav in the semifinals, when team received reinforcements from EBEL team like goalie Vilim Rosandic and forwards Nik Simsic and Ivan Jankovic. The finals were played against HK Celje that eliminated in 3 dramatic games ambitious Crvena Zvezda Beograd. Medvescak closed the quest with two victories 5-3 and 7-3. Mislav Blagus of KHL Zagreb finished as Top Scorer with 56 points (33+23)
(29 Mar 2018)
Slovenia Federation launches new league
The Slovenian Federation, in partnership with Croatian and Serbian counterparts, launched the calendar of a new trans-national league called IHL - International Hockey League, starting from September after the positive partecipation of Croatian and Serbian teams in the last two editions of Slovenian League.
10 teams will partecipate, 5 from Slovenia - HK Slavija Ljubljana, HK ECE Celje, HK Triglav, HK MK Bled and HDK Maribor - 3 from Croatia - KHL Medveščak Zagreb 2, KHL Mladost Zagreb and KHL Zagreb - and two from Serbia - Crvena Zvezda Beogrand and HK Vojvodina Novi Sad.
After a home/away round robin and a round more according to the standing, the first eight teams advance to playoffs. A maximum of 5 imports are allowed.
(13 Jul 2017)
Crvena Zvezda will compete in Belarus Cup
The calendar of 2017 Belarus Cup, named after hockey legend Ruslan Salei, was unveiled with a unexpected news: Serbian team Crvena Zvezda Beograd will compete in the Cup as host team, without the right to eventually advance to final. Serbian team, with Belarusian Igor Krivoshlykov in the coaching staff, will spend pre-season training camp in the city of Kobrin, successfully asking to the Belarus Federation to compete in a tournament as part of preparation for the new season, according to the rumours, in the newly created International Hockey League with Slovenian, Croatian and Serbian teams
As usual the teams are divided in two groups, with the top two teams in each group advancing to semifinals.
Last year Neman Grodno, later also Extraliga champion, won the Cup beating Yunost Minsk in the final
(17 Jun 2017)
New champion in Serbia
After 11 consecutive titles by Partizan Beograd, Serbian hockey celebrated a new champion: the new team HK Beograd, created by the federation before the season to compete in MOL Liga, was crowned champion of Serbian League after eliminating Partizan - struggle with economic problems and finished 3d out of four in regular season -  in semifinals and Crvena Zvezda in two games of finals 7-2 and 2-1. Vojvodina Novi Sad takes the bronze winning 7-1 Partizan. Crvena Russian forward Alexander Zubritsky finished as top scorer
(08 Apr 2017)
Partizan continues its domination
A goal by Dimitrije Filipović at 63:02 in the overtime gives Partizan the victory 3-2 in game #4 of playoffs finals against arch-rival of Crvena Zvezda and the title number 13, the 11th consecutive. Partizan won all editions of Serbian League since 2006, when League adopted current name after the separation of Montenegro. Crvena Zvezda forward Pavel Popravka was the top scorer of the league with 32 points (16+16)
(21 Mar 2016)
Partizan win 19th title in Serbia
By beating HK Beostar 6-8 and 7-3 in two-games final series, Partizan Beograd won the 2014-2015 edition of Serbian League, continuing to dominate domestic hockey scene: it's title number 19, the 10th consecutive, for Partizan. Beostar Ukrainian forward Dmitri Gnitko was the top scorer of the league with 37 points (19+18) in 12 games of regular season
(15 Mar 2015)
Anders Jespersen to coach Sydney Ice Dogs
New experience for the wandering goalie: Danish Anders Jespersen is the new headcoach of Sydney Ice Dogs of Australian Icehockey League, replacing Andrew Petrie, moved to Newcastle North Stars last September. Jespersen start the season as Oman National team headcoach, before to move in Serbia, where worked as goalies' coach at Crvena Zvezda
(04 Mar 2015)
Crvena Zvedza - Partizan game declared invalid
The Serbian League match Crvena Zvezda - Partizan played on October 26th was declared friendly, both by teams and Competition Director, since it was played at the very begining of the season with Crvena Zvezda had only couple of days on the ice back then. The stats and the 3 points earned by Partizan, that won the game 82, were cancelled since the it was never registered by the Competition Director.
(18 Nov 2014)
New problems for Serbian League
With just one game played and start postponed from November to January, Serbian League continues to face difficulties: game number 2 between Crvena Zvedza and Vitez, scheduled for yesterday, was cancelled. It seems Crvena Zvezda wants to withdraw from the league
(28 Jan 2012)
Historic rosters:
Historic statistics:
Past results:
League standings:
Fast facts
season 2020-2021
Cardiff Devils won by one-goal-difference against home side Grenoble and advances to the Continental Cup Superfinals along with Nomad Astana Read more»
Kazakh champion closes the Continental Cup semifinals round with a perfect record, by beating HK Zemgale in the last game Read more»