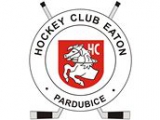 HC Dynamo Pardubice
Short name: Pardubice
Name in original language: HC Dynamo Pardubice
Year of foundation: 1923
Colours: red, blue, white
Club status: active
Address: Sukova třída 1735
Pardubice 530 02
Phone: +420 466 741 6301
Fax: +420 466 535 350
Email: hcpce@hcpce.cz
WWW: http://www.hcpce.cz
HC Dynamo Pardubice is major league affiliate of:
HC Chrudim
Did you find any incorrect or incomplete information? Please, let us know.
Season 2023-2024
Current roster
season 2023-2024
* no longer in the club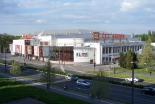 Adress: Sukova třída 1735
Pardubice 530 02
Phone: +420 466 741 611
Email: info@arenapce.cz
Capacity: 10194
Opened in: 1947
The club participates in top division since 1950 and has gradually become a very attractive team for local spectators, building a strong fan base and participating in European Champions Cup in 1974. Pardubice traditionally attract highest average number of spectators in Czech republic to their games.
from 1923 to 1949: LTC Pardubice
from 1949 to 1950: Sokol Pardubice
from 1950 to 1953: Slavia Pardubice
from 1953 to 1960: Dynamo Pardubice
from 1960 to 1991: Tesla Pardubice
from 1991 to 1995: HC Pardubice
from 1995 to 1997: HC Pojistovna IB Pardubice
from 1997 to 2002: HC IPB Pojistovna Pardubice
from 2002 to 2003: HC CSOB Pojistovna Pardubice
from 2003 to 2009: HC Moeller Pardubice
from 2009 to 2011: HC Eaton Pardubice
from 2011 to 2015: HC CSOB Pojistovna Pardubice
from 2015 to present: HC Dynamo Pardubice
Champions in 1973, 1987, 1989, 2005
League winners:
from 2009 to present: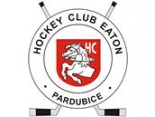 Ladislav Lubina new coach at Nove Zamky
HK Nove Zamky announces the hiring of Czech Ladislav Lubina as new headcoach for the upcoming MOL Liga. Lubina was assistant coach at Pardubice in last seasons
(14 Aug 2013)
Season's second switch of coaches in Pardubice
Miloš Říha replaced Mojmír Trličík in position of Pardubice's head coach. Together with Trličík also Ladislav Lubina, his assistant, leaves currently the eleventh team of the Czech Extraliga peloton. The function of Říha's assitant will be held by David Pospíšil, former assitant coach of Hradec Králové. Pardubice started the season with Pavel Hynek as the head coach so Miloš Říha is the club's third bench leader of currently running season. Trličík after being kicked out from Vítkovice in early November now gets his second walking papers in the season.
(20 Jan 2013)
With trombosis Pavel Brendl may miss the rest of the season
The biggest Pardubice summer reinforcements, Czech forward Pavel Brendl, may be sidelined for the rest of the season after medical exames revealed a blood clot in an artery. "We are conducting all the tests, the final conclusion until fall, but the latest reports are that at least he can't play for three months" said sports manager Petr Hemsky "Theoretically, he could be back in late February, then start training and gradually recovering, but isn't a simple matter" said Hemsky.
(30 Nov 2012)
European Trophy schedules
European Trophy announced today the schedule for the 2012/13 season. Find the complete fixture list here.
(12 Apr 2012)
Elkins leaves Pardubice to be with his pregnant wife
Corey Elkins' pregnant wife is going through health complications. That's the reason why Elkins, currently on the injury list of ČSOB Pardubice, left the Czech Republic to join his wife in a tough life situation. Regarding to information of iSport.cz Elkins' wife already miscarried her twins during a flight to the U.S.
(28 Jan 2012)
Start of Czech Extraliga postponed
Originally, Tipsport Extraliga would start this Friday, Sep 16, with seven games. Because of Yaroslavl jet crash all the first round games are postponed. "Jan Marek, Karel Rachůnek and Josef Vašíček were friends of many Czech Extraliga players. Their friends would be unable to attend Jan Marek's funeral if we will make them play hockey on Friday," Czech Extraliga head commisioner Stanislav Šulc said. New dates for the games is unknown, the clubs will arrange date of their 1st round games themselves.
The Czech top-level ice hockey competition will start on Sunday, Sep 18, with games of the second round.
(12 Sep 2011)
Another loss for Tappara
Tappara lost in the shootout to Pardubice in today's only game in European Trophy and is still without a win. Martin Bartek scored the game-winning 6-5 goal.
(22 Aug 2011)
Historic rosters:
Historic statistics:
Past results:
League standings:
Fast facts
season 2023-2024
Cardiff Devils won by one-goal-difference against home side Grenoble and advances to the Continental Cup Superfinals along with Nomad Astana Read more»
Kazakh champion closes the Continental Cup semifinals round with a perfect record, by beating HK Zemgale in the last game Read more»