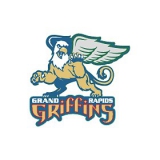 Grand Rapids Griffins
Year of foundation: 1996
Colours: navy blue, red, gold, silver
Club status: active
Address: Grand Rapids Griffins
130 West Fulton
Suite 111
Grand Rapids, MI 49503
Phone: +1 (616) 774-4585
Fax: +1 (616) 336-5464
Email: griff@griffinshockey.com
Did you find any incorrect or incomplete information? Please, let us know.
Season 2022-2023
This club in 2022-2023: AHL
Current roster
season 2022-2023
* no longer in the club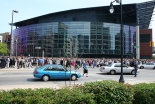 Adress: 130 West Fulton St,
Grand Rapids, MI 49503
Phone: +1 616.742.6600
Email: webmaster@smggr.com
Capacity: 10834
Opened in: 1996
Founded in 1996 as a member of the IHL. Switched to AHL in 2001.
from 1996 to present: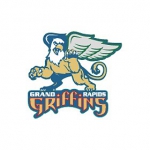 Paek accepts position as Head Coach of South Korea
The Grand Rapids Griffins announced that longtime assistant coach Jim Paek has accepted a position as the director of hockey for the Korea Ice Hockey Association (KIHA) and head coach of the Korean Men's National Team. In April 2015, Korea will compete at 2015 IIHF Ice Hockey World Championship Division I Group B in Eindhoven, Netherlands
(23 Jul 2014)
Detroit Red Wings prospect is arrested for drunk driving
20-year-old Detroit Red Wings prospect Riley Sheahan was arrested October 29 in Grand Rapids and charged with driving with a high blood-alcohol level content, above .17, and giving false information.
The amount of alcohol in his blood is more than two times higher than the rate and Sheahan can get up to 180 days in prison.
At the trial, which took place on November 6, hockey player pleaded not guilty. The forward, who was chosen by Detroit in the first-round draft pick in 2010, was arrested for public intoxication during his freshman season at Notre Dame in 2010.
"I'm aware that Riley was charged with a DUI," Detroit general manager Ken Holland said. "We're handling it internally. He sat out a game. We've talked to him. We're aware of what's happened."
(14 Nov 2012)
Red Wings extend AHL affiliation
The Detroit Red Wings announced a five-year extension of their affiliation agreement with Grand Rapids Griffins until 2016-17 season.
The new agreement transfers responsibility for all players and hockey operations staff - including coaches, equipment managers and trainers - to the Red Wings.
(07 Mar 2012)
Historic rosters:
Historic statistics:
Past results:
League standings:
Fast facts
season 2022-2023
Grand Rapids Griffins participates in season 2022-2023: AHL
After three-years-hiatus, the Asia League was back and Korean team add another title Read more»
In late Spring, 2023, the International Ice Hockey Federation will host the 86th Men's Ice Hockey World Championships. The competition is easily global ice hockey's biggest event, with hundreds of thousands of fans traveling for each world championship finals event. ... Read more»