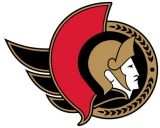 Ottawa Senators
Year of foundation: 1990
Colours: red, black, gold, white
Club status: active
Address: Ottawa Senators Hockey Club / Scotiabank Place
1000 Palladium Drive
Ottawa, Ontario
K2V 1A5
Phone: +1 613 599 0250
Email: ticketing@ottawasenators.com
Did you find any incorrect or incomplete information? Please, let us know.
Season 2023-2024
This club in 2023-2024: NHL
Current roster
season 2023-2024
* no longer in the club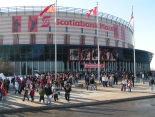 Adress: 1000 Palladium Drive,
Ottawa, Ontario
K2V 1A5
Capacity: 20500
Opened in: 1996
Founded in 1990, this franchise is the second to bear the Ottawa Senators name. The original club played in NHL between 1917 and 1934, winning 11 Stanley Cups. This club joined NHL in 1992 and has been almost ever-present in the playoffs, winning also four division titles, 2003 Presidents' Trophy and an appearance in 2007 Stanley Cup Finals. Senators enjoy a strong support, with average attendance well over 18000 spectators per game.
Notable players:
2007 Stanley Cup finals (lost 1-4 to Anaheim Ducks), 2003 Presidents' Trophy, four division titles. The 11 Stanley Cups were won by the original franchise in early 20th century (see History).
League winners:
from 2007 to 2021: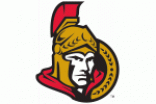 from 2021 to present: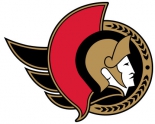 Alfredsson leaves Ottawa after 17 years
After playing with the Ottawa Senators since 1995 Daniel Alfredsson has decided to leave the club for a last chance to win the Stanley Cup. Instead he has signed a year deal with Detroit Red Wings.
(06 Jul 2013)
Erik Karlsson finishes season
Ottawa Senators defenseman Erik Karlsson had season-ending injury and a surgery to repair his left Achilles after the tendon was cut by a skate blade during a game against the Pittsburgh Penguins
(16 Feb 2013)
Karlsson signs new contract
- senators.nhl.com
The Norris Trophy finalist Erik Karlsson and the Ottawa Senators agreed today on a new contract that will keep him in Canada's capital for the next seven seasons, clearly establishing the 22-year-old Swede as a franchise cornerstone for the foreseeable future. The signing comes less than three weeks before his July 7 wedding in Göteborg.
(20 Jun 2012)
Game 1,100 in NHL for Sergei Gonchar
The Ottawa Senators 4-1 victory against the San José Sharks marked NHL game number 1,100 for Russian defenceman Sergei Gonchar. He debuted in the 1994-95 season with the Washington Capitals, playing also for the Boston Bruins and Pittsburgh Penguins. "The thing is, time is just flying by," Gonchar said. "It seems like just a little while ago I was starting in the NHL, then all of a sudden it's 1,100 games. Time just flies by, season after season." The only Russians to play more NHL games are Alexei Kovalev, Sergei Fedorov and Slava Kozlov.
In the same game, another Senators defenceman, Czech Filip Kuba, celebrated his 100th point in the league.
(20 Jan 2012)
Alfredsson and Chara named All Star game captains
Ottawa Senators Daniel Alfredsson and Zdeno Chara of the Boston Bruins were named as captains for the NHL All-Star Game.
Both Alfredsson and Chara are making their sixth All-Star appearance.
(18 Jan 2012)
Another World Champion retires
July, 26, 2011 can be written in the hockey chronicles as a day of two World Champions retirement. Just a few hours after Kris Draper announced his retirement, a similar statement was made by another IIHF World Championship gold medalist. Martin Prusek, 36, a former goaltender of the Ottawa Senators and the Columbus Blue Jackets in NHL accepted an offer from HC Vítkovice Steel to become their goaltender coach.
(27 Jul 2011)
Two young Swedes sign NHL contracts
On his 18th birthday Jonas Brodin (10th overall in 2011 draft) signed with the Minnesota Wild, however he will stay for one more year with his Swedish club Färjestad. The sixth overall pick Mika Zibanejad also signed with his club, the Ottawa Senators. He will attend Ottawa's training camp to try to earn a spot on Ottawa's NHL roster. If he doesn't make the roster he will return to Sweden to play for Djurgården.
(13 Jul 2011)
Historic rosters:
Historic statistics:
Past results:
League standings:
Fast facts
season 2023-2024
Ottawa Senators participates in season 2023-2024: NHL
Cardiff Devils won by one-goal-difference against home side Grenoble and advances to the Continental Cup Superfinals along with Nomad Astana Read more»
Kazakh champion closes the Continental Cup semifinals round with a perfect record, by beating HK Zemgale in the last game Read more»