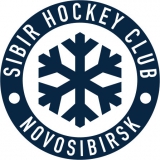 Sibir Novosibirsk
Name in original language: Сибирь Новосибирск
Year of foundation: 1962
Colours: blue,red,white
Club status: active
Address: ul. B. Khmelnitskogo, 23
Novosibirsk

Phone: +7 (383) 276-25-99
Email: hcsibir@hcsibir.ru, pressa@hcsibir.ru (Press Office)
Did you find any incorrect or incomplete information? Please, let us know.
Season 2022-2023
Current roster
season 2022-2023
* no longer in the club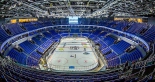 Adress: 630005, Novosibirsk
st. Nemirovich-Danchenko, 160
Phone: +7 8(383)-252-50-40
Email: sibir-arena@nso.ru
Capacity: 10587
Opened in: 2023
In 1947, the enthusiastic and popular ice hockey writer, Ivan Ivanovich Tsiba, brought the first "Canadian" stick to Novosibirsk. During a break at the city's bandy finals, he showed their players and spectators what ice hockey was. The following season, Novosibirsk Dynamo ceased bandy operations and became an ice hockey club
Notable players:
from 1947 to 1962: Dynamo Novosibirsk
from 1962 to present: Sibir Novosibirsk
from 1962 to 2015: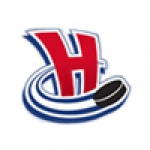 from 2015 to present: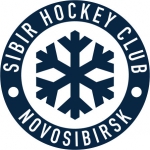 KHL canceled the status of foreign for the Belarusian players
Belarusian players have officially ceased to be considered imports in the KHL.
KHL President Dmitry Chernyshenko said the decision were made last September. But on November 14, Sibir Novosibirsk Belarusian defender Pavel Vorobey was still registered as import in the official gamesheet of the game against Red Star Kunlun
"Belarusian players are not considered imports, but it is necessary to make appropriate changes veru urgently to the regulations to allow them playing without limitations" said earlier this week former KHL President Alexander Medvedev
Yesterday the KHL Board of Directors officially adopted the amend to the regulament
(22 Nov 2018)
KHL schedule announced
The KHL schedule for 2015-16 can now be found in our games database.
(30 Jun 2015)
Small change in Sibir's name
From the next season the official name of Sibir Novosibirsk will change in Sibir Novosibirsk Region.
A similar change in the official name happened with Avangard, which now represents the Omsk region.
(07 Jun 2013)
Sibir changes farm club affiliation
KHL team Sibir Novosibirsk announces club ceased cooperation with Ryazan and that a new farm-club agreement was signed with Zauralie Kurgan
(29 May 2013)
SKA with a 2-0 against Sibir
SKA St. Petersburg was the dominating side today in the only KHL game but Sibir Novosibirsk didn't leave their offense score too many easy goals and so it was super star Ilya Kovalchuk who opened the score at 24:26. Shortly afterwards Alexander Kucheryavenko decided the match with the 2-0 for the hosts who extended their winning streak once more.
(18 Oct 2012)
Skudra at Sibir
Former Latvian goalie Peteris Skudra will be headcoach Dmitri Kvartalnov's assistant coach, along with Andrei Tarasenko, at Sibir Novosibirsk. Skudra worked as goalies coach at Severstal Cherepovets last season
(09 May 2012)
Dmitri Kvartalnov new Sibir coach
Former Severstal headcoach Dmitri Kvartalnov signed a two-years-contract with Sibir Novosibirsk
(12 Apr 2012)
Dmitri Yushkevich won't remain at Sibir
Dmitri Yushkevich won't be on Sibir Novosibirsk's bench next season. The coach refused to extend the contract with the club "Sibir board has made me an offer to continue working at the club, but I refused it - said Yushkevich - I have my personal reasons and I don't want to comment"
(20 Mar 2012)
Lehterä out for injury
Sibir Novosibirsk Finnish forward Jori Lehterä broke his leg during yesterday 5-2 victory against Dinamo Minsk. He flies today to Finland for a surgery but it's still unclear how long he will be out
(09 Jan 2012)
Coach changes in Moscow and Novosibirsk
Two KHL teams decided to fire current head coach: Spartak Moscow replaces Slovak Frantisek Hossa and assistant coach Vadim Epanchintsev with Andrei Sidorenko, assisted by Aleksandr Titov and Dmitri Erofeev.
Also Sibir fired its head coach Andrei Tarasenko, who will remain in the club as senior coach, replacing him with former assistant Dmitri Yushkevich
(07 Dec 2011)
Historic rosters:
Historic statistics:
Past results:
League standings:
Fast facts
season 2022-2023
Cardiff Devils won by one-goal-difference against home side Grenoble and advances to the Continental Cup Superfinals along with Nomad Astana Read more»
Kazakh champion closes the Continental Cup semifinals round with a perfect record, by beating HK Zemgale in the last game Read more»