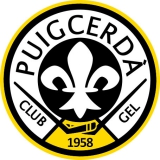 CG Puigcerdà
Year of foundation: 1958
Colours: yellow,black,white
Club status: active
Address: Club Gel Puigcerdà
Can Pedraça, s/n
Club Poliesportiu Puigcerdà
Apartat de correus 105
17520 Puigcerdà (Girona)
Phone: +34 972.882.464
Fax: +34 620.518.318
WWW: CG Puigcerdà
Did you find any incorrect or incomplete information? Please, let us know.
Season 2019-2020
Current roster
season 2019-2020
* no longer in the club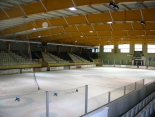 Adress: Club poliesportiu Puigcerdà
17520 Puigcerda

Phone: +34 972 88 02 43
Email: club@poliesportiu.net
Capacity: 1450
Opened in: 1983
Club Gel Puigcerdà was born in 1956 when a team created in the school Pensionat d'Alta Muntanya played the first match on the frozen lake of Puigcerdà. The ice hockey venue was inaugurated in 1958 with an international festival of ice. From this festival, the hockey clubs of the village as AEP (Alumni of the School Pia) played several games, so with Catalan teams or foreign. In 1983 was inaugurated the current pavilion where the club plays.
Notable players:
Spain Champion: 1985-86, 1988-89, 2005-06, 2006-07, 2007-08
Spanish Cup: 1982-83, 1983-84, 1985-86, 1991-92, 1998-99, 2003-04, 2004-05, 2006-07, 2007-08, 2008-09, 2009-10[2]
Federation Cup: 2005-06, 2006-07
Catalan Cup: 1984-85, 2002-03, 2003-04, 2005-06, 2007-08, 2008-09
League winners:
from 1958 to 2008: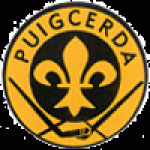 from 2008 to 2019: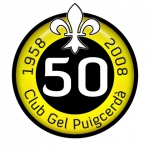 from 2019 to present: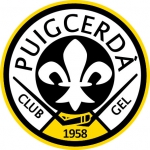 Barcelona confirms title in Spain
Barça Hockey Gel retaining the title of Liga Nacional after a thrilling playoffs game #4 against GC Puigcerdà, decided at overtime
It's the seventh title for hockey section of giant FC Barcelona
All games and stats from the season here: https://bit.ly/3Kd7NW7
(04 Apr 2022)
Barça Hockey Gel win title in Spain
Regular season winner Barça Hockey Gel needs just 3 games to beat reigning champion CG Puigcerdà in a catalan clash and win the Liga Nacional title, the sixth for the ice hockey section of football powerhouse FC Barcelona, the first since 2008-09 season.
Barça forward Oriol Rubio finished as league Top Scorer
(17 Apr 2021)
CG Puigcerdà win Spanish League
CG Puigcerda is Spanish champion, by beating in the playoffs finals reigning champion Txuri Urdin.
Federation suspended the playoffs after semifinals last March due to Covid outbreak but decided to complete the 2019-2020 season before the begin of new season.
Puigcerda won 5-2 game #1 last week and game #2 6-4 in San Sebastian winning a title that had been missing for 12 years. Txuri abdicate the crown after three consecutive triumphs. The Basque team suffered some key losses during the summer, when iconic goalie Ander Alcaine retired and Ander Arraras and Josh Gimenez signed for rival Puigcerdà.
The new Liga Nacional season will start next Saturday
(20 Sep 2020)
FC Barcelona win Copa del Rey
FC Barcelona has surprisingly triumphed in Copa del Rey, the Spanish national Cup, played in Jaca last weekend. The hockey section of the famous club won Spanish League champion, Cup holder and super-favourite Txuri Urdin San Sebastian 5-4 in a thrilling semifinal, decided by a goal of Bruno Baldris at 61:62 after having recovered the disadvantage three times in regular time. In the final, a clear victory 5-1 against Liga Nacional finalist CG Puigcerdà, which closes the season with two silver medals. Barcelona takes home the sixth Copa del Rey, after the last success in 2014-2015, curiously obtained against the same opponent and on the same ice
(14 Apr 2019)
CH Jaca is Spanish champion
Club Hielo Jaca won its 12th title beating 5-1 GC Puigcerdà in game #5 of the finals at home in front of 1600 spectators. It's the 4th title in last six years for the club, became the most successful in the country.
(09 Apr 2015)
Barcelona win Copa del Rey
FC Barcelona won for the fifth time, the first since 1996-97, Spanish Copa del Rey by beating 6-2 in the final arch-rival CG Puigcerdà at Jaca. In the semifinals, played on Saturday, Barcelona won 7-6 at overtime Txuri Urdin, while Puigcerdà won 5-3 hosts Jaca. Its the first trophy for Barcelona coach Danylo Didkovsky
(18 Jan 2015)
Frank González new President of Spanish Ice Sports Federation
Former player Frank Gonzalez, IIHF Council Member, was elected new President of Spanish Ice Sports Federation (FEDH), where he was the Vice President and the responsible for ice hockey.
"Now I have the satisfaction to be the second president of the FEDH (after María Teresa Samaranch), although at the time to address the Assembly I was really excited and almost could not even talk, but now it's already time to work" said Gonzalez after the election. Two hockey players, national team captain Salva Barnola (CG Puigcerdà) and Guillermo Betrán (CH Jaca), were named in the Commission of Deputies
(22 Oct 2014)
Bipolo Vitoria win (also) Copa del Rey
Closing a dominating season, League champion Bipolo Vitoria captured Copa del Rey (Spanish National Cup) - the first ever in club history - last weekend by beating 4-1 CG Puigcerdà in the final, played in Barcelona in a repeat of recent League final series.
(25 Mar 2014)
Bipolo Vitoria wins Spanish League
Bipolo Vitoria/Gasteiz confirms its dominion over the Spanish hockey scene winning the second consecutive title after beating 5-2 in playoffs finals game #4 CG Puigcerdà. With just 5 games lost in last two regular seasons and a 4-lines roster (not common in Spain where usually teams play with two lines), Bipolo swept opponents allowing Puigcerdà a victory in the series. Catalan team submitted a protest after the first two games of finals alleging three Bipolo imports - Evan Mackintosh, Vitaly Kulikov and Dmitry Gnitko - were alligned unevenly, but Federation rejected the requestNow Bipolo can seal another perfect season grabbing also Copa del Rey that will be played in Barcelona next week, with Bipolo as favourite
(17 Mar 2014)
Bipolo Vitoria wins first title in Spain
By beating 7-6 CG Puigcerdà in playoffs finals game #3, Bipolo Vitoria closed the series 3-0 and wins Spanish League for the first time. Puigcerdà Slovak forward Jan Simko, suspended in third game, was the season top scorer
Bipolo also won regular season and will play against Txuri Urdin for Copa del Rey semifinals on March 23 while Puigcerdà will face former champion CH Jaca
(03 Mar 2013)
Historic rosters:
Historic statistics:
Past results:
League standings:
Fast facts
season 2019-2020
Cardiff Devils won by one-goal-difference against home side Grenoble and advances to the Continental Cup Superfinals along with Nomad Astana Read more»
Kazakh champion closes the Continental Cup semifinals round with a perfect record, by beating HK Zemgale in the last game Read more»