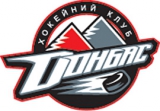 Donbas Donetsk
Short name: Donbass
Name in original language: Донбас Донецьк
Year of foundation: 2001
Colours: black,red,silver
Club status: active
Phone: +38 099-952-81-14
Did you find any incorrect or incomplete information? Please, let us know.
Season 2021-2022
Current roster
season 2021-2022
* no longer in the club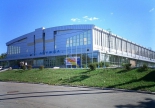 Adress: prosp. Illicha, 93-a
Donets'k
Ukraine

Phone: +38 062 336 7542, +38 062 295 7173
Capacity: 4100
Opened in: 1976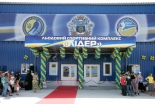 Adress: vul. Tereshkovoyi, 39-a
Donets'k
Ukraine
Phone: +380 62 335 78 77, +380 62 731 14 46
Capacity: 500
Opened in: 2008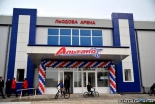 Adress: vul. Sevastopolska, 5
Druzhkivka
Donetsk Oblast
Ukraine

Phone: +380 095-510-81-00
Capacity: 400
Opened in: 2011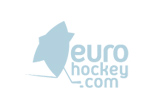 Capacity: 430
Opened in: 2020
Not played in 2014-2015 season due to political situation in Ukraine
from 2001 to 2005: Donbas Donetsk
from 2005 to 2006: Donetsk-Kolbiko Donetsk
from 2006 to present: Donbas Donetsk
from 2001 to 2008: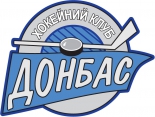 from 2008 to 2011: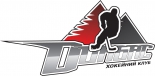 from 2011 to present:
Donbass Donet'sk will play in the Champions League
The Board of the Hockey Champions League decided to allocate a wild card for the champion of Ukraine Donbas Donet'sk.
The Ukrainian champion will play home matches of the most prestigious European tournament on the ice of the Kiev Sports Palace.
Since Donbass will not be able to take part in the Continental Cup, its place in the tournament will be taken by the vice-champion of Ukraine Sokil Kyiv
(03 May 2021)
Sergei Viter resigned as head coach of Ukraine
Sergei Viter resigned from the post of head coach of the Ukrainian national team following his appointment as HC Donbass Sport Director
Viter headed the national team from June 2019 when he replaced Andrei Sryubko.
(21 Oct 2020)
Kremenchuk win Ukranian League
Ukraine has finally a champion for 2019-2020 season: HC Kremenchuk win its first title by beating in a thrilling final series reigning champion Donbass Donets'k after seven games. A deflection by captain Nikolai Kiselev on Egor Seranov shot at 66:70 in the overtime gives Kremenchuk the decisive 3-2 victory. After two silver medals (2015 and 2017) and two bronze (2016 and 2019) finally the team from Poltava region can celebrate the title.
Ukranian league stopped during the playoffs last March due to the Covid-19 outbreak, to resume in September and stop again for several cases among players, before the final series.
(20 Oct 2020)
UPDATE: playoffs suspended in Ukraine
The Ukrainian Hockey League informs that the semi-final and final play-off series of the 2019/20 season has been suspended for at least two weeks due to the detection of COVID-19 in 19 Donbass hockey players and 2 players of Bilyỹ Bars Bila Tserkva. Also, tests for coronavirus were passed by Dnipro and Kremenchuk. Previously the League rescheduled the date for September 9-10
After retesting the playoff semi-finalist teams, the League will decide on the dates for the playoffs continuation
(07 Sep 2020)
Sergei Viter named Head Coach of Ukraine
Donbas Donets'k head coach Sergei Viter was appointed as new head coach of the national team of Ukraine. Hockey Federation of Ukraine. The seven-time champion of Ukraine replaces Andrei Sryubko, after a disappointed campaign at the World Championships Division 1B, where Ukraine finished fifth
(12 Jun 2019)
Julius Supler left HC Donbas
HC Donbas announced Slovakian Julius Supler resigned due to health problems
Supler returned to Donbas last summer after a previous experience in 2012-2013 when the club played in KHL.
Donbas is currently third in the Ukraine Hockey League standing and last week played in the Continental Cup second round in Riga, missing the qualification after the defeat against home team HK Kurbads
Club's Sports Director Sergey Viter will replace Supler
(24 Oct 2018)
Donbass will build two arenas in Mariupol
The President of the HC Donbass, Boris Kolesnikov, announced the construction of two ice arenas in Mariupol.
The construction of a full-scale air bearing structure with an ice field of 60x30 meters should begin no later than June 1 and will be completed this year.
The second stage will be the construction of a multisport complex, for approximately 2,000 spectators, to be built at the end of 2019 - early 2020.

"At the age of 8, it is necessary to bring a child to a big hockey and at five years old - to figure skating - these are very early sports" said Boris Kolesnikov
(29 Apr 2018)
Donbas fire coaching staff
The last home defeat 3-2 against Kryvbas was fatal for Donbas Donet'sk coaching staff: the club decided to terminate the contract of head coach Anatoli Stepanischev ans assistants Evgeny Brul and Andrei Sryubko, despite a positive campaign of current Ukraine champion. Sporting Director Sergei Viter was named interim coach
(08 Feb 2017)
Donbas joins EHC
Current Ukranian champion Donbass Donets'k is the newest member of Alliance of European Hockey Clubs (EHC), becoming the first Ukrainian club and the first from former CIS joining the organization, created last June with the mission to unite and represent Europe's professional ice hockey clubs.
"The creation of EHC is an opportunity to make the European hockey market more modern and profitable, and we are proud to become the first Ukrainian club part of that organization" - said Donbass CEO Alexei Braga.
(21 Jul 2016)
Donbas win title in Ukraine
After two seasons the title of champion is back to Donets'k: regular season dominator Donbas - playing home games in the city of Druzhkivka after the bombing of Druzhba arena in Donets'k - swept Generals Kyiv in four games of playoffs finals.
Russian forward Denis Kochetkov was named Ukranian Extra Leauge MVP. Kochetkov became the third Russian to win the award after forward Yuri Koksharov (Donbas - 2012) and goalkeeper Sergei Zavyalov (Companion Kyiv - 2014).
Other awards go to:
Eduard Zakharchenko (Generals Kyiv) - best goalie
Denis Petrukhno (Donbas Donets'k) - best defender
Artem Gnidenko (Generals Kyiv) - best forward
(01 Apr 2016)
Historic rosters:
Historic statistics:
Past results:
League standings:
Fast facts
season 2021-2022
After three-years-hiatus, the Asia League was back and Korean team add another title Read more»
In late Spring, 2023, the International Ice Hockey Federation will host the 86th Men's Ice Hockey World Championships. The competition is easily global ice hockey's biggest event, with hundreds of thousands of fans traveling for each world championship finals event. ... Read more»