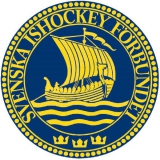 Sweden
Year of foundation: 1912
Colours: yellow, blue
Club status: active
Address: Swedish Ice Hockey Association
Box 5204
Bolidenvägen 22
12116 Johanneshov
Sweden
Phone: +46 8 449 04 00
Fax: +46 8 910 035
Email: info@swehockey.se
Did you find any incorrect or incomplete information? Please, let us know.
Season 2013-2014
Current roster
season 2013-2014
* no longer in the club
from 1899 to present: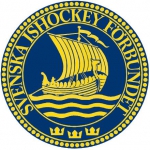 World Juniors Quarter finals
The quarter final match-ups of the World Junior Championship in Canada is decided after the end of the Preliminary Round:
Sweden - Switzerland
Canada - Finland
USA - Czech Republic
Russia - Slovakia
(01 Jan 2019)
Swedish stomach flu
Five Swedish players missed the game against Kazakhstan because of stomach flu.
With Adam Ginning, Johan Södergran, Filip Svenningsson, Philip Broberg and Richard Hugg out Sweden still managed to win 4-1 against Kazakhstan to finish on top of Group B.
(01 Jan 2019)
World Juniors quarter finals
The World Junior Championship quarter finals will be played on Tuesday:
Czech Republic - Finland
Canada - Switzerland
Sweden - Slovakia
USA - Russia
Belarus and Denmark will play three games to decide who relegates.
(01 Jan 2018)
Big wins on Ivan Hlinka Memorial opening day
Three of the four games on the first day of Ivan Hlinka Memorial in Breclav, Czech Republic and Bratislava, Slovakia ended with big wins. First Lukas Wernblom and Samuel Fagemo scored two goals each when Sweden beat USA 6-1 in Breclav. In the second game in Breclav Czech Republic beat Switzerland 6-2 after two goals by Jan Jenik and two by Jakub Lauko.
In Bratislava Ruslan Iskhatov scored the winner when Russia beat Canada 4-3 after a shootout. Rasmus Kupari had two goals and three assists when Finland got an easy 6-1 win over Slovakia.
(07 Aug 2017)
Sweden beat Korea twice
The Swedish women's team visited Korea for two games in Gangneung. Sweden won the first game 3-0 and the second 4-1.
(30 Jul 2017)
Sweden beats Hungary
Sweden beat Hungary 4-0 in Budapest tonight. Goals by Richard Gynge, John Norman, Emil Pettersson and Pär Lindholm.
(03 Apr 2017)
Women's World Championship coming up
On Friday starts the Women's World Championship in Plymouth, Michigan, United States. Yesterday the U.S. Women's National Team and USA Hockey announced that they've reached an agreement so USA will be represented by their best players at the home championship, trying to defend the gold medals.
In exhibition games yesterday Sweden beat Germany 3-2 and Switzerland beat Russia 4-0.
(29 Mar 2017)
USA on top of U18 tournament in Sweden
With the World U18 Championship two months away five of the leading countries got together in a 5-nation tournament in Sundsvall, Sweden. USA finished on top after beating Sweden 5-4 in a shootout game on the last day. if Sweden had won the shootout they would have finished on top. Man of the day for USA was Josh Norris whou tied the game 3 seconds(!) before the end and then got the shootout winner.
Czech Republic finished third, Russia 4th and Finland 5th. Find all results and game stats here.
(13 Feb 2017)
Sweden will play in Belarus
Belarus and Sweden will play two friendly games in preparation for World Championship 2017. Both games will be held in Grodno, at the Ice Sports Palace, on on Friday and Saturday, 21 and 22 April 2017
(17 Jan 2017)
Rakell will miss World Cup
Sweden's Rickard Rakell is sick and will miss the World Cup. He will be replaced by Patrik Berglund.
(12 Sep 2016)
Historic rosters:
Historic statistics:
Past results:
League standings:
Fast facts
season 2013-2014
Sweden participates in season 2013-2014: Euro Hockey Tour, Olympics, Women's Olympics, World Championship, U20 National team games, WJC, U19 National team games, U18 National team games, WJC18, U17 National team games, U16 National team games, World Women's U18 Championship
As Sheffield Steelers (EIHL) gear up for a play off push changes were made. Read more»
From practice in a car park and over a Persian carpet to skating in one of the most prestigious hockey academies: Eurohockey meets Guila Mohajer: facing many difficulties, the first Iranian women hockey player is now studying coaching in Vierumaki Sport ... Read more»