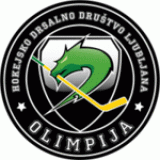 HDD Telemach Olimpija Ljubljana
Short name: Olimpija
Nickname: Dragons
Year of foundation: 1929
Colours: green / white
Club status: active
Address: Celovška cesta 25
1000 Ljubljana
Phone: +386 1 43 00 550
Fax: +386 1 43 00 554
Email: hddo@klub-olimpija.si
Did you find any incorrect or incomplete information? Please, let us know.
Season 2012-2013
Current roster
season 2012-2013
* no longer in the club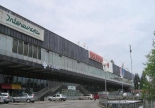 Adress: Športno rekreacijski center Tivoli
Celovška cesta 25
1000 Ljubljana
Phone: +386 08 387-60-86
Email: info@zavod-tivoli.si
Capacity: 7000
Opened in: 1965
Olimpija's predecessor SK Ilirija has established its hockey section in 1929. Until World War 2 Ilirija was the best team in Kingdom Yugoslavia, taking all of the national championships. Before that they were avarded national titles in 1937 and 1938 for being the best team in Kingdom Yugoslavia. After World War 2 the team has changed it's name several times until becoming HK Ljubljana in the winter of 1948/49. Before the 1962/63 season Ljubljana merged with Olimpija and ever since the team is known as Olimpija Ljubljana. Olimpija has won the most national championships in Slovenija since it got independent and now competes in Austrian EBEL league.
from 1928 to 1946: SK Ilrija
from 1946 to 1947: HK Udarnik
from 1947 to 1948: HK Triglav
from 1948 to 1949: HK Enotnost
from 1949 to 1962: HK Ljubljana
from 1962 to 1985: HK Olimpija Ljubljana
from 1985 to 1991: HK Olimpija Kompas
from 1991 to 2001: HK Olimpija Hertz
from 2001 to 2008: HDD ZM Olimpija Ljubljana
from 2008 to 2012: HDD Tilia Olimpija Ljubljana
from 2012 to present: HDD Telemach Olimpija Ljubljana
Kingdom Yugoslavia champions: 3 (1939, 1940, 1941); 2 by default (1937, 1938)
Yugoslavian champions: 8 (1972, 1974, 1975, 1976, 1979, 1980, 1983, 1984)
Slovenian champions: 11 (1995, 1996, 1997, 1998, 1999, 2000, 2001, 2002, 2003, 2004, 2007)
Yugoslavian cup winners: 4 (1969, 1972, 1975, 1987)
League winners:
from 1929 to present: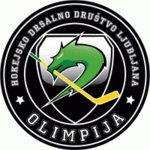 Jesenice wins title in Slovenia
A goal on power play by Miha Brus gives Jesenice the victory 2-1 in finals game #4 against arch-rival HDD Olimpija Ljubljana, the 3-1 in the series and the Slovenian title for the team heir of Acroni Jesenice, folded two years ago.
(16 Apr 2015)
Olimpija Ljubljana won Slovenian title
Olimpija Ljubljana confirmed Slovenian title by beating twice Team Jesenice 1-5 and 6-3. This season Slovenian league was played after the end of INL and EBEL. It's the third cnsecutive title for Green Dragons
(04 Apr 2014)
Olimpija Ljubljana has a million debts
In today's interview for "Slovenske Novice" the manager of Olimpija Ljubljana Matjaz Sekelj said the club currently has a debt of around one million euros. Almost half of which are tax debts with tax office, the rest are with players and banks. Club is evaluating a possible cooperation with Medvescak Zagreb, recently joined KHL
(10 Jun 2013)
Olimpija Ljubljana wins Slovenian title
By beating 4-1 and 3-2 Slavija, Olimpija Ljubljana wins its second consecutive Slovenian title.
check all Slovenian League stats here
(10 Apr 2013)
Ljubljana fires head coach Heikki Mälkiä
After only six matches EBEL team HDD Olimpija Ljubljana from Slovenia fired their Finnish head coach Heikki Mälkiä. His team had only won one game so far. In the two years before Mälkia was head coach for HK Jesenice, also in EBEL. A successor has not yet been found.
(24 Sep 2012)
Ljubljana vs. Stavanger test postponed
HDD Olimpija Ljubljana and the Norwegian champion Stavanger Oilers were scheduled to face each other on Sunday, 12 August 2012 but as the Norwegians can't come earlier than Monday, 13 August the game was postponed until Tuesday, 14 August (19.15h). Both teams will participate also in the pre-season tournament in Bled (Rudi-Hiti-Sommercup, 16-19 August).
(03 Aug 2012)
Acroni Jesenice ties the series
Two goals by Anze Kuralt and the decisive one by Jaka Ankerst after 01:50 in the overtime give Jesenice the final 3-2 in game #2 of Slovenian League finals against Olimpija Ljubljana. The series is now 1-1. Game #3 will be on Thursday in Ljubljana's Tivoli Arena
(29 Mar 2012)
Olimpija and Jesenice will decide Slovenian National League
Defending champion Acroni Jesenice will defend national title against arch-rival Olimpija Ljubljana. The two main Slovenian teams advance to final defeating Triglav Kranj and HDK Maribor respectively. Playing with EBEL rosters Jesenice left with no chance Triglav, winning 5-2 and 6-0, while Olimpija left Maribor arena with a 3-3 draw in the first game, but decided series at Tivoli arena with a clear 4-1.
(25 Mar 2012)
Olimpija Ljubljana fined for losing on purpose
Slovenian club Olimija Ljubljana was fined by the Erste Bank Eishockeyliga for losing on purpose against Red Bull Salzburg. When the team learned about the other results, head coach Hannu Järvenpää gave instructions to his team to lose to avoid having to play against Red Bull in the first playoff round, as they preferred to face Sapa Fehervar AV19. In the shootout, goalie Matija Pintaric showed no will to make any saves and just left his net open. The club has to pay €10 000 for damaging the reputation of the league. Järvenpää received a two-game suspension plus another two on probation. Pintaric received a 10-game suspension and four games probation.
(18 Feb 2012)
Matjaz Sekelj takes over as interim Olimpija coach
For the first two playoffs games Olimpija sport Director Matjaz Sekelj will be behind the Dragons' bench, replacing Finnish coach Hannu Järvenpää. Sekelj previously coached Olimpija temporarily in 2009-10 when he replaced Danny Gélinas.
(17 Feb 2012)
Historic rosters:
Historic statistics:
Past results:
League standings:
Fast facts
season 2012-2013
Six teams will compete in Mexico City for the second edition of the tournament Read more»
On Thursday, May 21, KHL season-ending ceremony was held in Russia. Read more»