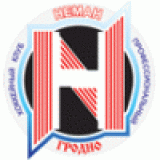 Neman Grodno
Name in original language: Неман Гродно
Year of foundation: 1988
Colours: white, red, black
Club status: active
Address: ul. Kommunalya 3a
Grodno, Belarus, 230 029
Phone: +375 0152 48-25-08
Email: hcneman@tut.by
WWW: Neman Grodno
Did you find any incorrect or incomplete information? Please, let us know.
Season 2017-2018
Current roster
season 2017-2018
* no longer in the club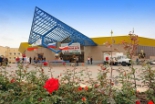 Adress: ul. Kommunalya 3a
Grodno, Belarus, 230 029
Phone: +375 152 75-32-36
Email: info@icepalace.by
Capacity: 3000
Opened in: 1989
from 1900 to present: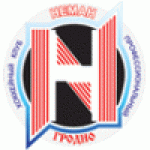 Belarus Cup semifinals set
After the last game, won by Dinamo Maladzyechna against Yunost Minsk, the semifinals of Belarus Cup are known with the first two teams from each of two groups qualified: HC Dinamo Maladzyechna, winner of Group A, will play with Gomel, while Neman Grodno will face Yunost Minsk. The dates of two legs of semifinals are to be determined
(27 Aug 2017)
Games of the day: 23 July
@ Minsk: Neman Grodno - Yugra Khanty-Mansiysk 3-2
(24 Jul 2017)
Games of the day: 20 July
@ Minsk (Minsk Cup):Yugra Khanty-Mansiysk - Neman Grodno 4-3 SO
@ Raubichi (BLR): Yunost Minsk - Dinamo Maladzyechna 0-4
HC Dynamo Pardubice - HC Slovan Bratislava 5-2
(20 Jul 2017)
Crvena Zvezda will compete in Belarus Cup
The calendar of 2017 Belarus Cup, named after hockey legend Ruslan Salei, was unveiled with a unexpected news: Serbian team Crvena Zvezda Beograd will compete in the Cup as host team, without the right to eventually advance to final. Serbian team, with Belarusian Igor Krivoshlykov in the coaching staff, will spend pre-season training camp in the city of Kobrin, successfully asking to the Belarus Federation to compete in a tournament as part of preparation for the new season, according to the rumours, in the newly created International Hockey League with Slovenian, Croatian and Serbian teams
As usual the teams are divided in two groups, with the top two teams in each group advancing to semifinals.
Last year Neman Grodno, later also Extraliga champion, won the Cup beating Yunost Minsk in the final
(17 Jun 2017)
Neman win Belarus Cup
After the defeat 4-5 at home in leg one of the finals, Neman Grodno overturned the score winning 4-1 at Chizovka Arena in Minsk, earning the second Belarus Cup, named after legendary Ruslan Salei, in the history of club, after the first ever won in 2014-15 defeating again Yunost in the final.
The club from Minsk is still the major winner of the trophy, with 5 victories
(25 Oct 2016)
Calendar of Belarus Cup unvelied
Belarus Federation publishes today the calendar for Belarus Cup, named after Ruslan Salei, in memory of the defender tragically passed away in Yaroslavl plane crash. As in last editions, the 11 Extraliga teams plus Belarus U20 national team are divided in two groups playing a single round robin. The two winners will advance to finals. Two finalists from last edition, champion Yunost Minsk and Dinamo Maladzyechna are in thew same group, so won't meet in the final act.
As usual Eurohockey will follow Belarus Cup with game-by-game stats
(12 Jul 2016)
Sergei Pushkov will coach Neman
After two seasons Russian Sergei Pushkov is back on the bench of Neman Grodno where he led the team to title in 2014. Pushkov, 52, coached SKA-Neva St. Petersburg in the last seasons. In 2009 he earned a promotion to Elite Division with Belarus U18
(08 Apr 2016)
Neman Grodno signed Slovakian forward
HC Neman Grodno signed slovakian 33-years old forward Frantisek Skladany. Last year Skladany played 56 games (16g., 15a.) in VHL for Buran Voronezh. In 2008 Skladany performed with Team Slovakia in the World Championship. Skladany will play in Salei Cup against Shakhtar Soligorsk August 15.
(11 Aug 2015)
HC Neman does not sign Alexander Ribbenstrand
HC Neman Grodno does not sing swedish defender Alexander Ribbenstrand. The deal fell down at the last moment.
Neman also considers the possibility of signing a goalkeeper and a defender.
(17 Jul 2015)
Awards in Belarus
After the end of Extraliga, Federation, through the votes of captains and coaches, determined the winners of seasonal awards.
Best goalkeeper - Maxim Malyutin (Shakhtar Soligorsk)
Best defender - Andrei Korshunov (Neman Grodno)
Best Forward - Victor Andruschenko (Shakhtar Soligorsk)
Top scorer - Jakub Cerny (Yunost Minsk)
Best young player - Christian Henkel (Yunost Minsk)
Best referee - Maksim Sidorenko
Best arena - Chizhovka Arena Minsk
Special prize for his great contribution to the development of hockey in Belarus was awarded the Governor of Minsk region Semyon Shapiro.
the winner of best coach prize will be determined after the end of the World Championship in Czech Republic
(28 Apr 2015)
Historic rosters:
Historic statistics:
Past results:
League standings:
Fast facts
season 2017-2018
The AIHL is excited to announce the annual AIHL Award winners Read more»
The first game days in the Finnish elite league saw a surprising team climb on top of the standings in KooKoo Kouvola. With two straight wins in regulation they even let Jyväskylä and Rauma behind them. ... Read more»