HK Crvena Zvezda
Name in original language: КХК Црвена звезда
Nickname: Red Star
Year of foundation: 1945
Colours: red,white
Club status: active
Address: SKHL Crvena Zvezda
Čarli Čaplina 39
11000 Beograd
Serbia
Phone: +381 11 3294 191
Fax: +381 11 3294 191
Did you find any incorrect or incomplete information? Please, let us know.
Season 2016-2017
Current roster
season 2016-2017
* no longer in the club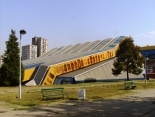 Adress: Čarlija Čaplina 39
11000 Beograd
Phone: +381 2766 667
Email: pionir@tasmajdan.co.rs
Capacity: 2000
Opened in: 1978
Crvena Zvezda was founded right after World War 2 ended. It was scheduled to take place at first Yugoslavian championship in 1946 but warm weather put a stop to the tournament. Crvena Zvezda then participated in 1947 before being passed over by their arch rivals Partizan. Crvena Zvezda failed to win any titles in SFRJ but got their first one in 1992 new Yugoslavia championship where only Serbian teams compeated.
SRJ champions: 4 (1992, 1993, 1996, 1997)
Serbia & Montenegro champions: 1 (2005)
SRJ cup winners: 5 (1992, 1993, 1996, 1997, 2000)
League winners:
from 1945 to 1980: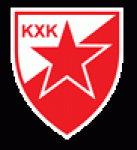 from 1980 to 2009:
from 2009 to present: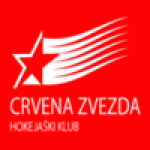 New champion in Serbia
After 11 consecutive titles by Partizan Beograd, Serbian hockey celebrated a new champion: the new team HK Beograd, created by the federation before the season to compete in MOL Liga, was crowned champion of Serbian League after eliminating Partizan - struggle with economic problems and finished 3d out of four in regular season -  in semifinals and Crvena Zvezda in two games of finals 7-2 and 2-1. Vojvodina Novi Sad takes the bronze winning 7-1 Partizan. Crvena Russian forward Alexander Zubritsky finished as top scorer
(08 Apr 2017)
Partizan continues its domination
A goal by Dimitrije Filipović at 63:02 in the overtime gives Partizan the victory 3-2 in game #4 of playoffs finals against arch-rival of Crvena Zvezda and the title number 13, the 11th consecutive. Partizan won all editions of Serbian League since 2006, when League adopted current name after the separation of Montenegro. Crvena Zvezda forward Pavel Popravka was the top scorer of the league with 32 points (16+16)
(21 Mar 2016)
Partizan win 19th title in Serbia
By beating HK Beostar 6-8 and 7-3 in two-games final series, Partizan Beograd won the 2014-2015 edition of Serbian League, continuing to dominate domestic hockey scene: it's title number 19, the 10th consecutive, for Partizan. Beostar Ukrainian forward Dmitri Gnitko was the top scorer of the league with 37 points (19+18) in 12 games of regular season
(15 Mar 2015)
Anders Jespersen to coach Sydney Ice Dogs
New experience for the wandering goalie: Danish Anders Jespersen is the new headcoach of Sydney Ice Dogs of Australian Icehockey League, replacing Andrew Petrie, moved to Newcastle North Stars last September. Jespersen start the season as Oman National team headcoach, before to move in Serbia, where worked as goalies' coach at Crvena Zvezda
(04 Mar 2015)
Crvena Zvedza - Partizan game declared invalid
The Serbian League match Crvena Zvezda - Partizan played on October 26th was declared friendly, both by teams and Competition Director, since it was played at the very begining of the season with Crvena Zvezda had only couple of days on the ice back then. The stats and the 3 points earned by Partizan, that won the game 82, were cancelled since the it was never registered by the Competition Director.
(18 Nov 2014)
New problems for Serbian League
With just one game played and start postponed from November to January, Serbian League continues to face difficulties: game number 2 between Crvena Zvedza and Vitez, scheduled for yesterday, was cancelled. It seems Crvena Zvezda wants to withdraw from the league
(28 Jan 2012)
Serbian League finally starts
Originally scheduled for mid-November and postponed due to lack of agreement between clubs and federation, Serbian League finally started yesterday with Spartak Subotica's 6-4 away victory against Vojvodina Novi Sad. The Serbian League is consisting of four teams, besides Vojvodina and Spartak, Crvena Zvedza Beograd and Vitez Beograd. The winner of the regular season will play a final against Slohokej Partizan Beograd.
(21 Jan 2012)
Historic rosters:
Historic statistics:
Past results:
League standings:
Fast facts
season 2016-2017
Sweden got a 2-1 shoot-out win over Canada in Sunday's World Championship final in Lanxess Arena, Cologne. Read more»
Ever since he first arrived on the ice for HC Kladno in 1987, it was clear that Jaromír Jágr was an exceptional hockey player. Read more»