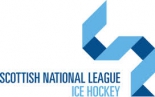 SNL - Scottish National League
League status: Active
Administered by: Scottish Ice Hockey
Head manager: David Hand
Did you find any incorrect or incomplete information? Please, let us know.
Last updated: 23 Mar 2023, 16:52
Solway Sharks clinch Scottish title
With an unbeaten record the Solway Sharks became Scottish National League champions at the weekend.
(24 Feb 2020)
Belfast Giants return to SNL
The Scottish National League team of the Belfast Giants will return to the SNL for the coming season. They last played in the 2014-15 season but SIH chairman David Hand said that with a new rink being built in the Dundonald area it is believed that adding Belfast will lead to new hockey players and adding Belfast can only help with the process,
(12 Jul 2019)
Moray Typhoons unable to play in Scottish National League next season.
The club had signalled its intention to play but following a meeting with players the club management have confirmed they will be unable to commit to playing in the league due to a concern over fulfilling fixtures over the coming season (2019/2020)
(11 Jun 2019)
Racers claim Scottish National League title
In their first season in the league Murrayfield Racers claimed the title with their 12th win of the season, the other two results being ties means they are unbeaten thus far with only two games to go. Their closest rivals Kirkcaldy Kestrels slipped up at Aberdeen Lynx which meant they could not mathematically take the title.
(24 Feb 2019)
Scottish National League Champions
Kirkcaldy Kestrels held of Paisley Pirates and Edinburgh Capitals to claim their second successive SNL trophy. Things did not look promising early season as they crashed out of the Autumn Cup but a heavy defeat in November gave them a wake up call to remain focussed on the task in hand: that of claiming the title. As their close rivals ran out of games and the Capitals and Pirates played each other the way was clear for the Kestrels to sneak through.
(10 Mar 2016)
Scottish National League update
The Paisley Pirates are just two points off leaders Kirkcaldy Kestrels with a game in hand. Veteran netminder Gordon Langford says he would like to end his career with a medal by clinching the title. That game in hand is against bottom of the table Kilmarnock Storm who have only won once all season. Paisley head into the weekend games with on a rich veign of form, and will hope to take two points off early pacesetters Edinburgh Capitals.
(27 Feb 2016)
Past league results:
League standings:
Historic statistic:
Individuals records:
Fast facts
season 2022-2023
A look back at a season that lived up to its promise. Read more»
The Alliance of European Hockey Clubs (E.H.C.) has announced the nominees for the 2023 Fenix Outdoor & Warrior European Hockey Awards. Read more»