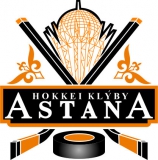 HK Astana
Name in original language: ХК Астана
Year of foundation: 2011
Colours: Black, white, orange
Club status: active
Address: Ul. K. Munaytlasova, 9
Astana
Phone: +7 717 257 8010
Email: support@hc-astana.kz
WWW: HK Astana
Did you find any incorrect or incomplete information? Please, let us know.
Season 2022-2023
Current roster
season 2022-2023
* no longer in the club
from 2011 to present: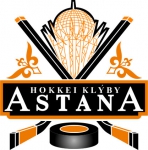 HK Astana withdrew from Kazakh League
"Thanks to our fans, players, management. We hope to see you again" In a short official statement HK Astana announced the club won't partecipate in the next Kazakh League. Estabilished in 2011, in the past five years, the capital's team has been played mainly by young hockey players, many of whom are pupils of the local school.
(16 Aug 2020)
Kazakhstan Cup groups unveiled
The cities of Pavlodar and Kokshetau will host the 2016 edition of Kazakhstan Cup, from 20 to 28 August.
As usual the ten partecipating teams were placed in two groups. The winner of each group will play the final at Pavlodar on August 28
Group A (Pavlodar): Beybarys Atyrau, Ertis Pavlodar, Nomad Astana, HK Almaty, SHҚO Ust-Kamenogorsk
Group B (Kokshetau): Arlan Kokshetau, Kulager Petropavlovsk, HK Temirtau, Gornyak Rudny, HK Astana
(13 Jun 2016)
Kazakhstan League awards determined
Kazakhstan Ice Hockey Federation announces the seasonal awards for 2014-2015

Kazakhstan League Best Goaltender: Anton Todykov (Gornyak Rudny)
Kazakhstan League Best Defender: Aleksei Shorokhov (Arlan Kokshetau)
Kazakhstan League Best Forward: Ivan Kiselyov (HK Astana)
(28 Apr 2015)
HK Astana changes coach
Vladimir Belyaev resigned as head coach of HK Astana, the new head coach of the Kazakh team will be former assistant Vladimir Strelchuk.
(22 Feb 2013)
Arlan wins home tournament
Arlan Kokshetau wins all games of the home tournament against HK Astana (5-2), Arystan Temirtau (4-1) and Zauralie Kurgan (2-1).
Best Goalkeeper: Vitaly Evdokimov, Arlan
Best Defender: Sergei Yakovenko, Arystan
Best Forward: Askhat Rakhmatullin, Zauralie
(06 Aug 2012)
Kazakhstan Cup Awards
Kazakhstan Hockey Federation announced individual awards for Kazakhstan Cup.
Best Goalie was nominated Artem Stoletov from champion Arystan, Best Defender trophy went to veteran Sary Arka Sergei Yakovenko, while his teammate Vyacheslav Tokarev won the title as Best Forward.
Vasili Gorbovoy from debutant HK Astana was the top scorer.
(02 Sep 2011)
Historic rosters:
Historic statistics:
Past results:
League standings:
Fast facts
season 2022-2023
A look back at a season that lived up to its promise. Read more»
The upcoming NHL draft in June 2023 is fast approaching. Find out here which European Ice Hockey players will likely be in the draft. Read more»