HK Acroni Jesenice
Short name: Jesenice
Nickname: Steelers
Year of foundation: 1948
Colours: red / white
Club status: ceased (ceased in 2012 due to economic problems)
Address: Ledarska 4
4270 Jesenice
Phone: +386 4 5863 363
Fax: +386 4 5863 373
Email: info@hkjesenice.si
Did you find any incorrect or incomplete information? Please, let us know.
Season 2011-2012
Current roster
season 2011-2012
* no longer in the club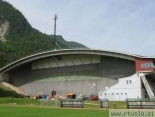 Adress: Ledarska 4,
4270 Jesenice

Phone: +386 (04) 5863 364
Email: zsj.jesenice@siol.net
Capacity: 5500
Opened in: 1978
Hockey games in Jesenice started before World War two but club was officialy astablished on 6.1.1948. Team soon rose to the top, getting better every year. Their first appearance at Yugoslavian championships came in 1954 and just three years later they won their first national championship. Steelers went on to win 15 consecutive Yugoslavian championships before being dethroned in 1972. Together they won 23 Yugoslavian championships and were also first Slovenian champions, holding the title for three years. After they lost Slovenian title to Olimpija in 1995 they took it back in 2005 and won last 4 out of 5 Slovenian championships. Currently HK Jesenice is competing in Austrian EBEL league.
Yugoslavian champions: 23 (1957-1971, 1973, 1977, 1978, 1981, 1982, 1985, 1987, 1988)
Slovenian champions: 7 (1992, 1993, 1994, 2005, 2006, 2008, 2009)
Yugoslavian cup winners: 9 (1967, 1968, 1970, 1971, 1973, 1974, 1976, 1977, 1985)
League winners:
from 1948 to present: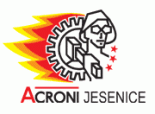 HK Acroni Jesenice out of EBEL
EBEL league executives decided not to allow HK Acroni Jesenice to participate in 2012/13 EBEL season. The first ever non-Austrian team to join EBEL experienced financial problems through last few seasons. Legendary Slovenian team actually finished last in league for the last two consecutive seasons. EBEL offered Jesenice to reconstruct their financial and player situation and apply for return to league after season or two.
Two Austrian teams are joining the league – HC TWK Innsbruck is re-entering the league after three seasons. Dornbirner Eishockey Club will compete in the league for the first time.
(23 May 2012)
Acroni Jesenice ties the series
Two goals by Anze Kuralt and the decisive one by Jaka Ankerst after 01:50 in the overtime give Jesenice the final 3-2 in game #2 of Slovenian League finals against Olimpija Ljubljana. The series is now 1-1. Game #3 will be on Thursday in Ljubljana's Tivoli Arena
(29 Mar 2012)
Olimpija and Jesenice will decide Slovenian National League
Defending champion Acroni Jesenice will defend national title against arch-rival Olimpija Ljubljana. The two main Slovenian teams advance to final defeating Triglav Kranj and HDK Maribor respectively. Playing with EBEL rosters Jesenice left with no chance Triglav, winning 5-2 and 6-0, while Olimpija left Maribor arena with a 3-3 draw in the first game, but decided series at Tivoli arena with a clear 4-1.
(25 Mar 2012)
Jesenice fulfills EBEL conditions
HK Acroni Jesenice has fulfilled all conditions set up by the management of EBEL and is therefore allowed to complete the ongoing season. The financially troubled Slovenian club had to guarantee its ability to provide basic services, such as transport to away games, medical service etc. The guarantee has been confirmed by the Slovenian Ice Hockey Federation, Mayor of Jesenice and representatives of coaching and playing staff.
(24 Jan 2012)
Chaos in HK Jesenice
In addition to Patrik Bergström and Henrik Petre, five another players decided to left Slovenian champions: Johan Björk, Marcus Olsson, Lukaš Hvila, Martin Tuma and James Sixsmith are leaving Jesenice due to delays in payment of their services. There are two more non-Slovenian players in the team who decided to stay; Antti Pusa and Michal Fikrt.
(16 Nov 2011)
Another two players left HK Acroni Jesenice
It was announced last week already - Patrik Bergström left HK Acroni Jesenice (SLO;EBEL) to continue this season in Sparta Sarpsborg, Norway. No explanation about this (un)expected departure came from Slovenian side. However, HK Acroni Jesenice confirmed that Henrik Petre also won't be a member of team during next months. Petre satisfied coaching staff during his try-out period, but is apparently too expensive for impoverished Slovenian member of EBEL.
(16 Nov 2011)
Henrik Petre comes on try out to Jesenice
The 32 year old Swede comes to Jesenice. He was currently with no team, but played previously 303 games in Elitserien and 133 games in SM-liiga. He played in Alsvenskan as well. Petre already cooperated with Jesenice's finnish coach Heikki Mälkiä during the 2006/07 season playing for SaiPa. He'll probably introduce himself on ice Friday's Jesenice game against Znojmo in Czech Republic.
(31 Oct 2011)
Unrest in Jesenice, six players leave
After only a couple of days on ice, there are problems reported from HK Acroni Jesenice camp. Five Canadian import players - Dylan Hunter, Shay Stephenson, Logan Stephenson, Tyler Donati and Justin Donati - had their contracts terminated after a disagreement over the quality of accomodation provided by the club. The club has further announced that defenseman Doug Nolan is also set to leave the club due to unspecified reasons.
(09 Aug 2011)
Historic rosters:
Historic statistics:
Past results:
League standings:
Gary Graham parted ways with EIHL side Nottingham Panthers this morning. Read more»
With a 5-2 win for Cardiff and 4-1 win for Angers they will take their place in the Superfinal. Read more»