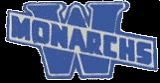 Winnipeg Monarchs
Year of foundation: 1967
Colours: Red and white
Club status: not active (Previously Winnipeg Clubs. Played in WCHL during 1976–77 season then move to Calgary to become Calgary Wranglers)
Did you find any incorrect or incomplete information? Please, let us know.
Season 1981-1982
This club in 1981-1982: MJHL
Current roster
season 1981-1982
* no longer in the club
The Winnipeg Monarchs were a junior ice hockey team that played in the Western Canada Hockey League from 1967 to 1977 under three names. The team played as the Winnipeg Jets from 1967 to 1973; the Winnipeg Clubs from 1973 to 1976, and the Winnipeg Monarchs from 1976 to 1977. The team was the direct namesake for the Winnipeg Jets professional hockey club that began play in 1972; the junior Jets changed their name to disambiguate itself in 1973.
In 1977 the Monarchs moved to Calgary to become the Calgary Wranglers. They are today the Lethbridge Hurricanes.
from 1967 to 1973: Winnipeg Jets
from 1973 to 1976: Winnipeg Clubs
from 1976 to present: Winnipeg Monarchs
from 1976 to present: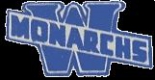 Historic rosters:
Historic statistics:
Past results:
League standings:
Fast facts
season 1981-1982
Winnipeg Monarchs participates in season 1981-1982: MJHL
Detva owner Róbert Ľupták decided to move the Extraliga license to Prešov Read more»
After a tough conflict between the two entities, an agreement was reached Read more»