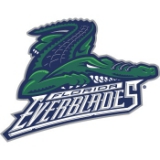 Florida Everblades
Year of foundation: 1998
Colours: Navy blue, green, white
Club status: active
Address: Florida Everblades
11000 Everblades Parkway
Estero, FL 33928
Phone: +1 239.948.7825
Fax: +1 239.948.2248
Email: info@floridaeverblades.com
WWW: Florida Everblades
Did you find any incorrect or incomplete information? Please, let us know.
Season 2022-2023
This club in 2022-2023: ECHL
Current roster
season 2022-2023
* no longer in the club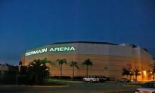 Adress: 11000 Everblades Pkwy
Estero, Florida 33928
Phone: +1 239-948 7825
Email: billm@germainarena.com
Capacity: 7082
Opened in: 1998
Retired Numbers
Reggie Berg- played with Blades from 1999-2007, # 10 is retired.
Tom Buckley- played with Blades from 1999-2004, # 14 is retired.

The Everblades have not missed the playoffs in any of their thirteen seasons and have made two appearances in the Kelly Cup Finals. The franchise has finished first in the league in attendance 5 times, and never lower than fourth. Prior to the building of the Germain Arena, the arena site was an empty cow pasture on what is now Everblades Parkway near Interstate 75 in Estero. Current GM Craig Brush was said to be reading a free copy of a National Geographic magazine that featured articles on the Florida Everglades, when he envisioned the idea to bring a minor-league hockey team to Southwest Florida. The team's name derives from the former Kentucky Thoroughblades AHL franchise.
from 1998 to present: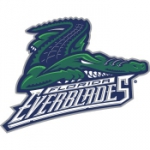 Historic rosters:
Historic statistics:
Past results:
League standings:
Fast facts
season 2022-2023
Florida Everblades participates in season 2022-2023: ECHL
After a 4-years hiatus, a Kazakh club could be back in Russian Second League Read more»
In late Spring, 2023, the International Ice Hockey Federation will host the 86th Men's Ice Hockey World Championships. The competition is easily global ice hockey's biggest event, with hundreds of thousands of fans traveling for each world championship finals event. ... Read more»