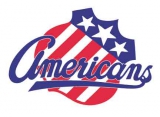 Rochester Americans
Year of foundation: 1956
Colours: red, blue, white
Club status: active
Address: Rochester Americans Hockey Club
One War Memorial Square
Rochester, New York 14614
Phone: +1 (585) 454-5335
Fax: +1 (585) 454-3954
Email: webmaster@amerks.com
WWW: Rochester Americans
Did you find any incorrect or incomplete information? Please, let us know.
Season 2023-2024
This club in 2023-2024: AHL
Current roster
season 2023-2024
* no longer in the club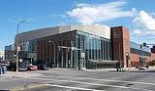 Adress: 1 War Memorial Square,
Rochester, New York
Phone: +1 585-758-5300
Email: info@bluecrossarena.com
Capacity: 11200
Opened in: 1951
Founded and joined AHL in 1956, making Americans one of the oldest franchises in the league. Won six Calder Cups to date, coming as runner-up further ten times.
from 1956 to present: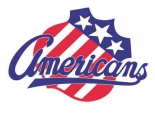 Spengler Cup participants officially announced
Genève-Servette, Rochester Americans, HC Vitkovice Steel, Team Canada, HC Davos and CSKA Moscow were officially announced as participants at the 87th Spengler Cup, held in Davos (SUI) from 26 to 31 December 2013.
(19 Aug 2013)
Rochester Americans and Barys Astana at Spengler Cup 2013
For the second time the AHL's Rochester Americans have accepted an invitation to participate in the Spengler Cup tournament
The Rochester Americans also competed in the 1996 event, finishing third. They remain the only professional hockey club from North America ever to take part in the tournament.
"The Rochester Americans are extremely honored to have been selected to play in the 2013 Spengler Cup and represent the American Hockey League," said Americans President Ted Black. "This is a truly unique opportunity that will provide an incredibly valuable experience for our players. In addition, the chance for the Amerks to participate in the Spengler Cup for the second time will add another chapter to the great history of this storied franchise."
In addition, Kazakh media announces KHL's Barys Astana will compete in spengler Cup for the first time
(17 May 2013)
Historic rosters:
Historic statistics:
Past results:
League standings:
Fast facts
season 2023-2024
Rochester Americans participates in season 2023-2024: AHL
Home team opens the Continental Cup first round showing no mercy for opponent KHL Zagreb Read more»
The european debut for the Icelandic champion turned into a harsh lesson taught by the HC Panter in Continental Cup first match in Kaunas Read more»