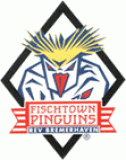 Pinguins Bremerhaven
Short name: Pinguins Bremerhaven
Year of foundation: 1974
Colours: black, red, white
Club status: active
Address: Fischtown Pinguins SB GmbH
Wilhelm-Kaisen-Platz 1
27576 Bremerhaven
Phone: +49 471 5917 800
Fax: +49 471 5917 808
Email: inf@fischtown-pinguins.de
Did you find any incorrect or incomplete information? Please, let us know.
Season 2022-2023
Current roster
season 2022-2023
* no longer in the club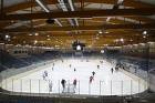 Adress: Stadthalle Bremerhaven
Veranstaltungs- und Messe GmbH
Wilhelm-Kaisen-Platz 1
27576 Bremerhaven
Phone: +49 471 59 17 350
Email: info@eisarena-bremerhaven.de
Capacity: 4254
Opened in: 2011
from 1974 to 1983: RSC Bremerhaven
from 1983 to 1987: EHC Bremerhaven
from 1987 to 2002: REV Bremerhaven
from 2002 to 2016: Fischtown Pinguins Bremerhaven
from 2016 to present: Pinguins Bremerhaven
from 2002 to present: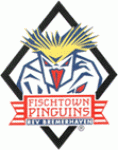 Fischtown Pinguins change coach
Fischtown Pinguins Bremerhaven fired coach Benoit Doucet, hired at the begin of the season, due to poor results of the team. "The decision was humanly difficult, but necessary - said CEO Hauke ​​Hasselbring. "Benoit was perhaps the wrong time at the wrong place. We thank him for his commitment and wish him all the best for the future"
The new coach is Thomas Popiesch,50, until December on Dresdner Eislöwen bench
(26 Jan 2016)
Benoit Doucet is the new coach in Bremerhaven
DEL2 silver medalist Fischtown Bremerhaven announced the hiring of 52-year-old Canadian, with German passport, Benoit Doucet as new headcoach. After a successful career as player in DEL and with Germany national team, this will be the first experence as coach
(04 Jun 2015)
CSKA Sofia signed Russian veterans for Continental Cup
CSKA Sofia certainly won't travel to Bremerhaven for Continental Cup second round as underdog: Bulgarian team has strengthened the roster with the addition of five Russian players among which stand out former stars as Oleg Kvasha and Vladimir Antipov, both retired after last season. Other veterans contracted are: defender Mikhail Lyubushin and forwards Dmitry Vlasenkov and Dmitry Bykov.
Cska will play first game friday night against host Fischtown Pinguins Bremerhaven
(16 Oct 2014)
Historic rosters:
Historic statistics:
Past results:
League standings:
Fast facts
season 2022-2023
Kaunas City celebrate the qualification to the second round of Continental Cup with a ten-goals victory over Skautafelag Rejkyavik Read more»
Estonian champion wins KHL Zagreb ensuring first place for the home team Read more»