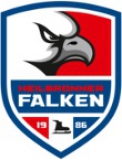 Heilbronner Falken
Nickname: Die Falken
Year of foundation: 1980
Colours: red,white,blue
Club status: active
Address: Heilbronner Eishockey Club e.V.
Hospitalgrün 2
74072 Heilbronn
Phone: +49 7131 6448-110
Fax: +49 7131 6448-299
Email: hec-falken@t-online.de
Did you find any incorrect or incomplete information? Please, let us know.
Season 2023-2024
Current roster
season 2023-2024
* no longer in the club
Adress: Eisstadion Heilbronn
Hospitalgrün 2
74072 Heilbronn
Phone: +49 07131 56-2502
Capacity: 4000
Opened in: 2002
from 1980 to 1986: REV Heilbronn
from 1986 to 2003: Heilbronner EC
from 2003 to present: Heilbronner Falken
from 2003 to 2016:
from 2016 to 2017: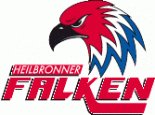 from 2017 to present:
Heilbronner Falken back in DEL2
Relegated after last season, Heilbronner Falken are back in DEL2 replacing EV Landshut, excluded for financial reasons
"Heilbronn staff have worked very committed in the last few days and submitted orderly and complete documentation despite the short lead time. We are glad to start the league with a complete grid" said DEl2 CEO René Rudorisch.
(25 Jul 2015)
Heilbronner Falken apply to DEL2 license
Relegated Heilbronner Falken apply to the licensing procedure for participation in next DEL2, replacing EV Landshut, unable to grant license. Date for the final decision isn't still known
(13 Jul 2015)
No license for EV Landshut
EV Landshut won't play in next DEL2. The Supervisory Board of DEL2 confirmed the club didn't complied with the license requirements "despite great efforts" and is out from next season. "That is really bad. Bud we have set out guidelines. This must apply to all" said DEL2 CEO René Rudorisch.
Relegated Heilbronner Falken and the finalists of Oberliga playoffs Füchse Duisburg and EV Regensburg are the candidates to replace Landshut
(10 Jul 2015)
Heilbronner Falken fire Pavlovs
The Heilbronner Falken have fired head coach Igors Pavlovs today after the club has slipped down into last in DEL2, winning just one match in their last 12 while dropping 8 straight. Club manager Attila Eren said he personnally regrets the decisions but the athletic and mental downward spiral of the club made this step necessary. Gerd Wittmann will act as the clubs interim head coach.
(09 Dec 2014)
Igors Pavlovs is new Heilbronner Falken coach
Heilbronner Falken announced Igors Pavlovs as new headcoach: 48-years old Russian/Latvian Pavlovs replaces Gerd Wittmann who requested more time to care his wife, ill.
(21 Nov 2013)
Another sign at Gotteron for Spengler Cup
After forwards Patric Hörnqvist and Maxime Talbot, Fribourg Gotteron announces the sign of Philadelphia Flyers´ 28-years-old Canadian defender Bruno Gervais for the next Spengler Cup. Gervais currently playing with a lock out contract for Heilbronner Falken, in German Bundesliga
(13 Dec 2012)
Historic rosters:
Historic statistics:
Past results:
League standings:
Fast facts
season 2023-2024
Heilbronner Falken participates in season 2023-2024: Oberliga Süd
Cardiff Devils won by one-goal-difference against home side Grenoble and advances to the Continental Cup Superfinals along with Nomad Astana Read more»
Kazakh champion closes the Continental Cup semifinals round with a perfect record, by beating HK Zemgale in the last game Read more»