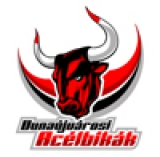 Did you find any incorrect or incomplete information? Please, let us know.
Season 2023-2024
Current roster
season 2023-2024
* no longer in the club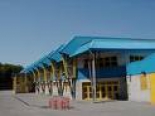 Adress: Központi Sporttelep
Eszperantó u. 4
2400 Dunaújváros
Phone: +36 25 414-764
Capacity: 4000
Opened in: 1999
from 2010 to present: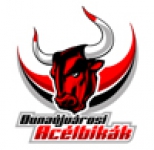 MOL Liga Awards announced
At the eve of playoffs finals between reigning champion DVTK Miskolc and MAC Budapest, MOL Liga announced the awards for the season:
despite the season finished at the quaterfinals for his club Dunaujvaros, Canadian foraward Kevin Dansereau was elected Best Forward thanks to 71 points marked (34 goals and 37 assists).
League rookie Sean Escobedo (MAC Budapest) win the Best Defender award, while his teammate Bence Bálizs was chosen as Best Goalie, same honour he received two seasons ago
(12 Mar 2017)
New year, new coach at Dunaújvárosi Acélbikák
Lee Gilbert is no longer the coach of Dunaújvárosi Acélbikák: the recent poor results of the team in MOL Liga cost the Canadian the position. He was replaced by Finnish Heikki Mälkiä who was inactive last season after winning the Inter-National League with Lustenau. Hunor Strenk remains as assistant
(02 Jan 2017)
SAPA Fehervar wins Hungarian Cup
SAPA Fehervar wins 4-0 against Miskolc in the final of Hungarian Cup and captures the last trophy of season. In the semifinal SAPA crushed 7-2 MOL Liga champion Dunaújváros Acélbikák, while Miskolc won 3-0 over Ferencvaros.
Dunaújváros wins bronze beating 2-0 Ferencvaros in third place final
Individual awards were assigned to:
Krisztián Budai (Miskolc) as best goalie
Victor Lindgren (Dunaújváros) as best defender
Frank Banham (SAPA Fehervar) as best forward
(29 Mar 2013)
Dunaújvárosi Acélbikák crowned Hungarian champion
By winning 2-1 at overtime against Miskolci in MOL Liga semifinals, Dunaújvárosi Acélbikák not only advanced to finals but it was also crowned Hungarian Champion for 2012-13. This season Hungarian League wasn't played and the results of MOL games between Hungarian teams counted as domestic championship
(08 Mar 2013)
Dab.Docler won Hungarian Cup
Sensational season for Dab.Docler Dunaújváros continues: after been crowned MOL Liga champion, team keeps also Hungarian Cup, winning 5-0, in MOL Liga finals replay, Miskolci JJSE, in front of its fans. This is third consecutive success in National Cup for Dunaújváros club.
(04 Mar 2012)
Continental Cup 2nd Round, Day #2
In Dunaujvaros B Group Belgian White Caps Tourhout made a sensation beating 5-3 Dutch champion HYS The Hague with an amazing performance by American goalie Tyler O'Brien, 53 saves and it's almost qualyfing for an historic third round. Host Dunaujvarosi Acelbikak hammered 7-1 Spanish champion CH Jaca: a significant 80-10 shoots on goal says a lot about a one-sided game.
C Group in Miercurea Ciuc, Romania opened with an easy victory by Metalurgs Liepaja. Latvian side scored 11 goals against Olimpija Ljubljana with an hattrick by Juris Upitis, while Sport Club says goodbye to qualification after 1-5 suffered by Beybarys Atyrau, now with a chance to advance if Liepaja will lost in last game.
Follow all Continental Cup results and stats on Eurohockey.com here
(23 Oct 2011)
Continental Cup 2nd Round results
The second Round of Continental Cup started on Friday, with two groups in Miercurea Ciuc (ROM) and Dunaujvaros (HUN). In Romania, Liepaja Metalurgs opened tournament with a shoot-outs victory against Kazakh champion Beybarys Atyrau: 3-2 with decisive shoot-out by Juris Upitis. Host SC Csikszereda easily won its first match, 8-3 against HK Olimpija Ljubljana (farm of EBEL main team) with 2 goals scored by Ede Mihaly.
In Hungarian seed White Caps Turnhout, winner of preliminary group, didn't have problem with Spanish champion CH Jaca: 7-3 and 3 goals by veteran Marek Ziarny while Dunaujvarosi Acelbikak frustrated its fans loosing 3-1 with Dutch HYS The Hague
(22 Oct 2011)
Stephan Lundh is the new coach of Dunaújváros
Hungarian team Dunaújvárosi Acélbikák signed experienced Swedish coach Stephan Lundh to face its first season in Austrian Nationalliga. Lundh - 52 -  coached Djurgården, Malmö and Frolunda where he won Elitserien in 2004/2005 along with Coach of the Year Award. He also coached Sweden national team between 1998 and 2000 and Sweden U18, crowning World Champion in 2010
(01 Sep 2011)
Historic rosters:
Historic statistics:
Past results:
League standings:
Fast facts
season 2023-2024
Cardiff Devils won by one-goal-difference against home side Grenoble and advances to the Continental Cup Superfinals along with Nomad Astana Read more»
Kazakh champion closes the Continental Cup semifinals round with a perfect record, by beating HK Zemgale in the last game Read more»