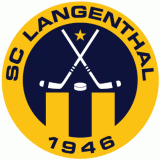 SC Langenthal
Short name: Langenthal
Year of foundation: 1946
Colours: yellow, blue
Club status: active
Address: Jurastrasse 18
CH-4900 Langenthal
Phone: +41 62 919 00 20
Fax: +41 62 919 00 28
Email: info@sclangenthal.ch
WWW: Junior teams, SC Langenthal
Did you find any incorrect or incomplete information? Please, let us know.
Season 2023-2024
Current roster
season 2023-2024
* no longer in the club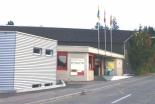 Adress: Kunsteisbahn Schoren
Dorfgasse 99
4900 Langenthal
Phone: +41 (0)62 922 45 44
Email: kunsteisbahn@bluewin.ch
Capacity: 4800
Opened in: 1961
Retired numbers:
15 Jeff Campbell
41 Marc Eichmann
81 Brent Kelly
Notable players:
2002 amateur champion
League winners:
from 1946 to 2016: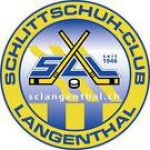 from 2016 to present: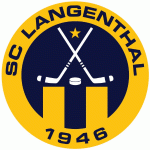 Five clubs interested in promotion in NLB
Five clubs of NLB have submitted the application to play in the NLA in case of on promotion this season: HC La Chaux-de-Fonds, HC Visp SC Langnau Tigers, HC Olten and SC Langenthal Olten.
These clubs will play the promotion/relegation series against last club of NLA as winner of NLB
(19 Nov 2014)
NLB game cancelled
The NLB game between HC Red Ice Martigny and the SC Langenthal today Saturday is postponed.
At least twelve of the Martigny players suffer from food poisoning.
(13 Sep 2014)
NLB All-Star team
The first NLB All-Star Team was elected this week.
The players were initially selected by an online vote, then the Sports Directors, the head coaches, the captain and a media determined by the club could choose their favorite players except players from their own club.
The winners in the five categories are:
Best goalkeeper: Marc Eichmann, SC Langenthal
Best Defender: Sami El Assaoui, HC La Chaux-de-Fonds
Best Forward: Marco Truttmann, HC Olten
Best coach: January Tlacil, HC Ajoie
MVP: James Desmarais, HC Ajoie
(12 Feb 2013)
Langenthal wins NLB final
SC Langenthal became new champion of the NLB by beating Lausanne HC 4-2 in the best of seven series between the two clubs in this year's finals of the NLB playoffs. As the Swiss Federation announced Langenthal fulfills all necessary economic and infrastructure related requirements to be promoted to NLA if they beat NLA club HC Ambrì-Piotta in the relegation battle starting on Tuesday, 3 April.
(28 Mar 2012)
Five teams interested in NLA promotion
At the 31 january deadline, five Swiss NLB clubs expressed interest to enter in NLA if playoffs champion: HCC La Chaux-de-Fonds, SC Langenthal,  Lausanne HC, EHC Olten and EHC Visp
(16 Feb 2012)
Historic rosters:
Historic statistics:
Past results:
League standings:
Fast facts
season 2023-2024
Home team opens the Continental Cup first round showing no mercy for opponent KHL Zagreb Read more»
The european debut for the Icelandic champion turned into a harsh lesson taught by the HC Panter in Continental Cup first match in Kaunas Read more»