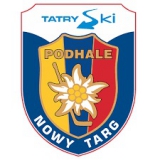 Tauron Podhale
Short name: Nowy Targ
Name in original language: Klub Hokejowy Podhale Nowy Targ S.A.
Year of foundation: 2015
Colours: red, blue, yellow
Club status: active
Address: Parkowa 14
34-400 Nowy Targ
Phone: +48 533 997 141
Fax: +48 18 264 60 20
Email: biuro@khpodhale.pl, sklep@khpodhale.pl
Did you find any incorrect or incomplete information? Please, let us know.
Season 2023-2024
Current roster
season 2023-2024
* no longer in the club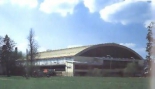 Adress: ul. Parkowa 14
34-400 Nowy Targ
Phone: +48 18 26 40 811
Capacity: 3500
Opened in: 1952
Club is originally junior section of Podhale Nowy Targ
In previous seasons the team played in the Second Division without the right to be promoted in Extraliga.
After the withdrawal of SSA Wojas-Podhale Nowy Targ, team won promotion playoffs and received permission to play in Extraliga in season 2010/11, continuing the tradition of hockey Podhale Nowy Targ in the highest league. In 2015 a new company Klub Hokejowy Podhale Nowy Targ SA was created with the right to play in Extraliga. The MMKS Podhale remained as junior team (U20) competing in I Liga
from 1932 to 2000: Podhale Nowy Targ
from 2000 to 2015: MMKS Podhale Nowy Targ
from 2015 to 2019: TatrySki Podhale Nowy Targ
from 2019 to 2021: KH Podhale Nowy Targ
from 2021 to present: Tauron Podhale
from 2010 to 2015: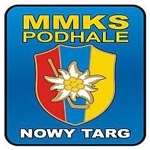 from 2015 to present: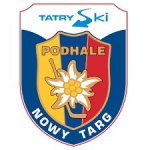 JKH GKS wins Polish Cup
JKH GKS beat TatrySki Podhale 4-0 in the final in Tychy to win the Polish Cup Puchar Polski.

Tomáš Komínek, Kamil Wałęga, Artiom Dubinin and Łukasz Nalewajka scored the goals.
(31 Dec 2018)
Sergei Ogorodnikov passed away
Former Russian national team player Sergei Ogorodnikov passed away at 32, as a result of injuries after an accident on a water scooter.
Drafted by New York Islanders in 2004, Ogorodnikov played in US in 2006-07 season for Bridgeport Sound Tigers and defunct Pensacola Ice Pilots (ECHL), appearing in 127 games of KHL for CSKA Moscow, Dynamo Moscow, Lada Togliatti, Avtomobilist Yekaterinburg and Metallurg Novokuznetsk with experiences abroad in Belarus (Gomel and Zhlobin), Kazakhstan (Sary Arka)and Poland (Podhale Nowy Targ) last season.
With Russia national team won the gold medal at WJC 18 in 2004 in Belarus, beating 3-2 USA, playing along with Anton Khudobin, Alexander Radulov and Evgeny Malkin and the silver medal at WJC U20 2006
(25 Jun 2018)
GKS Tychy win Polish Cup
GKS Tychy win the 2016 edition of Polish Cup by beating 3-0 arch-rival Cracovia Krakow, winner in 2015, in the final played in Nowy Targ. It's the seventh national trophy captured by Tychy, the club that has won more times the competition. In the semifinals Tychy trashed 5-1 Polonia Bytom, while Cracovia eliminated host MMKS Podhale Nowy Targ by winning 4-2
(31 Dec 2016)
Vitaly Semenchenko leaves Nowy Targ
Ukranian coach Vitaly Semenchenko left Podhale Nowy Targ bench after the poor results of the team, that los five of last 10 games. Contract with the coach was terminated by mutual agreement. Former assistant Marek Rączka will replace Semenchenko
(20 Nov 2016)
Filip Wielkiewicz found positive for doping
Podhale Nowy Targ forward Filip Wielkiewicz was found positive to THC said Michał Rynkowski, Director of the Commission Against Doping in Sport.
The test was made on March 18, after the second match for the bronze medal against STS Sanok. The result of this research has been positive.
"The player could take from two to four years of suspenson" - said Rynkowski.
This is the second case of doping this season in Poland League: last October GKS Tychy Russian forward Yuri Kuzin has been suspended for two years.
(22 May 2016)
Cracovia Krakow wins Polish Cup
Outclassing 5-0 host Nowy Targ, Cracovia Krakow wins the second Polish Cup of its history completing a perfect weekend with a 8-0 record. Maciej Urbanowicz scored 2 goals and served one assist, while teammate Mateusz Rompkowski was awarded as MVP of the final. In the semifinals Cracovia won 3-0 against GKS Jastrzębie while Nowy Tag advanced beating 5-3 champion GKS Tychy
(30 Dec 2015)
Polish Cup 2015 will be assigned in Nowy Targ
After 10 years from the last appearance, the Nowy Targ Arena, with capacity for 3.500 spectators, will host the finals of Polish Cup 2015 on 29-30 December 2015, featuring the best four teams after two rounds of the regular season. The semifinals pairs are:
16:00 Comarch Cracovia - JKH GKS Hawks
19:30 TatrySki Podhale Nowy Targ - GKS Tychy
The final will started on 30 December at 18:30
(12 Dec 2015)
MMKS Podhale Nowy Targ apply to play in Polish League
MMKS Podhale Nowy Targ officially submit a request to Polish Federation to join the Polska Liga Hokejowa from next season as "wild card". The club lost promotion from Second division with Polonia Bytom.
"We submitted this request with the goal to play against the best Polish teams. Only in this way our young players will have the opportunity to improve skills." said CEO Agata Michalska
(18 Jun 2013)
Polish Federation names coaches' staff
During the last meeting of Polish Ice Hockey Federation, the Board named the coaches' staff, excepted the head coach that will be nominated later. The national team assistents will be Marek Ziętara and Jacek Płachta. Both coached in last Polish League: Zietara at MMKS Podhale Nowy Targ and Plachta at champion KH Sanok.
Jarosław Morawiecki will be the new coach of U20 team, Tomasz Demkowicz of the U18 team and Marek Kozyra will lead women team.
(11 Jul 2012)
Historic rosters:
Historic statistics:
Past results:
League standings:
Fast facts
season 2023-2024
Kaunas City celebrate the qualification to the second round of Continental Cup with a ten-goals victory over Skautafelag Rejkyavik Read more»
Estonian champion wins KHL Zagreb ensuring first place for the home team Read more»