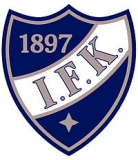 IFK Helsinki
Short name: HIFK
Name in original language: IFK Helsingfors
Year of foundation: 1897
Colours: red, white, blue
Club status: active
Address: Oy HIFK Hockey Ab
Helsingin jäähalli
00250 Helsinki
Phone: +358 09 - 477 7020
Fax: +358 09 - 4777 0229
Email: office@hifk.fi
WWW: HIFK Helsinki, Junior teams
Did you find any incorrect or incomplete information? Please, let us know.
Season 2015-2016
Current roster
season 2015-2016
* no longer in the club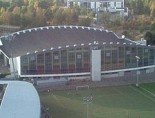 Adress: Helsingin jäähalli
Nordenskiöldinkatu
00250 Helsinki
Phone: +358 9-477 7110
Capacity: 8200
Opened in: 1966
Retired numbers
1 Stig Wetzell
5 Heikki Riihiranta
7 Simo Saarinen
17 Matti Murto
20 Matti Hagman
22 Mika Kortelainen
23 Pertti Lehtonen
35 Sakari Lindfor
Notable players:
Champions '69, '70, '74, '80, '83, '98, '11
League winners:
from 1996 to 2008: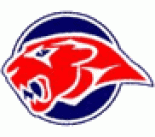 from 2008 to present: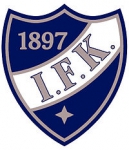 HIFK names captain
Arttu Luttinen will he new captain of the Finnish Liiga club HIFK. Juuso Puustinen and Daniel Grillfors will wear the "A" jerseys.
(14 Aug 2015)
Liiga Winter Classic
There will be an outdoor game in Finnish Liiga this season. MTV reports that HIFK will play Ilves at the Helsinki Olympic Stadium December 12.
(06 Aug 2015)
Finland and Sweden dominate CHL
When it is time for quarter finals in Champions Hockey League only teams of Finland and Sweden remain. IFK Helsinki, Lukko Rauma, SaiPa Lappeenranta and Kärpat Oulu from Finland and Linköpings HC, Frölunda Indians, Skellefteå AIK and Luleå HF from Sweden. The quarter finals are played December 2 and 9.
(11 Nov 2014)
HIFK fires Pasi Sormunen
HIFK in Finnish SM-Liiga fired head coach Pasi Sormunen and assistant coach Antti Pennanen. They will be replaced with Raimo Summanen and the junior coach Joonas Tanska as his assistant. Jan Lundell will continue as goalie coach.
(21 Jan 2013)
Bergenheim returns to USA
HIFK's NHL lockout player Sean Bergenheim returns to USA after only two games (one goal) in SM-Liiga. He is injured and goes home to USA för rehabilitation. It is still not clear if he will return to HIFK.
(05 Oct 2012)
World Junior Club Cup - Day 5
Joshua Leivo scored a hat-trick with only short-handed goals when Sudbury Wolves beat Denmark 7-2 in the World Junior Club Cup. In the other game in Group B HIFK beat HK Riga 3-2. Linköping and Sudbury have qualified for the semis.
Group A is still open. After today's games Waterloo Black Hawks - Norway 5-3 and Karlovy Vary - Dinamo-Shinnik 3-2 four teams are tied with 6 points.
(22 Aug 2012)
World Junior Club Cup - Day 4
Linköping were outshot 39-14 but beat HIFK 3-2 to become the first team to qualify for the semi finals of the World Junior Club Cup in Omsk. The home team Omsk Hawks beat Karlovy Vary 4-1.
(21 Aug 2012)
World Junior Club Cup - Day 2
On the second day of the World Junior Club Cup in Omsk the North American teams entered the competition. Waterloo Black Hawks of USHL beat HC Energie Karlovy Vary 5-0 while Sudbury Wolves (OHL) beat HIFK Helsinki 9-1.
(19 Aug 2012)
World Junior Club Cup - Day 1
The World Junior Club Cup started today in Omsk. Karlovy Vary beat Norway U20 3-1 in the first game. Other results: HIFK-Denmark U20 4-2, Omsk Hawks-Dinamo-Shinnik Bobruisk 1-2 and Linköping-HK Riga 4-1.
(18 Aug 2012)
Petri Matikainen is new Avangard Omsk coach
As rumoured in last week, Finnish Petri Matikainen, 45, is the new Avangard Omsk headcoach. He signed a three-years contract and replacing countryman Raimo Summanen, resigned some weeks ago. Matikainen coached Pelicans Lahti and Espoo Blues in the past, and HIFK Helsinki last season. He was also Finland national team assistant coach in last two World Championships
(20 Jul 2012)
Historic rosters:
Historic statistics:
Past results:
League standings:
Fast facts
season 2015-2016
Cardiff Devils won by one-goal-difference against home side Grenoble and advances to the Continental Cup Superfinals along with Nomad Astana Read more»
Kazakh champion closes the Continental Cup semifinals round with a perfect record, by beating HK Zemgale in the last game Read more»